Pound to Canadian Dollar at Risk of Rolling Over
The Pound to Canadian Dollar, currently trading at 1.7664, has formed a gently cambering top which is often the harbinger of doom for a pair, according to analysis from Scotiabank's FX Strategist Shaun Osborne.
"The move lower has been grinding this week so far but the "rounded" nature of the peak that appears to be developing suggests the incremental load of selling is stacking up on the pound—rounded highs or lows are usually important turns," notes Osborne.
The Pound has been driven lower by concerns of an economic slowdown raised by the Bank of England (BOE) when they downgraded growth forecasts by a basis point to 1.9% in 2017, on 'Super Thursday'.
Although there were hawkish phrases and a mixed outlook for wages in the BOE commentary, the pound sold off broadly as uncertainty over Brexit and a dovish outlook for monetary policy trumped all other considerations.
The BOE was not expected to raise interest rates for a long time - not until the fourth quarter of 2019 - and this stood in contrast to other major central banks who are steadily embracing a more hawkish cycle.
Higher relative interest rates tend to strengthen a currency as capital tends to flow from low-interest rate currencies to higher interest rate currencies with a view to profiting from the difference. a trade which is known in FX as the 'Carry Trade'.
Strong employment and growth data had been supporting a recovery in the Canadian Dollar until recently when markets were unnerved by news that rating agency Moody's had downgraded six Canadian banks over fears of a sub-prime mortgage crisis.
Morgan Stanley's Hans Redeker highlights the point in his analysis of the currency:
"Moody's downgrade of six Canadian banks on concerns over household debt has highlighted that USDCAD remains vulnerable to headline risks. Canada's household debt to income has risen on the back of soaring house prices, making the banking sector vulnerability to the mortgage market more worrying. While we still like selling USDCAD near 1.40 for now, any increase in BoC's concerns over financial stability risks could warrant a reassessment of that view."
Redeker is actually quite bullish the Pound seeing political uncertainty easing with the June election and growth remaining resilient during Brexit negotiations.
This combined with his neutral CAD analysis appears to suggest more upside for the pair.
Technically, however, indicators are pointing down, as noted by Scotia's Shaun Osborne again.
"Trend momentum is bullish on the daily study still but the oscillator signal is moderating and while the weekly range has been narrow, the import of the net GBP decline this week is moderately negative on the longer term chart. We think risks are turning lower for the GBP in the near-term at least," said Osborne in his most up-to-date note on the pair.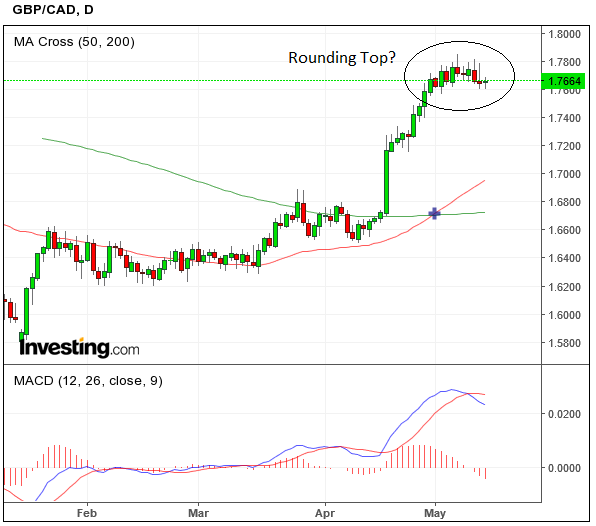 Save