GBP/CAD Weakening After Bank of Canada Revises Up Growth Forecasts
The Pound to Canadian Dollar pair fell on Wednesday after the Bank of Canada (BOC) revised up its growth forecasts at its April rate meeting.
From expecting the economy to grow by 2.1% in January, the BOC, which kept interest rates unchanged at 0.5%, increased its forecast for growth to 2.7% at its April meeting today (Wednesday).
The positive growth outlook helped propel the GBP/CAD and USD/CAD lower.
How sustainable the gains are is open to question, as the currency may be subject to significant uncertainty from US pressure on renegotiating the NAFTA trade deal, whether Trump can push through stimulus policies and the volatile price of oil.
From a technical perspective, the overall impact on GBP/CAD was limited as the exchange rate fell to a major trendline drawn from the October lows, but did not break below it.
The pair has completed a regular three-wave abc correction down from the March highs and found support at the trendline. It may be about to begin a resumption higher.
A break above the 1.6893 highs would probably lead to a continuation higher, up to the next target at 1.7130.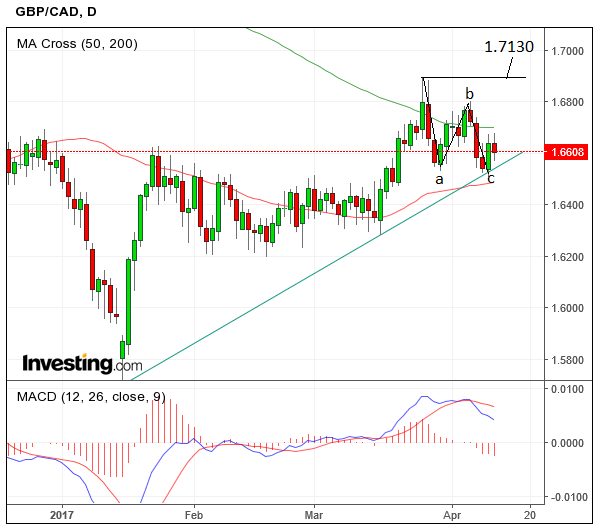 The GBP/CAD weekly chart is bullish.
It shows the formation of a double bottom reversal pattern at the lows.
Double bottoms look like the letter 'W'; they are bullish.
The pattern is triggered when the exchange rate rises above the 'neckline; which is drawn at the high of the peak separating the two troughs.
The expectation is that the move which follows will travel an equal distance as the height of the pattern extrapolated to the upside.
In this case, the neckline is situated at the 1.7127 level and the upside target at 1.8000.