JPMorgan: Buy Canadian Dollar against the Pound
- GBP/CAD slides as Brexit jitters and stock market losses weigh.
- J.P. Morgan sells GBP/CAD, looks for return to early July levels.
- Says CAD to outperform as GBP faces perfect September storm.
Image © Adobe Stock
GBP/CAD spot rate at time of writing: 1.7154
Bank transfer rate (indicative guide): 1.6554-1.6674
FX specialist providers (indicative guide): 1.6770-1.7000
More information on FX specialist rates here
The Pound-to-Canadian Dollar exchange rate is near July lows in midweek trade amidst falling stock markets and renewed Brexit tensions which have both weighed on Sterling, and J.P. Morgan forecasts a further decline this September and has advocated that clients sell GBP/CAD.
Canada's Dollar outperformed Tuesday even as stock and commodity prices resumed earlier declines, while Sterling was a laggard as another round of Brexit talks got underway amid seemingly fading chances of a trade deal being reached in time to avert a return to tariffs and other barriers next year.
The Pound-to-Canadian Dollar rate fell near to 1.71 after tumbling into the new week on Monday when stocks and other risk assets had actually been rising, indicating Sterling-specific troubles.
"We remain negative on capital importers with very negative real yields (GBP and NZD), especially GBP which seems to have relegated Brexit to a mere curiosity. But a no deal would be no joke, and remains a worrying high probability," says Paul Meggyessi, head of FX research at J.P. Morgan. "We tactically sell a basket of EUR & GBP versus CAD, to capture nearterm risks (ECB, COVID-19) and structural concerns (Brexit, fiscal cliff) while CAD screens as a buy in our growth framework and is relatively underweight."
J.P. Morgan forecasts the Pound will fall to 1.29 against the U.S. Dollar by month-end and that USD/CAD will hold around 1.31, implying a GBP/CAD decline to 1.69 that would leave the British unit at three-month lows. The bank also forecasts a recovery to 1.75 by year-end.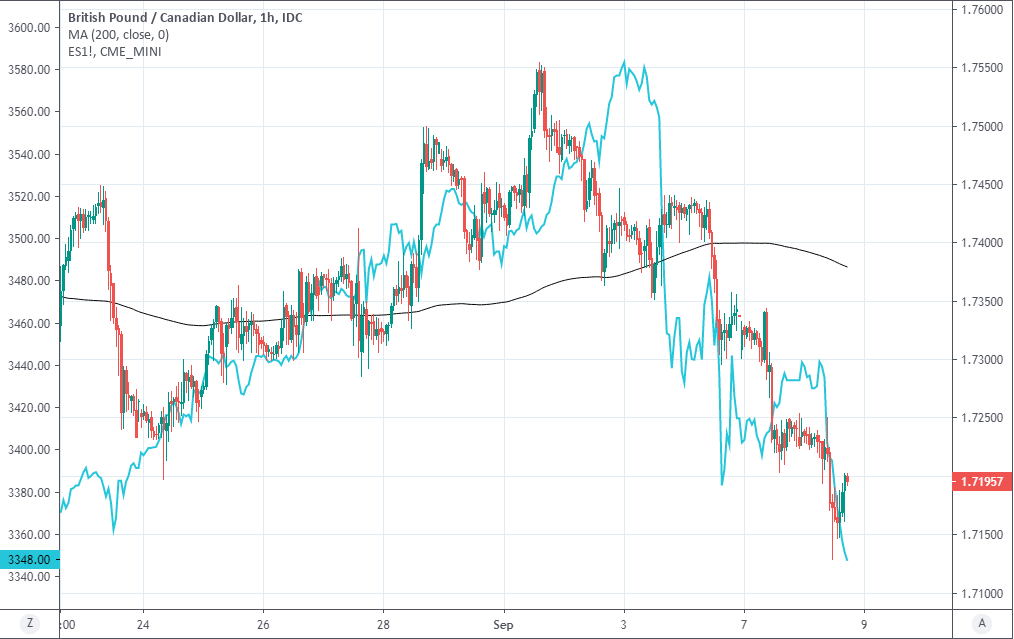 Above: Pound-to-Canadian Dollar rate shown at 15 minute intervals with S&P 500 futures (blue line, left axis).
The bank has warned of a perfect storm sweeping the Pound lower around the turn of the quarter, which just before an intended curtailment of government fiscal support for jobs will coincide roughly with a self-imposed mid-October deadline for reaching a UK-EU trade agreement.
Odds of a trade deal appeared to take a knock when the FT reported Monday that Prime Minister Boris Johnson will introduce a bill in parliament that could effectively see him rewriting or reinterpreting the EU withdrawal agreement. The EU has this would rule out a trade agreement.
"Deadlines of late October [are] growing uncomfortably close. The UK is also staring down the prospects of a fiscal cliff with the expiration of its furlough program, which at the least will provide some headwind to the UK's already-belated recovery," Meggyessi says. "The fact remains that even a bare-bones trade deal could prove significant and damaging to the economy in early 2021, which should warrant a currency adjustment."
Downing Street is said to believe that parts of the highly controversial treaty, negotiated substantially by former Prime Minister Theresa May, are ambiguous or self-contradictory and that the PM intends to use "clause 38" to unilaterally impose a 'clarification' of its terms. The text of the bill will be unveiled Wednesday and to much scrutiny from the market.
The FT report emerged ahead of the second from last round of trade talks that began Tuesday, and after UK negotiator David Frost insisted in a weekend press interview that Brussel's drop demands for rights to British waters and 'level playing field' terms that would give it ongoing influence and control over matters of post-Brexit domestic policy.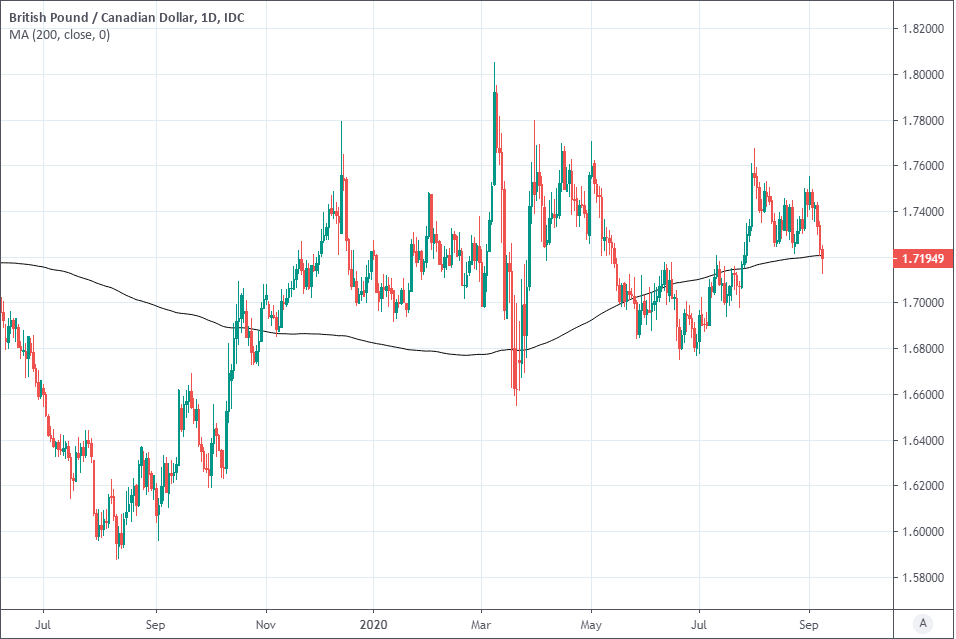 Above: Pound-to-Canadian Dollar rate shown at daily intervals.
It's even less clear now what impact tariffs and enhanced non-tariff barriers will have on the Pound given the scale of the damage already done to economies by the coronavirus and a near double-digit summer sell-off in the Dollar.
"GBP has proven frustrating for us, bucking all sensitivity to its negative structural factors and instead surging through the latter half of the summer. But should the growth impulse subside and the attendant USD selling becomes less decisive, there is good reason to believe that the market will once again turn its focus back to Brexit," Meggyessi says. "Rather than wind down our GBP exposure entirely, we instead rotate into a short against CAD in a basket trade, which should capture some of the increased attention around the UK's lingering structural issues, while partially offsetting the beta to ongoing cyclical strength."
Pound Sterling had performed strongly through August as rising stock markets and a strong performance from the Euro dragged the British currency higher in a period where investors seemed deaf to the ongoing absence of progress in the trade talks, although by Tuesday Sterling was the second worst performing currency of the last week with losses relative to the Loonie being almost as large as those seen against the Euro.
Canadian outperformance has also been a factor in turning the Pound-to-Canadian Dollar rate tables, which has coincided with a September stabilisation of the U.S. Dollar and could continue in the absence of a surprise in Wednesday's 15:00 Bank of Canada decision. Any threat by the BoC to shift to the same average inflation targeting regime adopted by the Federal Reserve last month could lend temporary support to GBP/CAD, although analysts say the decision should pass without event for the Loonie.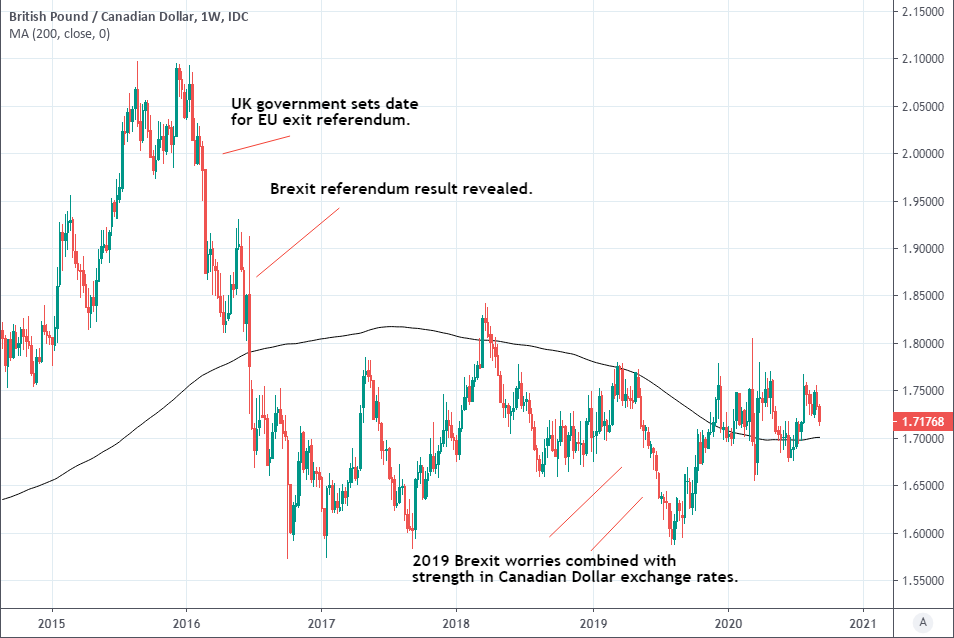 Above: Pound-to-Canadian Dollar rate shown at weekly intervals.
---
Achieve 3-5% More Currency: The Global Reach Best Exchange Rate Guarantee maximises your currency purchasing power. Find out more.
Invest in Spanish Property. A selection of discounted properties due to the covid-19 crisis, online viewings and transactions possible. Download the Guide
Invest in Portuguese Property. A selection of discounted properties, online viewings and transactions possible. Download the Guide
Featured Content
Mortgage Direct - a Spanish mortgage broker specialising in the provision of mortgages for expats - have confirmed they have secured their Spanish license.