Pound-Canadian Dollar Rate On Course to Reclaim 1.77 says Scotiabank
Image © Adobe Stock
GBP/CAD spot rate at time of writing: 1.7530
Bank transfer rate (indicative guide): 1.6916-1.7039
FX specialist providers (indicative guide): 1.7267-1.7372
More information on FX specialist rates here
The Pound-to-Canadian Dollar exchange rate was testing the top of its August range on Tuesday as the British currency outperformed amid a continued sell-off in U.S. exchange rates, although Scotiabank is looking for Sterling to recover further lost ground from the Loonie in the coming days.
Sterling outperformed all major counterparts while commodity currencies like the Canadian Dollar lagged behind as the rout in U.S. exchange rates continued with a third day of unbroken losses for the greenback.
The Pound-to-Canadian Dollar rate was trading back above 1.75, up more than half a percent for the session, after Sterling overlooked local media reports suggesting the British government is planning to announce a series of tax increases as part of an effort to foot the bill for the coronavirus shutdown.
Sterling has risen 1.26% against the Loonie in the last week and price action has left behind in its wake an increasingly bullish set-up on the charts.
"GBP/CAD price action turned a bit more positive last week, with the GBP forming a bullish outside range session on the week overall— effectively signaling a strong, bullish rejection of the 40-week (200-day equivalent) MA as the GBP popped the top of the Jul/Aug consolidation channel (bull flag)," says Juan Manuel Herrera, a strategist at Scotiabank. "Look for a push up to 1.77 to retest the recent peaks at least."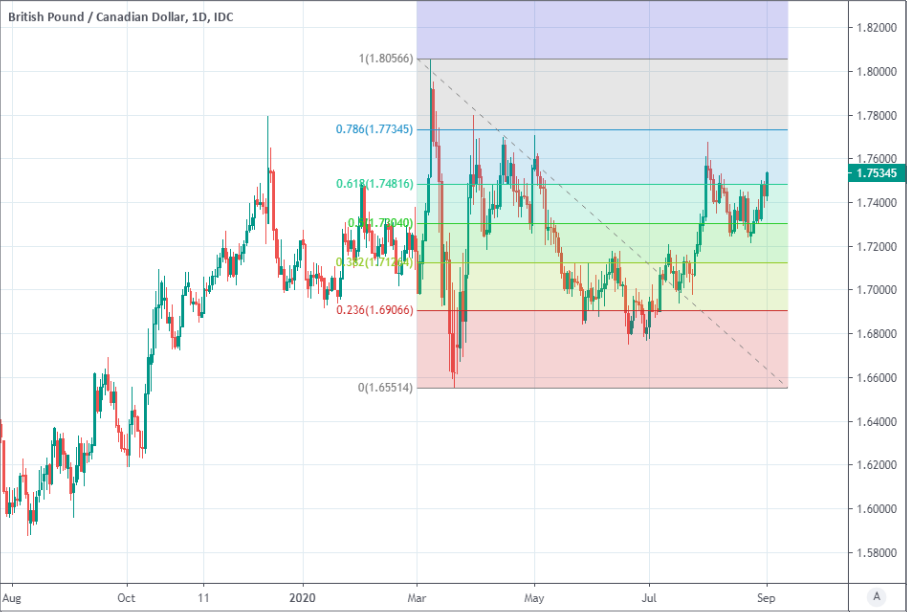 Above: Pound-to-Canadian Dollar rate shown at daily intervals with Fibonacci retracements of March fall.
Herrera says the Pound benefits from technical support just beneath 1.74 and that 1.7240 would act as an even firmer crutch, although he and Scotiabank team are looking for Sterling to return to its late July high around 1.77 over the coming days.
That would bring the Pound into contact with a notable Fibonacci retracement of the March downtrend, located at 1.7734, which Sterling has failed several times to get above since March. (If you would like to lock in current exchange rates for future use, or automatically book better rates when achieved, please learn more here).
"The fall in USD/CAD has been driven by USD weakness rather than domestic developments, and should the USD continue to fall we can see a test of early year lows at 1.2950," says Bipan Rai, North American head of FX strategy at CIBC Capital Markets. "Since March, the correlation between equities and a falling USD has been quite strong. We expect this relationship will persist; and as such we are watching market volatility as we transition away from lighter summer trading into the fall."
Both the Pound and Canadian Dollar have reversed their 2020 losses against the greenback with the U.S. currency having fallen from favour with investors in recent months. The latest blow for the Dollar was came from the Federal Reserve (Fed) last week, which said it will not covet above-target inflation pressures while leaving interest rates pinned to the floor as part of a new inflation targeting framework, promising more declines for 'real' bond yields in the U.S. over the coming months.
The Pound-to-Canadian Dollar rate outlook depends in large part on whether the Loonie can push the main Canadian exchange rate, USD/CAD, lower because price action their shows up in all Canadian exchange rates. If it can then the Pound-to-Canadian Dollar rate could be prevented from rising.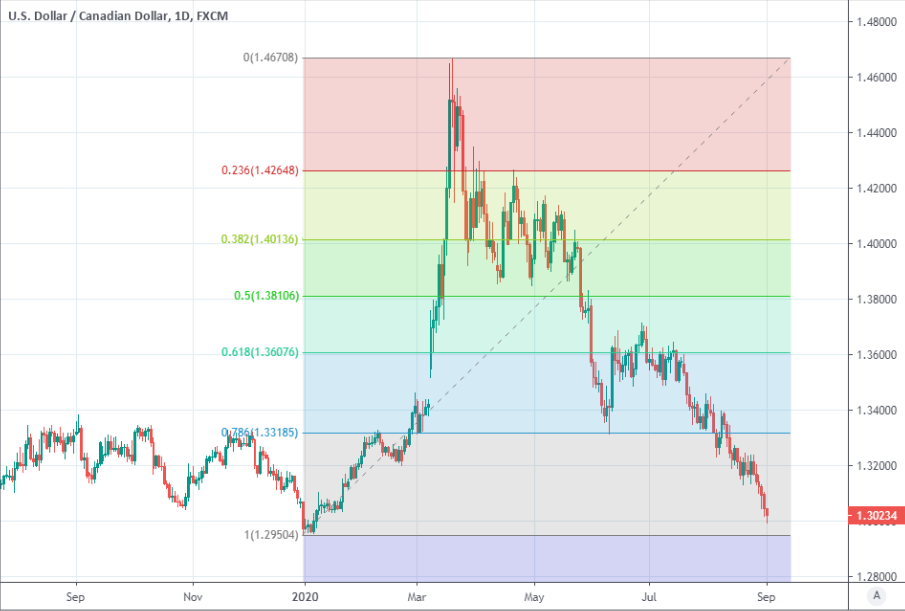 Above: USD/CAD rate shown at daily intervals with Fibonacci retracements of March rally.
Both Scotiabank and CIBC look for USD/CAD to decline further toward 1.2950 in the coming days, which could restrain the Pound-to-Canadian Dollar rate, although if other analysts are right about USD/CAD being due a corrective rebound then the GBP/CAD rally might be bolstered.
"To me, the USD selling looks stretched and once we clear 11 a.m. I prefer the snapback trade (higher USD) for the next few days. I will look to buy USDCAD near 1.3000 or sell AUDUSD near 0.7400 today. I like the USDCAD entry point enough that I put the idea in the sidebar on page one. 1.2950/1.3000 has been huge support going back to Q2 and Q3 of 2019. All you CAD bears out there, it's almost time to take another shot," says Brent Donnelly, an FX trader at HSBC.
Sterling will take cues from the ebb and flow of risk appetite among investors through the rest of the week, which offers little by way of market moving economic data for the British currency, although sentiments toward the U.S. Dollar and other international factors will also be important too.
Likewise for the Loonie too, although at 13:30 on Friday the Canadian currency will play close attention to August's jobs data. Canada has enjoyed a strong jobs recovery so far following the government mandated closures of the economy back in March and the market will be looking to see if this continues. Consensus looks for the Canadian economy to have created or recovered from the coronavirus an additional 262.5k jobs in August, which is seen pushing the unemployment rate down from 10.9% to 10.1%.
---
Achieve 3-5% More Currency: The Global Reach Best Exchange Rate Guarantee maximises your currency purchasing power. Find out more.
Invest in Spanish Property. A selection of discounted properties due to the covid-19 crisis, online viewings and transactions possible. Download the Guide
Invest in Portuguese Property. A selection of discounted properties, online viewings and transactions possible. Download the Guide
Featured Content
Mortgage Direct - a Spanish mortgage broker specialising in the provision of mortgages for expats - have confirmed they have secured their Spanish license.