Keep Selling the Pound against the Canadian Dollar say Scotiabank 
Image © Bank of Canada
- Keep selling the GBP/CAD rate says Scotiabank technical analyst.
- As GBP is vulnerable near recent highs give Doji candle on chart.
- But Westminster's Brexit schenanigans are a two-way risk to GBP.
The Pound-to-Canadian-Dollar rate is vulnerable to sharp declines while close to recent highs so traders should keep selling the British currency upon spikes higher for now, according to technical analysts at Canada's Scotiabank.
Pound Sterling has risen by 1.2% against the Canadian Dollar so far this year after feverish speculation of a delay to the UK's exit from the EU drove the exchange rate close to a year-long high earlier this week.
That left Sterling looking rather exposed to the risk of a sudden correction lower, Scotiabank says, which could be a pertinent observation in light of the ongoing showdown in Westminster over the UK's exit from the EU.
"Price action suggests some vulnerability to the GBP from here in the short run [given] a possible, large "doji" candle on the daily chart," says Eric Theoret, a technical analyst at Scotiabank. "The technical trend in GBPCAD still looks constructive in the longer run, however, on the basis of GBP-bullish trend oscillators. But we continue to feel that the channel ceiling as well as the mid-2018 high will make it hard for the GBP rally to extend meaningfully in the short term, at least. Look to fade rallies for now."
Above: Pound-to-Canadian-Dollar rate daily intervals.
Pound Sterling has been highly volatile this week and daily charts do no justice to the full extent of the ups and downs seen in British exchange rates during recent days.
Initially, traders had bid Sterling higher on Monday in anticipation of a breakthrough in talks with Brussels over the highly contentious so-called Northern Irish backstop contained in PM May's withdrawal agreement.
Some MPs had been demanding the backstop be removed from the Treaty or that it be adapted to include a time limit or some kind of unilateral exit mechanism. PM May claimed to have satisfied those demands in spirit Tuesday, only for the UK's top lawyer to pour cold water all over that idea, leading to steep losses for the Pound.
The House of Commons later voted to reject Prime Minister Theresa May's Withdrawal Agreement for a second time Tuesday, in another landslide vote of opposition to her signature bill, which has paved the way for two further ballots in parliament this week.
That drove a modest recovery in Sterling as markets caught sight of a fresh opportunity for the UK's exit from the EU to be delayed beyond the March 29 Brexit day that marks the end of two year period of negotiations afforded by Article 50 of the Lisbon Treaty. Hourly charts provide a more detailed reflection of recent price action.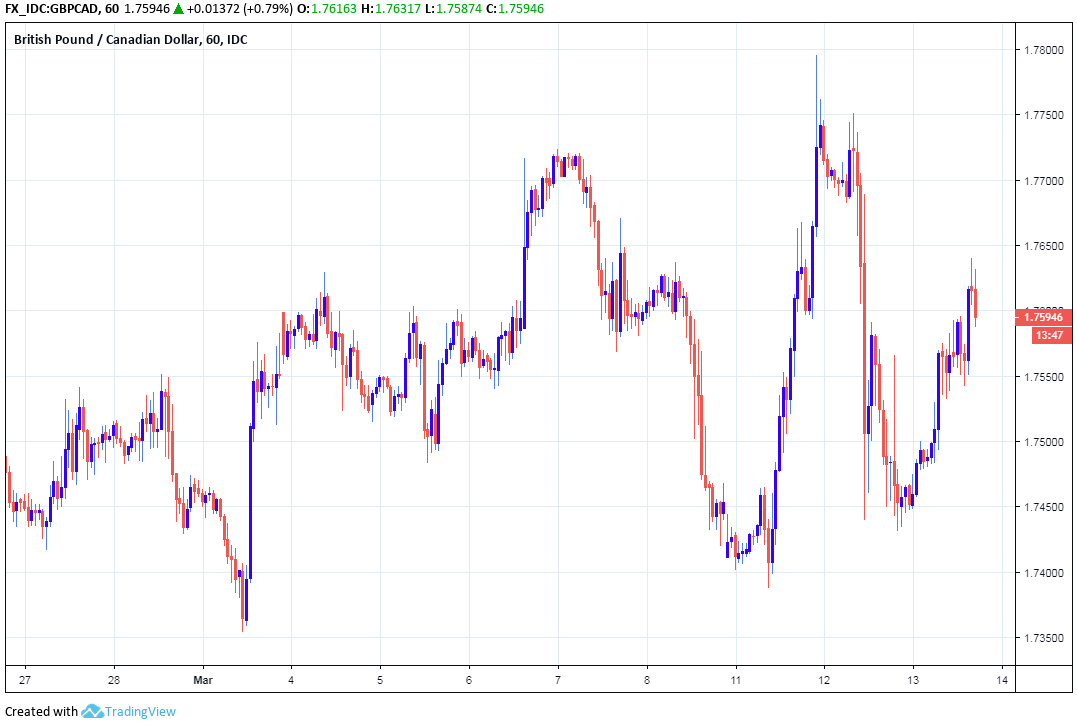 Above: Pound-to-Canadian-Dollar rate shown at hourly intervals.
MPs will now be given the chance to accept or reject a so-called no deal Brexit on Wednesday before another ballot, on Thursday, gives them the opportunity to force the Prime Minister to return to Brussels and ask for an extension of the Article 50 window that is due to end on March 29.
"Market commentators disagree as to the exact degree of the anticipated Pound decline should a 'no deal' Brexit become a reality – but most consider revisiting the post referendum low of GBPCAD 1.57 a firm possibility," says Glenn Uniacke, a director of corporate FX and payments at Moneycorp.
Parliament is overwhelmingly comprised of individuals who backed remaining in the European Union and who have, at best, given a tepid response to the electorate's decision to opt for an exit from the EU. Markets are anticipating that it will demand a delay to the UK's exit from the EU.
All 27 leaders of EU member states must unanimously approve any extension and there's no guarantee that there'll do it. There's also little telling what they might demand in return for granting an extension or exactly how long such a thing might be.
However, an EU approval of an extension to the Article 50 would almost certainly send Pound Sterling higher as it would kick the Brexit can down the road and presumably, in the collective mind of the market, offer some hope that the entire Brexit push will eventually be abandoned altogether.
Nonetheless, and regardless of what the market may believe, neither of this week's remaining parliamentary votes will change current law that is in place, which states that the UK will automatically leave the EU with or without an agreement come March 29.
"As it stands in law, the UK is hurtling towards a hard Brexit on March 29. The rejection of a no deal Brexit by the House of Commons today will be a strong indication of the horror felt at this prospect. However, it will not change the law," says Jane Foley, a strategist at Rabobank.
Time to move your money? Get 3-5% more currency than your bank would offer by using the services of foreign exchange specialists at RationalFX. A specialist broker can deliver you an exchange rate closer to the real market rate, thereby saving you substantial quantities of currency. Find out more here.

* Advertisement