The Canadian Dollar Surges after November Jobs Data Rescues Loonie from Bombed-out BoC Outlook
Image © COSPV, Adobe Stock
- CAD surges after show-stopping November labour market data.
- Jobs and unemployment surprise positively, but wages disappoint.
- Data could help rescue the CAD from a bombed out BoC outlook.
The Canadian Dollar strengthened rapidly Friday after November's labour market report showed the economy creating jobs at a rapid clip, enough to push the unemployment rate to a record low.
Canada's economy created 94k new jobs during November, up from 11.2k previously, when markets had been looking for just 10.5k.
That pushed the unemployment rate down by 20 basis points to a record low of 5.6% when economists had anticipated that it would remain steady at 5.8%.
"The random-number generator that is the Canadian Labour Force Survey spat out a massive reading for November," says Royce Mendes, an economist at Toronto-headquartered CIBC Capital Markets.
However, and on the downside, the annualised pace of wage growth slipped further in November, to 1.5%. Economists had anticipated that it would fall only 10 basis points, from 1.9% to 1.8%.
Statistics Canada says that Quebec and Alberta provinces led the jobs gains, with growth of 26k in the former and 24k in the latter.
"That will created more concerns than usual surrounding the sustainability of the November jobs reading. Still, the large gain in jobs will keep a January rate hike on the table for now, but we'll need to see similarly positive evidence from other indicators and no major reversal in the next jobs report," Mendes adds.
Markets care about the labour market data because falling unemployment and improving job creation are thought to put upward pressure on wages.
Pay growth leads to increased demand in an economy and puts upward pressure on inflation, with implications for interest rates and financial markets.
"The surge in employment was partly led by Alberta where the outlook has since deteriorated markedly due to the slump in oil prices. Meanwhile, the further drop in wage growth left room for the Bank of Canada to err on the side of caution in the coming months," says Stephen Brown, an economist at Capital Economics.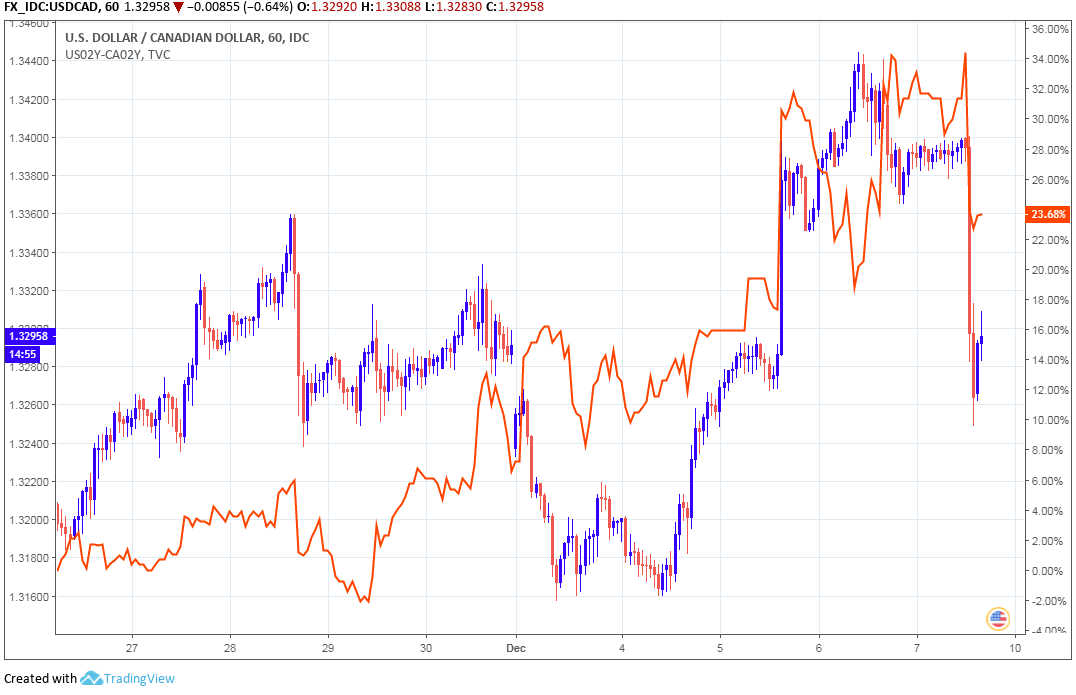 Above: USD/CAD (red and blue) with 2-year U.S.-Canada yield differential (orange)
The USD/CAD rate was quoted -0.76% lower at 1.3295 following the release after reversing an earlier 0.02% gain. That follows substantial gains over Wednesday and Thursday, which have left the rate up 5.7% for 2018.
"CAD has been badly beaten in recent weeks, so a cleanse in positioning is in order. That said, we think gains from here will prove to be limited," says Mazen Issa, a strategist at Toronto-headquartered TD Securities. "We expect USDCAD support near 1.3250 to be formidable and CADJPY rallies to be faded."
The Pound-to-Canadian-Dollar rate was -0.95% lower at 1.6948 after falling from 1.7105 before the release. The Canadian Dollar was quoted higher against all G10 currencies following the release Friday.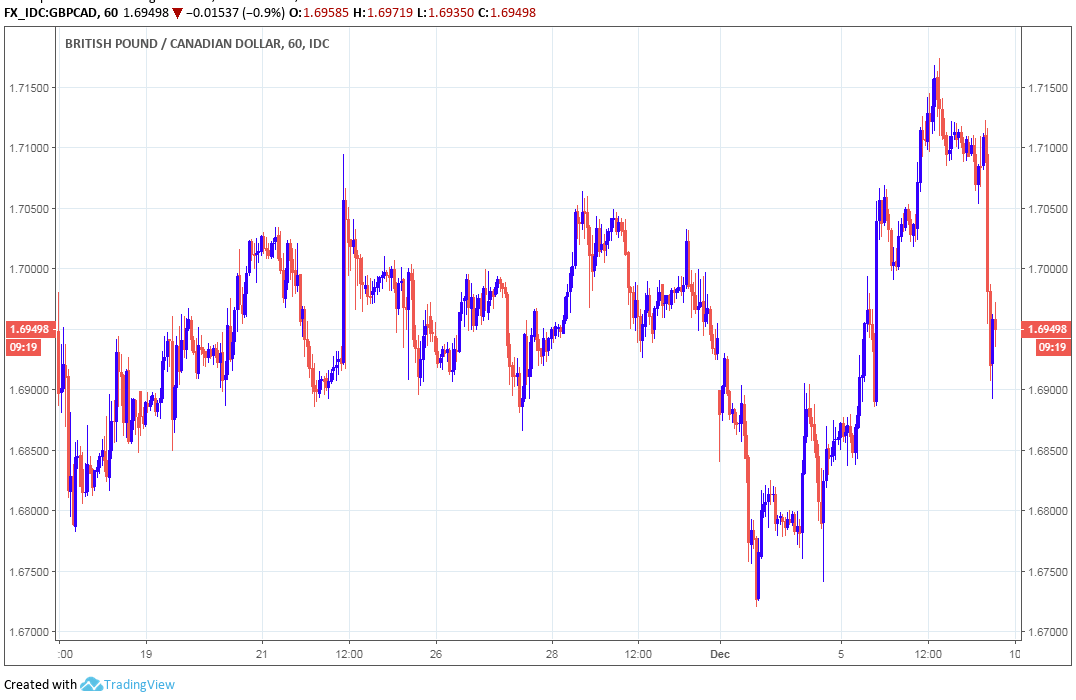 Above: Pound-to-Canadian-Dollar rate shown at hourly intervals.
"The outlook for relative central bank policy has deteriorated materially as market participants have softened their expectations for BoC tightening in response to Wednesday's dovish hold. Policymakers have cautioned on the 'appropriate' pace of tightening, given concerns about oil prices, and have re-introduced language ('oil price shock') last seen in early 2015," says Shaun Osborne, chief FX strategist at Canada's Scotiabank.
The bottom fell out of the market for oil, Canada's largest export, during October leading the global benchmark Brent crude to decline by 10% in that month alone while Western Canadian Select plumbed fresh record lows.
Prices continued falling through November, prompting the Alberta government to require production cuts from local producers and the BoC to warn this week of an increasing threat to the economy.
Canada's central bank has now effectively backed away from earlier guidance that it would step up the pace at which it raise interest rates in 2019, dealing a crushing blow to the currency this week.
However, Friday's jobs data could prevent the outlook for the Canadian currency from growing any darker over the short-term at least. Escpecially as the labour report coincided with an Organization of Petroleum Exporting Countries (OPEC) announcement that it will cut oil production by 1.2 million barrels per day.
"It's probably a little better than the market had been expecting, but not by a lot. I'd still say that a deeper cut would be needed to really see oil rally back to $70," says Neil Wilson, chief market analyst at Markets.com. "The deal does though suggest we have something of a floor under Brent at $58."
The Bank of Canada raised its interest rate by 25 basis points to 1.75% in October and said it will go on lifting its benchmark over coming quarters, potentially taking it up to 3.5% some time in 2020.
However, it held the cash rate at 1.75% for December on Wednesday. Markets are now scrutinising incoming economic data with a view to gauging whether the BoC will raise rates again in January, or wait for longer.
Advertisement




Bank-beating exchange rates. Get up to 5% more foreign exchange by using a specialist provider to get closer to the real market rate and avoid the gaping spreads charged by your bank when providing currency. Learn more

here