Australian Dollar Extends Gains In London As Labour Market Blossoms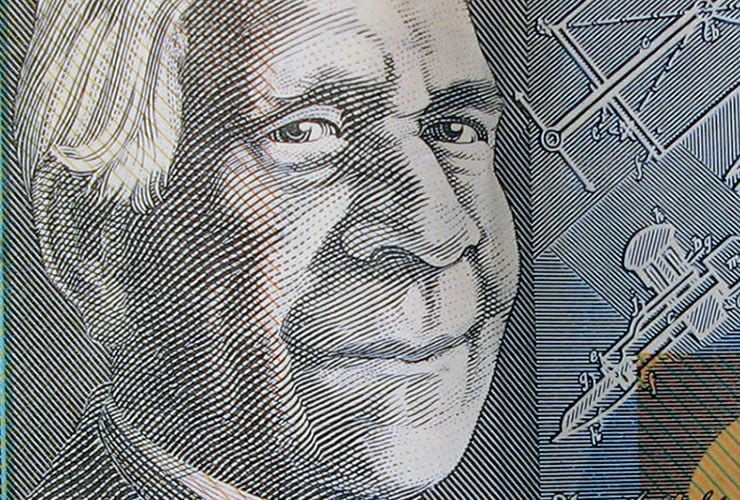 A stronger labour market means an RBA rate hike is now fully priced in for late 2018
The Australian Dollar extended recent gains in London Thursday, shrugging off poorer than expected industrial data from China, as traders rewarded a strengthening of the labour market that likely adds to the proverbial hawk's case for an RBA rate hike in the year ahead.
Australian unemployment held steady at 5.6% during August, largely due to a pickup in the participation rate, although this masks a sharp jump in the number of new jobs created during the month.
"The strength in the labour market is a very encouraging sign, helped by elevated business sentiment and an upswing in the global economy," says Janu Chan, an economist at St George Bank. "A continuation of this momentum would suggest a greater prospect that the Australian economy will pick up as hoped for by the RBA."
More than 54,000 Australians entered or reentered the workforce in August, a far higher number than the 17,500 consensus forecast of economists, with noteworthy gains seen in New South Wales, Victoria and Queensland.
"The steep rise in Australian employment in Aug reinforced the mostly positive domestic narrative, with business conditions reported as very strong and an RBA rate hike fully priced for a year from now," says Sean Callow, a foreign exchange strategist at Westpac.
The Australian-Dollar-to-US-Dollar rate rose 0.23% to 0.7999 during early trading in London, reversing an earlier correction, while the Pound-to-Australian-Dollar rate dropped 0.23% to 1.6511.
Stronger employment numbers came against a backdrop of poorer than expected Chinese industrial figures that sank iron ore futures prices by more than 5%, something that would normally be sufficient to knock the Aussie Dollar off course.
But How Long Can It Last?
A blossoming labour market may have boosted the Dollar Thursday but strategists see an eventual withdrawal of stimulus from the RBA, a rate hike, being contingent on an eventual depreciations of the Australian currency.
"We are pencilling in rate rises of 25bps in August and November of 2018 and a further two 25bp hikes in 2019, although the precise path will be data dependent," wrote Alan Oster, chief economist at National Australia Bank, in a Wednesday note.
The RBA left the cash rate unchanged at 1.50% for the 13th month in a row earlier in September and also sounded a brighter tone on the economy.
Governor Lowe and fellow policy makers noted an improvement in the non-mining investment outlook, a steady labour market and a housing market that has now become to cool in some parts after years of runaway price growth - which reduces financial stability risks.
"A cash rate of 2½% by end-19 is still well below the RBA's estimates of neutral (~3.5% nominal), suggesting monetary policy will remain supportive of the economy," says Oster.
But Oster flagged exchange rate resilience as something that could derail an RBA hiking cycle as it would act to counter the inflation generated by a strengthening economy.
"Commodity prices and yield differentials have boosted our AUD/USD fair value estimate by almost 5% since June but its actual gain has been above 8%," says Callow at Westpac.