Australian Dollar Forecasted Lower in 2017 by JP Morgan
Projections made by the world's largest full-service investment bank show there should be no let up in the Australian Dollar's longer-term decline as we move through 2017.
The Australian Dollar has been trending lower since it peaked in 2012 at the height of the Chinese-fuelled commodity boom.
Each year since has been characterised by lower highs and lower lows in the currency's value.
Driving the slump has been the fall in global commodities which ensured a key pillar to the currency's valuation has slowly faded.
However, the currency's pace of decline has been moderated by the country's high interest rate - Australia's central bank has maintained a basic interest rate notably higher than comparables in Japan, USA, UK and the Eurozone since the global financial crisis.
This has ensured a steady demand for AUD as investors look to take advantage of the country's superior yield in what is known as the carry trade.
But, analysts at J.P. Morgan have written to clients and told them to expect this support to come under pressure over coming months.
Indeed, in their Global FX Strategy 2017 communication J.P. Morgan say they are anticipating the Aussie Dollar to continue its longer-term trend lower.
"With risks shifting around growth and inflation on the back of increased scope for fiscal stimulus in the US, we think the narrowing of interest rate differentials will be a more powerful headwind for AUD than has been the case in recent years," says Sally Auld, at J.P. Morgan in Australia.
Core inflation is expected to stay weak, pressuring the RBA into a further 50bp of easing.
Compare the RBA's policy of easing to the US Federal Reserve which could rise by up to three times in 2017.
This should cut Australia's interest rate advantage and thus cut one of the key pillars of Aussie Dollar demand as investors stop sending capital to Australia.
Indeed, repatriations in the opposite direction could pick up.
"it is likely that the market will be more keen to price in the prospect of higher rates than has been the case in the past," says Auld who believes real rate spreads could compress by close to 100bp over the next year, taking the spread to the lows seen over the last 15-20 years.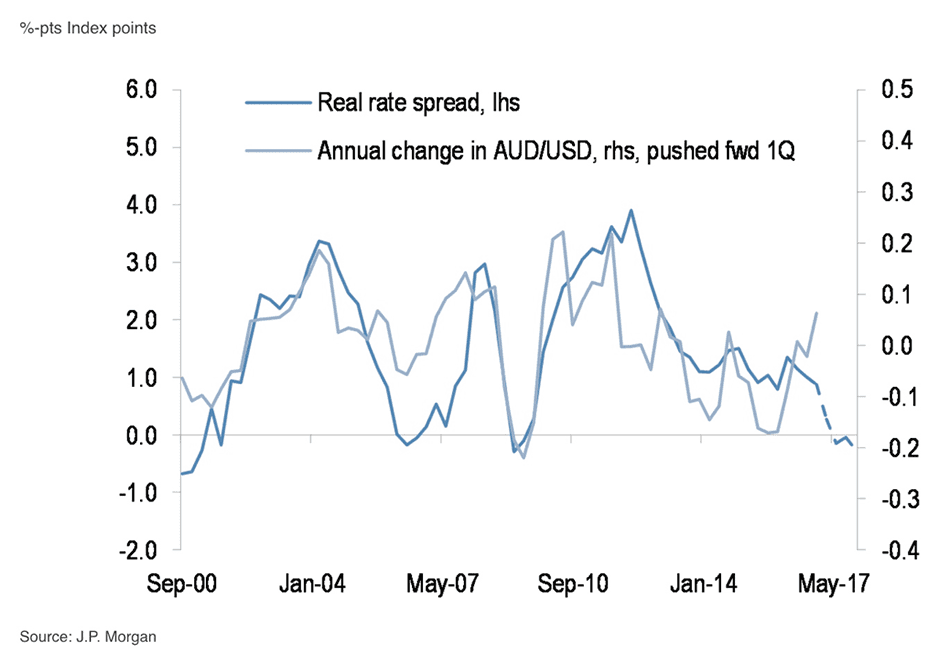 However, downside in AUD should be protected by a gradual recovery in domestic demand.
Latest employment market statistics from Australia show employment continues to grow which should in turn ensure consumer confidence remains bouyant over coming months.
And, mining capital expenditure should be less of a drag as commodity prices bounce off their recent lows.
Chinese Growth Slows Further
What of China, an important lynchpin for commodity prices and currencies such as the Aus Dollar?
The currency derives much of its value from the export of iron ore and liquid natural gas to China.
"Expect a further slowing in Chinese growth next year; calendar growth is expected at 6.4% (vs. 6.7% in 2016 and 6.9% in 2015). Our forecast expects more of the same, in the sense that the moderation in growth will be modest," says Auld.
But with AUD already looking rich vs. Chinese growth momentum and China's leverage ratios having risen further over the course of the year, Auld argues it is hard to see the China narrative as supportive for AUD in coming quarters.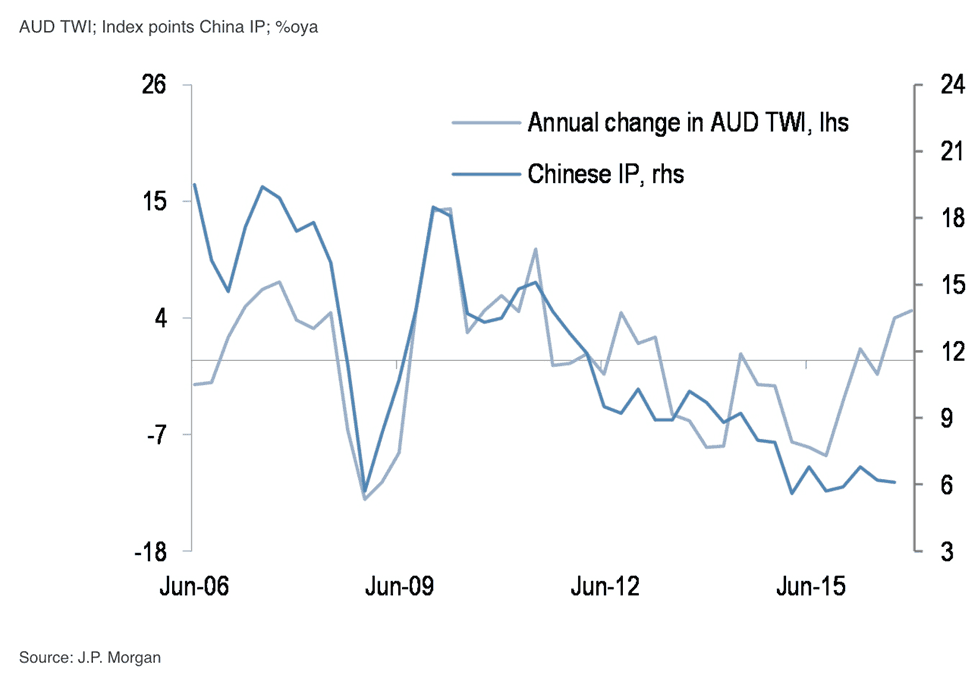 The outlook for commodities – while highly uncertain given the recent price action in both coal and iron ore – isn't expected to deliver much in the way of support over the medium term, given that the J.P. Morgan view is that most of the recent rise in commodity prices won't be sustained.
"The key uncertainty, given the prospect of US fiscal stimulus and the expectation that much of this will be delivered via infrastructure spend, is not so much whether commodity prices fall from extremely elevated levels, but how far they fall," says Auld.
Taking these three drivers in hand, Auld is reasonably confident that upside for AUD/USD should be capped next year.
"From a forecasting perspective, the more interesting question remains how much downside we should expect from AUD," says Auld.
Latest Pound / Australian Dollar Exchange Rates
* Bank rates according to latest IMTI data.
** RationalFX dealing desk quotation.
Australian Dollar Overvalued
Furthermore, there is the question of the currency's valuation.
Is it above or below fair value?
Studies of the Australian Dollar's relative value have lead analysts at the world's largest full-service investment bank to conclude that the Australian Dollar Real Effective Exchange Rate is overvalued.
"This gives us confidence that the trajectory of AUD should be lower over the coming year, as fundamental drivers – a narrowing real interest rate spread and a correction in commodity prices – work to bias AUD back towards fair value," says Auld.
Forecasts
Analysts forecast the AUD/USD exchange rate to trade at 0.71 by mid-year 2017 and 0.68 by the end of the year.
At the time of writing the exchange rate is at 0.7363.