Forecasting the Australian Dollar on Domestic Fundamentals a 'Fools Errand' say HSBC + NAB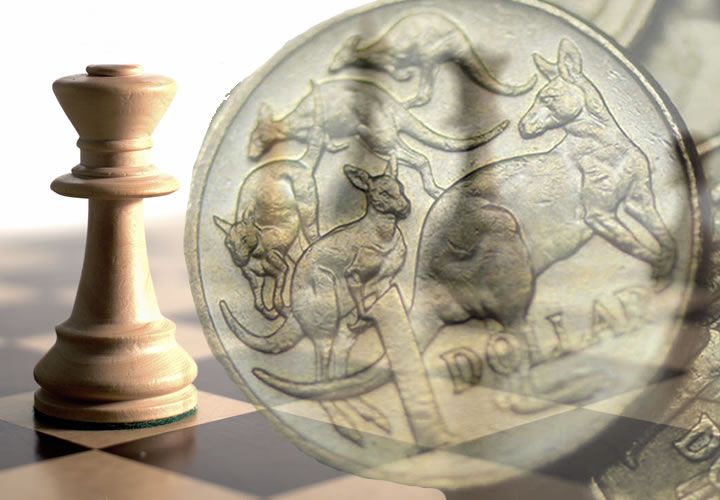 The Australian dollar has dominated its G10 rivals over recent weeks and this should continue near-term argue HSBC and NAB, However, the story changes the further ahead we look.
Australian dollar soft in mid-month trade, weakness aligned to stock market behaviour
ANZ: Two 25bp cuts from the Bank this year
Morgan Stanley maintain their negative AUD view for 2016, economic adjustment not yet done
Within the space of a month fortunes have swung decidedly in favour of the Australian dollar.
In the first six weeks of 2016 the big market stories were low commodity prices and a 'slowing' China.
This left the AUD and NZD as the two worst performing currencies in G10 and analysts were confident that more losses lay ahead as the theme of falling commodity prices continued.
Come March and how sentiment has changed; the AUD has hit its best level vs the USD since August 2015 at 0.74.
The Aussie is around its best level against the pound since April 2015.
While the Australian economy continues to pump out decent data releases, the strength in AUD of late can not be attributed to data alone it is argued.
"The driving factor behind these moves appears to have been changes in general risk sentiment, rather than anything specific to the AUD or NZD," note HSBC in a currency outlook briefing to their customers.
Latest Pound / Australian Dollar Exchange Rates
* Bank rates according to latest IMTI data.
** RationalFX dealing desk quotation.
"The key driver has not been shifts in interest rate differentials, albeit Australian rates have moved slightly in the AUD's favour since the Q4 GDP outcome reported at the end of February," say NAB in a FX briefing, "rather, it has been the improvement in global risk sentiment and as proxied by the fall in volatility."
HSBC believe the risk on / risk off (RoRo) paradigm is starting to strengthen again, and the AUD has responded accordingly.
"When RoRo is dominant assets lose much of their individual characteristics and their fate is determined by general risk moves," note HSBC.
So when stock markets and commodity prices are rising we can confidently bet the Australian dollar will be following.
It is important to note that this is 'more true' at given periods of time and what is important to note is that we are at a period of time in which RoRo is exerting more of an influence once again.
"In a RoRo world, assets behave either as safe havens, or as risk assets and their own fundamentals become subordinated to the overall risk environment," say HSBC, "this means that as RoRo becomes more important, attempting to forecast AUD and NZD on their own fundamentals becomes a fool's errand."
So, if risk sentiment matters for the Aussie, where do analysts see regarding the outlook for general risk sentiment?
Whilst there are many factors which can determine the market's appetite for risk, HSBC argue developments in the price of oil are likely to be of critical importance.
Analysis conducted by the bank suggest that has resulted in a 'core view' that the price will remain broadly stable this year, in line with the futures, which should support the AUD and NZD.
Forecasting a Soft End to 2016
HSBC do however forecast the AUD to weakening slightly and they hold a AUD/USD target at 0.70 by the end of 2016.
Analysts see NZD-USD moving sideways, flat at 0.68 throughout the year.
NAB adopt a similar scenario:
"We remain of the view that a combination of higher US rates over the balance of 2016 than currently priced and a failure of the 2016 year-to-date commodity price rally to persist, will bring AUD/USD back down later this year."
The move will probably be aided by a failure of global risk sentiment to sustain the improvement seen in recent weeks argue NAB.
"Our Q4 2016 forecast stays at 0.67. Yet in the immediate future, it is going to take some sort of shock if the 0.7830/80 levels are not going to be approached or tested," say NAB.
Morgan Stanley Stick to Negative AUD Forecasts
Despite AUD's recent appreciation, analysts at investment bank Morgan Stanley maintain their long-held view thatAUD will weaken this year and next as the RBA cuts more than market expectations and China's slowdown weighs on the Australian economy.
In their Spring Global FX Outlook note to clients Morgan Stanley say recent labour market strength overshadows the still weak underlying economy and our expectations for the housing market call for easier monetary policy and a weaker currency to help boost growth.
"Some investors look at a few recent improvements and the RBA's constructive outlook as evidence that AUD's adjustment is essentially done," say Morgan Stanley, "we disagree. 4Q15 capex data point to another 7% fall in non-mining capex in FY2017, implying that the transition towards the non-resource sector will take longer."
Unless we see a boost to China's growth or a material improvement in Australia's economic outlook, Morgan Stanley say they remain long-term sellers of AUD.