Australian Dollar Retreats from Sterling as Jobs Data Offers Insight Into RBA Outlook
- GBP/AUD on offensive ahead of Aussie jobs data for December.
- As UK rate cut expectations wane and RBA looms over the AUD.
- Commerzbank says AUD more sensitive to bad data than good.
- And Westpac tips two more RBA cuts, QE and further AUD losses.
Image © Adobe Stock
- GBP/AUD Spot rate: 1.9086, up 0.19% for today

- Indicative bank rates for transfers: 1.8416-1.8550

- Transfer specialist indicative rates: 1.8798-1.8912 - >> Get your quote now
The Pound notched up one of its better intraday gains over the Australian Dollar Wednesday as Sterling continued to stabilise following a week of losses and traders eschewed the Aussie ahead of important jobs data for December.
Pound Sterling has recovered its footing this week after December jobs figures planted the seeds of optimism in the market, with lower unemployment claims, an uptick in wage growth and a strong three-month increase in overall employment all easing concerns about the current condition of the economy.
Some analysts have said the figures could mean the Bank of England (BoE) is now less likely to cut its interest rate on January 30, although much still rests on Friday's PMI surveys from IHS Markit.
The Pound had fallen relative to all major rivals in the prior week as investors scrambled to price-in a January rate cut after the economy was revealed to have contracted -0.3% in November, so if investors were to walk away from those bets over the coming week then Sterling could benefit. And the British currency's losses relative to the Aussie were already shallower than they were against others because the antipodean unit has plenty of troubles of its own.
"AUD is likely to remain close to its 100‑day moving average ahead of tonight's Australian December labour market report. The Australian labour market data is one of the last two major pieces of economic data (along with Australian Q4 CPI report data on 28 January) before the RBA's 4 February board meeting," says Kim Mundy, a strategist at Commonwealth Bank of Australia.
Above: Pound-to-Australian-Dollar rate shown at 4-hour intervals.
The Australian Dollar was itself quoted lower against most rivals Wednesday as markets wait to hear wait happened in the jobs market back in December, when bushfires were raging across vast swathes of the country, with the figures due to be released 12:30am Thursday by the Australian Bureau of Statistics.
Markets are looking for employment to have risen by 12.2k and for the unemployment rate to hold steady at 5.2%. However, and no matter what the message from Thursday's numbers, uncertainty over the implications of the recent bushfires and an uncertain outlook for China will continue to obscure the market's view of the path ahead in Australia for a while yet.
Analysts at Commerzbank say this could mean the Aussie is more sensitive to negative surprises than it is positive news up ahead.
"The Reserve Bank of Australia (RBA) is likely to cut its key rate again in February so as to not risk the fragile recovery of the economy that emerged in the autumn. It had already pointed out in December that it was prepared to cut the key rate further should the outlook for growth, inflation and employment deteriorate. That means a positive labour market report would not prevent the RBA from cutting," says Antje Praefcke, an analyst at Commerzbank. "Downside risks are currently dominating in the AUD."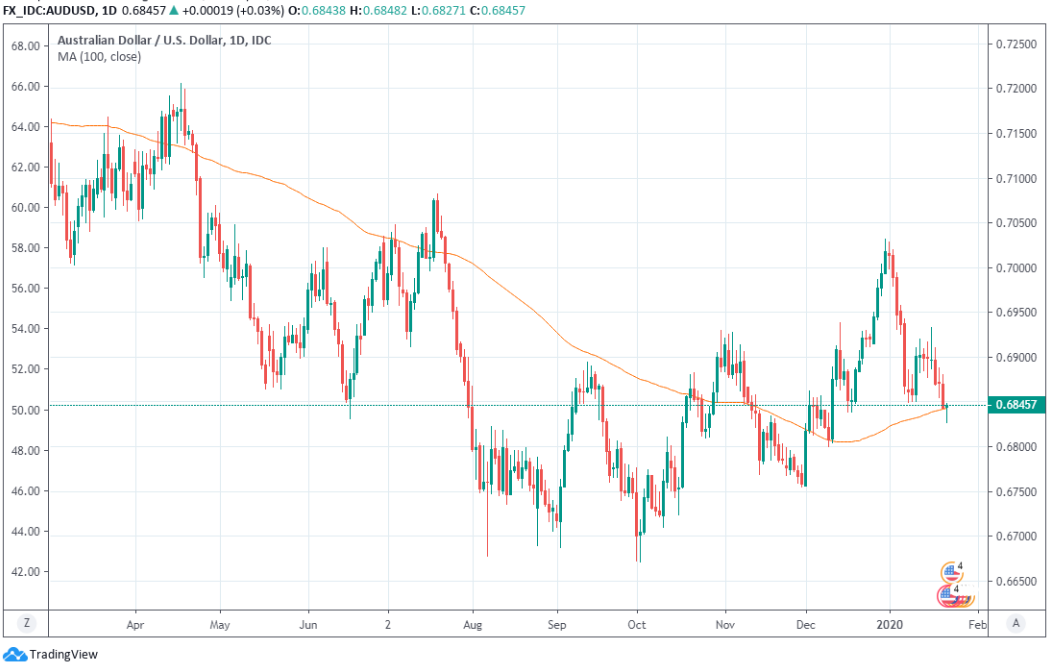 Above: AUD/USD rate shown at daily intervals.
Commerzbank told clients Wednesday that even if the economic impact of recent bushfires is less than expected, the Reserve Bank of Australia is still likely to cut its interest rate again in the first week of February because the economy has slowed notably in the last year and the signs of recovery that were apparent in late 2019 were only modest. And the Aussie is not yet priced for a rate cut next month because the overnight-index-swap implied cash rate for February 04 was 0.61% Wednesday.
Market pricing implies a greater-than 50% chance of a rate cut next month but the implied rate is still above the 0.50% threshold that would prevail following another typical 25 basis point reduction to the cash rate. The RBA cut rates three times last year in the hope of fostering greater employment and faster economic growth with a view to finally meeting the long-elusive 2%-to-3% inflation target. December's inflation figures are out on January 28.
Australia's economy has weakened amid soft consumer spending that has roots in a housing market downturn and years of weak wage growth, although it's also been under pressure due to the U.S.-China trade war. And inflation had already been running below the RBA's target level for years before that.
"AUD has background support from ongoing historically large trade surpluses, elevated equity prices and low volatility. But sub-trend growth and muted inflation are keeping markets leaning towards further RBA easing, which seems to be the main driver for AUD. Our base case is for the RBA to cut the cash rate to 0.5% in Feb, followed later in the year by another cut and QE," says Sean Callow, a strategist at Westpac, in a note to clients Wednesday.
Above: Pound-to-Australian-Dollar rate shown at daily intervals.
Callow forecast last week the Pound-to-Australian Dollar rate will rise to 1.96 by the end of March because Westpac sees the RBA cutting rates in February and then some during subsequent months, while the BoE is seen holding off on its own cuts until the second quarter of the year. That will eventually leave Australia's cash rate beneath that of the BoE, likely making Sterling a higher yielding and more attractive currency for investors than the Aussie.
Interest rate changes influence the capital flows as well as speculative short-term trading activity that governs the currency market, with lower rates often driving investors out of, or deterring them away from a currency. Rate decisions are made according to the outlook for inflation, which is sensitive to the pace of economic growth and many other things, with rate cuts deployed to combat slowing growth and the consequent fading of inflation pressures.
"AUD remains vulnerable as it straddles 0.6850 with the next support seen at 0.6805-10 and initial resistance lowering to 0.6880," says Tim Riddell, a London-based strategist at Westpac, referring to the AUD/USD rate.
Time to move your money? The Global Reach Best Exchange Rate Guarantee offers you competitive exchange rates and maximises your currency purchasing power. Combine great rates, professional guidance and market insights to help you make your money go further. Find out more here.

* Advertisement
Expat pension changes: How Brexit will impact your UK pension if you are living in the EU. Capital Rock Wealth have developed a comprehensive guide to help you navigate the uncertainty ahead. Find out more here.

* Advertisement