Australian Dollar Outlook: Sharp Decline in NAB Employment Index Builds Case for RBA Cut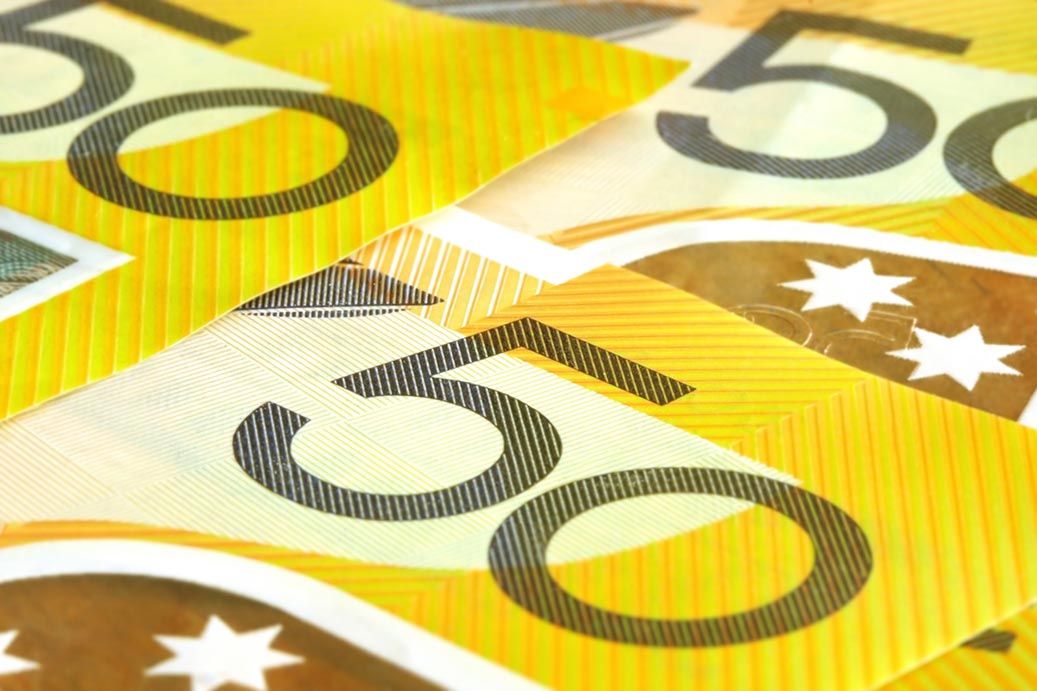 Image © Robyn Mac, Adobe Stock
- Aussie jobs market slowing suggest NAB survey data
- Jobs now key consideration for RBA when deciding on interest rates
- Morgan Stanley forecast Aussie Dollar weakness on two RBA rate cuts in 2019
The Australian jobs market could be making a turn for the worse according to fresh economic survey data; a development that sets the scene for an interest rate cut in coming months and a lower Australian Dollar.
The NAB Business Monthly Survey showed a surprise deterioration in the Australian labour market with the employment index falling to a below average level, the first occasion this has occurred since late 2016.
The Employment Index "saw a particularly sharp decrease" report NAB after it fell to -1 in April, while the headline Business Conditions fell 4pts to +3. Trading and profitability each declined by 4pts.
"All three components are now below average. Confidence edged up 1pt in the month to 0 index points, but remains well below average – suggesting little improvement in business conditions in coming months," says a note from NAB accompanying the data.
Surveys such as this tend to offer an early insight into where official data is heading, and the picture building is one of fading domestic strength that could invite an interest rate cut at the Reserve Bank of Australia (RBA).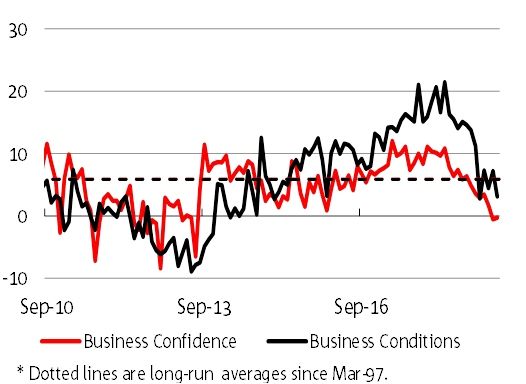 Image courtesy of NAB
"We will continue to watch the employment index as well as the other forward looking variables over coming months for further slowing. In particular, the readings of labour market related variables will remain important as, for now, the interest rate outlook appears to hinge on continuing strength in the labour market" says Alan Oster, NAB Group Chief Economist.
The RBA last week left interest rates unchanged at 1.50% for the 33rd meeting in a row in a decision that markets saw going either way owing to Australia's ongoing soft inflation dynamics.
The decision to not cut interest rates by the RBA did however send a clear signal that policy-makers are placing more focus on the country's jobs market rather than inflation.
"The Australian labour market remains strong," says RBA Governor Stephen Lane in a statement. "There has been a significant increase in employment, the vacancy rate remains high and there are reports of skills shortages in some areas."
However, Lane and his team might have to change tack if the official employment market data does indeed follow that of the survey data.
"Whether the RBA cuts the cash rate in coming months will boil down to the jobs market," says Best Deda, Chief Economist with St. George Bank in Sydney.
In the final paragraph, the RBA said it needs further improvement in the labour market for inflation to be consistent with target.
"However, its broadly steady unemployment rate forecast until 2021 suggest a higher risk that a rate cut will be warranted," says Deda.
Currencies tend to fall when their central bank is about to embark on an interest rate cutting cycle, as global investors expect falling yields in the future to offer lower returns.
This tends to result in capital flowing to other higher yielding destinations.
Australia's superior interest rate settings have long been a source of support for the Australian Dollar as investors were attracted by the yields on offer, this advantage has however been whittled away as other central banks raised their own rates and expectations for a rate cut at the RBA have steadily increased.
"Against the majority of its Developed Market peers, AUD may stay as an underperformer as we expect the RBA to cut rates twice this year, in August and November, pushing yield differentials in favour of AUD weakness," says Hans Redeker, a foreign exchange strategist with Morgan Stanley in London.
The NAB survey data comes the day before official wage numbers for Australia are released and two days before the general labour market report is released.
The Australian Q1 wage report is due out mid-week, and the Australian April labour force report is out Thursday.
The data "will largely make or break the case for a RBA rate cut in June," says Richard Grace, a foreign exchange strategist with Commonwealth Bank of Australia. "If the unemployment rate unexpectedly lifts by a large margin, the pricing for an RBA rate cut will skyrocket and AUD/USD will depreciate by up to 1.5%."
Markets expect wage growth to come in at 2.3% year-on-year for the first quarter, while jobs growth of 15.2K is expected for April.
"While there has been improvement in the labour market, there are only limited signs of improvements in wage growth because the underemployment rate is high," says Grace.
Time to move your money? Get 3-5% more currency than your bank would offer by using the services of foreign exchange specialists at RationalFX. A specialist broker can deliver you an exchange rate closer to the real market rate, thereby saving you substantial quantities of currency. Find out more here.

* Advertisement