Australian Dollar Cedes Initiative Back to Sterling but Brexit a Double-Edged Sword for Aussie 
Image © William W. Potter, Adobe Stock
- AUD cedes ground to firmer GBP as markets eye Brexit delay.
- Analysts say a no deal Brexit will hurt both the GBP and AUD.
- As UK parliament faces choice between no deal and Brexit delay.
The Australian Dollar weakened on Wednesday, helping the Pound-to-Australian-Dollar rate to recover onto a firmer footing, although analysts say the Brexit saga playing out in London is a double edged sword for the Antipodean and British currencies.
A messy turn of events in London over the coming days would send Pound Sterling reeling once again but it could also have adverse implications for the Aussie Dollar in its own right, given the likely impact on the U.S. Dollar and the Antipodean unit's sensitivity to changes in risk appetite.
"AUD/USD has been largely unaffected by Brexit developments. However, if the UK Parliament vote for a hard Brexit tomorrow, AUD/USD could fall as the USD gets bid in the global foreign exchange market, and if/as global equities decline," says Richard Grace, head of FX strategy at Commonwealth Bank of Australia.
Grace's comments came in the early hours of Wednesday morning and ahead of a House of Commons vote on whether to have the Prime Minister pursue a so-called no deal Brexit where the UK exits the EU and defaults to doing business with it on World Trade Organization (WTO) terms.
He says parliament is unlikely to back such a move but that if it did, it would be a calamitous turn of events for both Pound Sterling and the Australian Dollar, although the British currency would certainly suffer more. Others agree.
"Market commentators disagree as to the exact degree of the anticipated Pound decline should a 'no deal' Brexit become a reality – but most consider revisiting the post referendum low of GBPAUD 1.56 a firm possibility," says Glenn Uniacke, a direct of corporate and international payments at Moneycorp.
Markets are focused increasingly on the rising and falling odds of a no deal Brexit happening because Prime Minister Theresa May's plan for exiting the EU has been rejected by parliament twice now, with a landslide coming out against the Withdrawal Agreement on both occasions.
MPs will now be given the chance to accept or reject a so-called no deal Brexit before another ballot, on Thursday, gives them the opportunity to force the Prime Minister to return to Brussels and ask for an extension of the Article 50 window that is due to end on March 29.
The UK's parliament is overwhelmingly comprised of individuals who backed remaining in the European Union and who have, at best, given a tepid response to the electorate's decision to opt for an exit from the EU.
The Prime Minister also voted and campaigned for remain ahead of the 2016 referendum and has, since Tuesday evening, said she will vote against a WTO terms trading relationship. Markets are anticipating that parliament will demand a delay to the UK's exit from the EU.
"Confusingly for investors, however, the rejection of a no deal by UK MPs this evening does not necessary mean that a no deal is off the table. As it stands in law, the UK is hurtling towards a hard Brexit on March 29. The rejection of a no deal Brexit by the House of Commons today will be a strong indication of the horror felt at this prospect. However, it will not change the law," says Jane Foley, a strategist at Rabobank.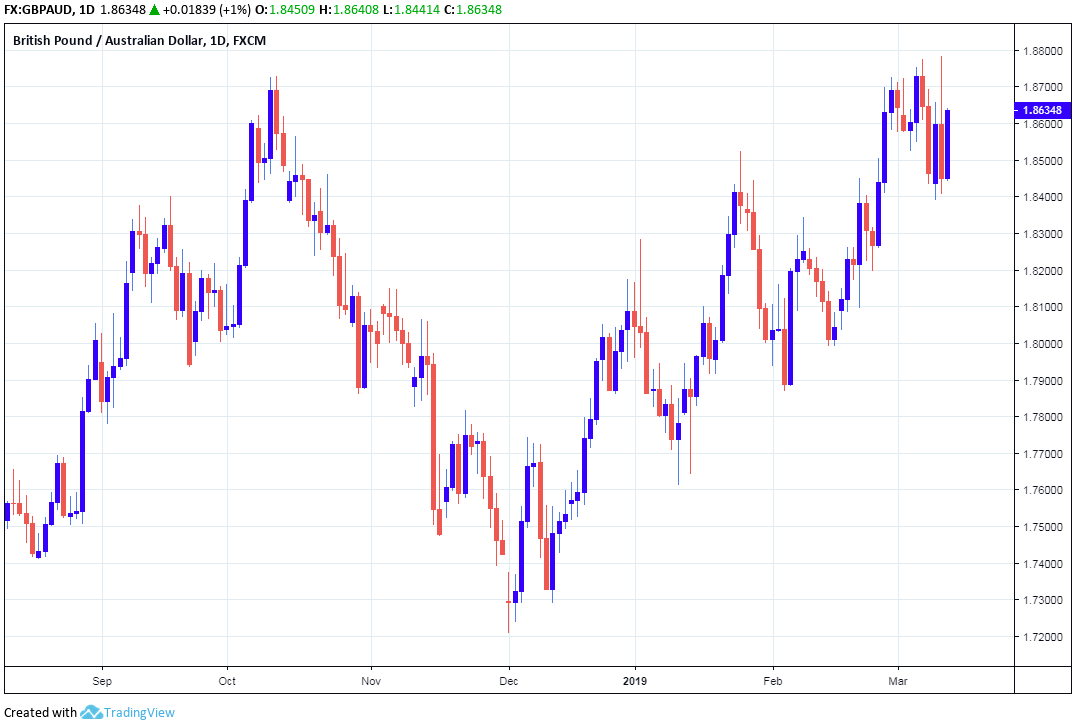 Above: Pound-to-Australian-Dollar rate shown at daily intervals.
The Pound-to-Australian-Dollar rate was 0.55% higher at 1.8598 during the morning session Wednesday and is now up 2.76% for 2019, while the AUD/USD rate was -0.01% lower at 0.7062 but has risen 0.15% this year.
Above: AUD/USD rate shown at daily intervals.
Wednesday's price action comes after Westpac said consumer confidence saw its largest monthly decline in nearly four years, with its index falling -4.8% to 98.8 in March, down from 103.8 back in February.
"This was the largest monthly drop since 2015. It also doesn't look like the property market will find a bottom any time soon with plans to invest in real estate at the lowest since the survey began in 1973," says Sue Trinh, Asia head of FX strategy at RBC Capital Markets.
The decline appears to be the result of multiple factors including the final quarter GDP report that showed Australian economic growth falling sharply at the end of last year, although Westpac also connects the outcome to recent events in the housing market.
This is because respondents to the survey cited economic conditions as their number one reason for lower confidence, but the largest decline in optimism was seen in Sydney, which has also experienced the most significant house price falls during the last year.
"Falling consumer confidence in response to weak GDP growth, risks adding another headwind to Australian consumption growth over and above the dampening influence falling house prices and tightening credit conditions are already having on Australian consumer sentiment," says CBA's Grace. "AUD/USD could come under further pressure tomorrow if Chinese industrial production, fixed asset investment and retail sales data for February print on the soft side."
Australia's economy grew by just 0.2% during the final quarter last year, down from an already-paltry 0.3% back in the previous period, which means GDP rose by only 2.3% for 2018 as a whole.
That's down from the 2.8% annual pace of growth seen at the end of the third quarter and beneath the RBA's February 2019 forecast for a steady 2.8%, with much of the deceleration having its roots in the household sector.
Economists are connecting Australia's slowing economy with an ongoing downturn in house prices, which now appears to be having an impact on household confidence and consumers' willingness to spend.
The Reserve Bank of Australia (RBA) changed its interest rate stance last month as a result of recent events and now suggests the next move in borrowing costs could be either up or down. Previously it said the next move would be a hike.
Australia's cash rate has been at a record low of 1.5% for nearly three years now but financial markets are now betting the RBA will cut interest rates before the year is out. The cash rate implied by the overnight-index-swap market for December 03, 2019, is just 1.15% suggesting investors see two rate cuts as a distinct possibility.
Time to move your money? Get 3-5% more currency than your bank would offer by using the services of foreign exchange specialists at RationalFX. A specialist broker can deliver you an exchange rate closer to the real market rate, thereby saving you substantial quantities of currency. Find out more here.

* Advertisement