Australian Dollar Slips after Jobs and Housing Markets Falter Ahead of Key RBA Interest Rate Decision 
Image © Crawford Forum, Reproduced Under CC Licensing
- AUD softens after data shows housing and jobs markets softening.
- Comes ahead of Tuesday's RBA interest rate decision and guidance.
- Markets wary that RBA could warn rate cuts now in the cards for 2019.
The Australian Dollar fell into the new week Monday after surveys showed the jobs and housing markets struggling early in the New Year, just hours before the latest interest rate guidance is due from the Reserve Bank of Australia (RBA).
Fresh signs of weakness early in the New Year could be enough to ensure the RBA moves to a more "dovish" interest rate stance this week, vindicating the market for having bet increasingly during recent months that an interest rate cut cannot be that far off.
Australian job advertisements fell by -1.7% in January alone and are now -3.7% below the level seen at the beginning of last year, suggesting momentum in the labour market may now be waining.
"ANZ Australian Job Ads slipped into negative annual territory in January for the first time since March-April 2015. The decline in job ads is consistent with a range of other data suggesting the economy lost momentum in the second half of 2018," says David Plank, an economist at Australia & New Zealand Banking Group (ANZ).
Australia's labour market has been a relative bright spot for an economy besieged by a litany of headwinds and risks during recent quarters, which have ranged from volatile commodity prices and a faltering housing market, to the U.S.-China trade war that has stoked fears for the global economy.
House prices have been falling steadily in all of Australia's major cities for a while now and official data released Monday suggested strongly that last year's weakness was carried forward into 2019.
Approvals for the construction of new residential homes fell by an eyewatering -8.4% in December, after having declined by -9.4% in the previous month, which took the annulised rate of decline in approvals to -23%
"A very sharp decline in residential building activity looks set for 2019, notwithstanding the large amount of work yet to be done. We think the RBA will factor in weaker residential investment in its forecasts this week," Plank says.
Years of runaway price growth, higher international funding costs and changes to bank lending regulations have all contributed to the cracks now opening up in Australia's housing market, which are of increasing concern to policymakers.
Fears are that a prolongued downturn in prices will create negative wealth effects that hurt the economy by deterring households away from spending. That could sap demand from the economy and reduce inflation, which would mean a headache for the RBA.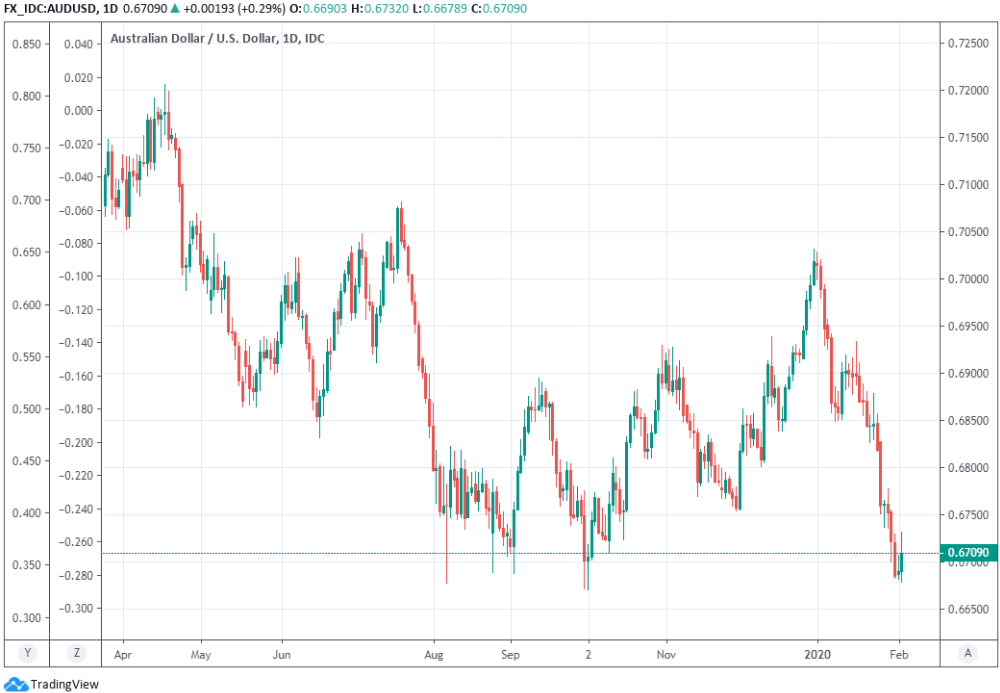 Above: AUD/USD rate shown at daily intervals.
"Domestic housing market weakness is encouraging speculation that the RBA will be forced to ease monetary policy later this year," warns Lee Hardman, a currency analyst at Japan's MUFG. "It is from this perspective that market participants will be assessing the upcoming RBA monetary policy meeting."
Investors are betting heavily in the interest rate derivative market that there is around a 50% chance the RBA will cut its interest rate to a fresh record low of 1.25% before the year is out.
The RBA has held rates at 1.5% for more than two years citing below-target inflation and an economic outlook that is not sufficient enough to support a sustainable return of the consumer price index to within the 2%-to-3% target band in the short-term.
Until now the bank has said the next move in rates could be "either up or down" but investors and analysts are anticipating the RBA will begin warning about the mounting odds of a rate cut as soon as this week.
"The Australian dollar would be vulnerable to further weakness if the RBA signalled that they beginning to shift to an easing bias. However, it may still prove too soon for the RBA to make such a dovish shift," Hardman says.
Changes in interest rates are normally only made in response to movements in inflation but impact currencies because of the push and pull influence they have over capital flows, as well as their allure for short-term speculators.
Inflation rose by 0.5% during the final quarter of 2018, up from 0.4% previously and ahead of the economist consensus for an unchanged reading of 0.4%.
However, the annualised rate of inflation still declined from 1.9% to 1.8% during the final months of the year. The RBA wants the consumer price index to settle comfortably between the 2% and 2% levels, but it's been below that band for years now.
"The biggest event to look for in all of this is whether the RBA discards the reference to their forward guidance that "the next move in the cash rate being more likely to be an increase than a decrease"," says Richard Grace, head of currency strategy at Commonwealth Bank of Australia.
The RBA will announce its latest interest rate decision and guidance at 03:30 London time Tuesday, although the customary press conference and economic forecasts will not be out until Wednesday and Friday respectively.
The AUD/USD rate was quoted -0.33% lower at 0.7226 Monday but has risen 2.48% for the year-to-date, while the Pound-to-Australian-Dollar rate was 0.28% higher at 1.8065.
Above: Pound-to-Aussie rate shown at daily intervals.
Time to move your money? Get 3-5% more currency than your bank would offer by using the services of foreign exchange specialists at RationalFX. A specialist broker can deliver you an exchange rate closer to the real market rate, thereby saving you substantial quantities of currency. Find out more here.

* Advertisement