© kasto, Adobe Stock
- AUD/USD piercing trendline and trying to move higher
- Clear break above would bias pair to more upside
- Cluster of MAs just above a further hurdle to vault
The Australian Dollar is in the process of reversing a long-term downtrend against the U.S. Dollar with the AUD/USD pair in the process of piercing through a major trendline.
If successful the break would be a game-changer for the exchange rate.
Trendlines are drawn on charts to highlight the direction of the trend. Once the direction is determined the assumption is that it will continue and this can help analysts with forecasting. By the same token if breached it strongly suggests the trend could be changing.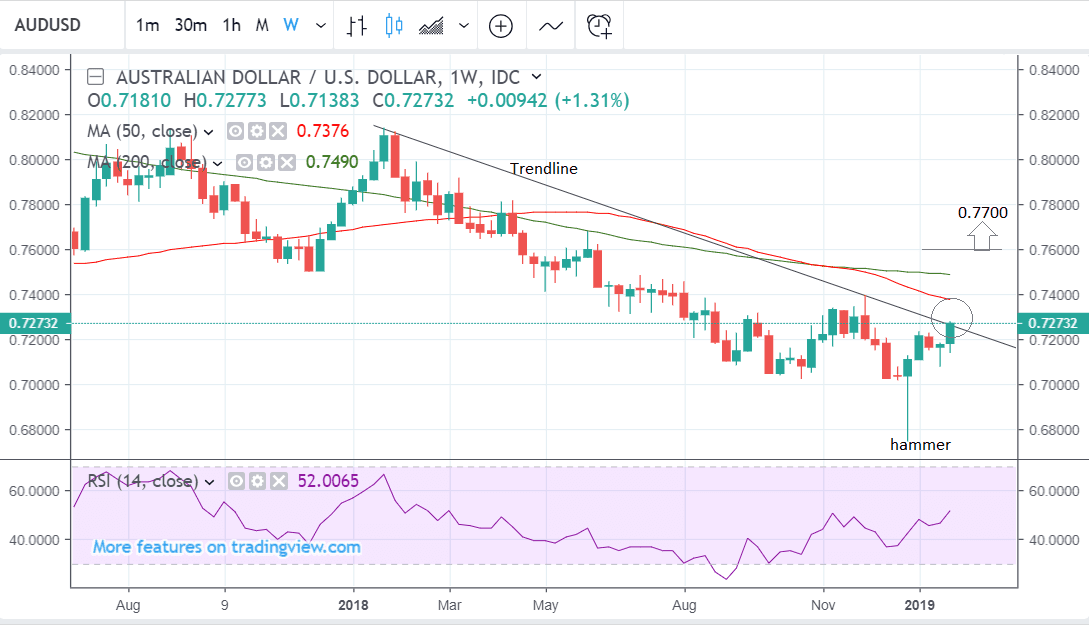 The trend at the moment is down on a longer-term basis, as illustrated by the trendline drawn from the January 2018 peak on the chart above.
This trendline remains intact - but only just - suggesting the longer-term current is down and biasing the exchange rate to further declines.
There is a threat that the pair may break above the trendline, however, and such a successful break, on a daily or weekly closing basis, would be a strong bullish signal for the pair.
There are other signs the pair could be changing trend: the Japanese hammer candlestick low established at the end of December, is another indicator the trend could be reversing, especially as it is followed by an up week which awards it upside confirmation.
The pair is also accompanied by strong upwards momentum which mildly supports a continuation of the trend higher.
Momentum is particularly bullish on the monthly chart where it appears to be showing early signs of reversing its own trend lower.
A further bullish sign on the monthly chart is a pivot swing, which is a 3-month rotation around a new low. This could be forming around the January lows. If price action during February rises above December's highs at 0.7394 that will be produce a bullish reversal signal.
But, Moving Average Ceiling Blocking Way
The pair may be in the process of piercing through the trendline and reversing trend but some weighty obstacles still lie in ahead blocking its way higher.
These are major moving averages (MA) including the 200-day, 200 and 50-week MAs, at 0.7292, 0.7490 and 0.7376 respectively.
These are all likely to be difficult to pierce through and a break above 0.7600 would be required to confirm they had been cleared. Such a move would be expected to rise up to an initial upside target at 0.7700.
MAs are tough levels of dynamic support and resistance where prices often reverse and start moving lower, and there is a risk this could happen in this case, even if the pair manages to break above the major trendline.
Time to move your money? Get 3-5% more currency than your bank would offer by using the services of foreign exchange specialists at RationalFX. A specialist broker can deliver you an exchange rate closer to the real market rate, thereby saving you substantial quantities of currency. Find out more here.

* Advertisement