South African Rand in the Red as Markets Look Beyond Zexit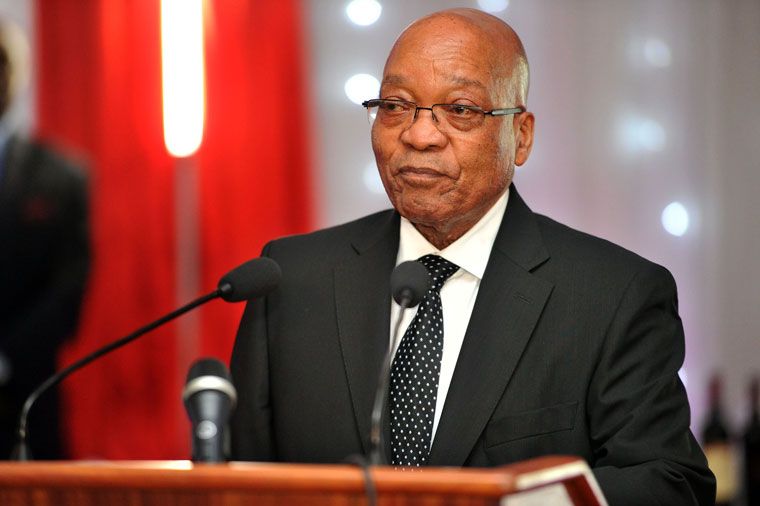 © GCIS, Government of South Africa
The ousting of Zuma is the minimum that markets have come to expect if South Africa's finances and politics are to be reformed in a way that is conducive to a sustainable economic recovery.
The South African Rand fell against many of its international counterparts in London Tuesday, as the campaign to oust President Jacob Zuma appeared to be nearing its climax and markets began to contemplate life after the incumbent leaves.
A New24 report suggested Tuesday the ANC party's national executive council has issued a notice of recall to President Zuma, a move designed to force the incumbent into resigning his position.
The decision comes after a 13 hour meeting of the ANC's leadership committee and is expected to culminate in a media briefing at 12:00 pm London time.
"The rand was one of the worst performing risk currencies yesterday. This will support stories that local politics is all priced in," says John Cairns, a currency economist at Rand Merchant Bank. "Perhaps, but there is certainly room for sharp rand gains. The ANC's mid-day press briefing is an obvious trigger."
South Africa's Rand has underperformed other emerging market currencies this week as the ANC and party leader, Cyril Ramaphosa, continued the battle to force a transition of power.
Ramaphosa has been supported in his push for a transition of power by the parliamentary opposition and a vast swathe of the African National Congress, ever since winning the ANC presidency in a December leadership ballot.
Ambivalence of the currency on Tuesday could mean either that the good news is already in the price, or markets are simply becoming fatigued by the continued ebb and flow of rising and falling hopes that a resolution is near.
The USD/ZAR rate was quoted 0.11% lower at 11.88 during early trading Tuesday while the Pound-to-Rand rate was up 0.39% at 16.54.
The Rand has risen by nearly 4% against the US Dollar in 2018 and by nearly 1% against Sterling as speculation over Zuma's likely ousting intensified. It is up by a double digit number if Tuesday's prices are compared with those that prevailed back in December.
"A quick change of the Presidency over to the ANC leader Cyril Ramaphosa would not guarantee South Africa's economic recovery. Unfortunately economic theory has yet to find a totally reliable recipe for that...And fighting corruption is easier said than done," says Ulrich Leuchtmann, head of G10 FX strategy at Commerzbank.
However, a changeover at the top of government is the minimum that international markets have come to expect if South Africa's finances and politics are to be reformed in a way that is conducive to a recovery from years of economic malaise.
"As long as Zuma is in office, not even the necessary conditions for sustainably higher growth are there. That means that the recent ZAR strength is definitely justified," Leuchtmann adds.
Although South Africa's long term economic fortunes cannot be improved overnight, they can almost certainly be damaged beyond repair in such a timeframe.
Those fortunes may well be damaged beyond repair too if Moody's, the last remaining ratings agency to have South Africa's local currency debt rated as investment grade, goes ahead with a downgrade in March.
A loss of investment grade status could be devastating as it would see many institutional investors forced into selling their government bonds, which would push South African borrowing costs higher and put downward pressure on the Rand once again as foreign investors flee the country.
The agency put South Africa "on review for downgrade" back in November, citing a rising budget deficit, a deteriorating growth and fiscal revenue outlook, as well as the government's poor record on economic policy. Governance of state owned enterprises was also an issue too.
It noted at the time, the then-looming ANC leadership election and the forthcoming February budget statement from the Treasury which, if played right, were both cards that could see a downgrade averted.
The ANC leadership election saw the reformist Ramaphosa elected to run the ANC, and the country if Zuma steps down, opening the door to the ongoing effort to oust the President.
However, the February 21 budget statement still needs to set out a credible plan for bringing down the deficit if a downgrade is to be avoided at the next ratings review.
Advertisement


Get up to 5% more foreign exchange by using a specialist provider to get closer to the real market rate and avoid the gaping spreads charged by your bank when providing currency. Learn more

here

.