South African Rand Outlook Deteriorates as Global Capital Flows Shift in Wake of Trump Victory
The Pound to Rand exchange rate surged to its best levels since September in the week ending November 12th as investors repatriate money into developed markets, a trend that could yet weaken ZAR further.
South Africa's Rand weakened versus most majors during the week ending November 11th as the election of Donald Trump as US President lead to a massive outflow of money from riskier emerging markets such as South Africa.
GBP/ZAR has risen by more than 10.0% since the election, from a pre-election low of 16.39 to a daily high of 18.10 on Friday.
At present it is Trump's impact future inflation expectations in the US, UK and Europe that is driving significant global money flows that for years have favoured the likes of high-yielding jurisdictions like South Africa.
Trump's plan to increase stimulus by $1 trillion in an effort to kick-start anaemic growth in the US increased inflation expectations which in turn saw a corresponding rise in lending rates and bond yields as investors demanded more return for holding assets that could in the future be eroded by higher inflation.
"Rising US bond yields sparked a sell-off of high carry currencies across the world. Potential US trade protectionism was another negative factor at play. The high beta South African Rand was badly hit as a result. ZAR was also hurt by rising downgrade risks before yearend," says Alvin Tan at Societe Generale.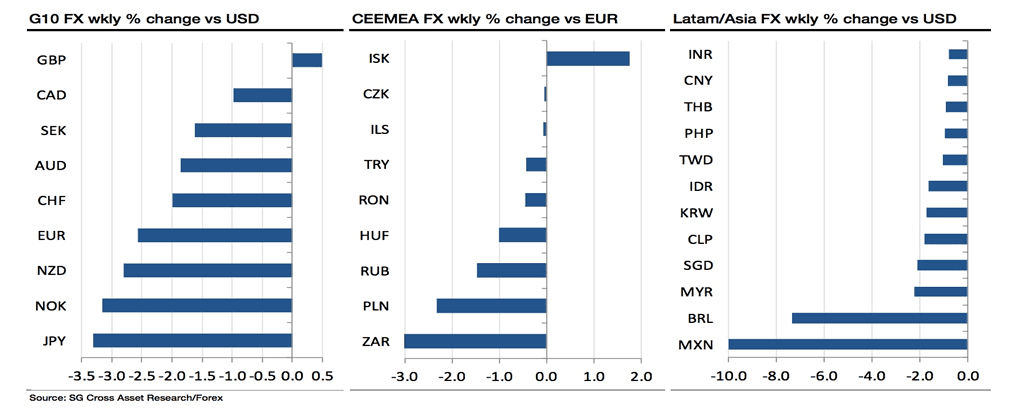 Since many EM companies have US Dollar denominated debts, many of which also originate in the US, it is feared the rise in US interest rates could translate into higher debt repayments which will weigh on countless EM balance sheets.
The current rally in the Dollar has also made US debt even more expensive for EM businesses to service.
Expectations of increased stimulus and growth in the US fed a backflow into the US, which led to a rise in the US stock market, with the Dow rising 218 points on Thursday, as investors took a positive view of the outlook for the US economy.
Much of the money appears to have been made up of repatriation flows from previous emerging market investments.
Recent homegrown data from South Africa has not been particularly positive either, so there was no offsetting influence from that quarter.
"Local news is having no impact on the market but it is, nevertheless, worth keeping an eye on. As expected, the no-confidence motion was a motion of no hope. Both mining and manufacturing numbers for September, meanwhile, came in better than expected although these sectors still subtracted from GDP in 3Q16, affirming our view of weak growth in the quarter," said John Cairns of Rand Merchant Bank (RMB).
Latest Pound / SA Rand Exchange Rates
* Bank rates according to latest IMTI data.
** RationalFX dealing desk quotation.
British Pound 'Darling' of Trump Ascendancy
The Pound has become the unlikely beneficiary of Donald Trump's win after it rose even more than the US Dollar following his election on Wednesday.
This is because inflation expectations have risen in the UK in tandem with the US and bond yields are also rising.
Since Brexit the Pound has not been taking notice of yields and has actually become grossly undervalued according to this metric.
The Trump-trade has seen many investors realise this fact and there is a massive repricing of the currency underway.
An additional reason for the Pound's strength is Trump's pre-election promise that he would place the UK at the front of the queue in any trade talks.
Whilst we remain sceptical as to how good a deal; the UK will get of an agreement with the US, who will be in a much stronger negotiating position to the isolated UK, a trade deal may come quicker as a result of Trump presidency.
There is even an argument that Trump may champion the UK's cause in its Brexit negotiations with the EU, in an attempt to broker a better deal for the UK, as put forward recently by Boris Schlossberg, partner at BY Asset Management.
"Mr. Trump is very likely to force the EU to negotiate with UK on PM May's terms or threaten a cooling of trade ties between EU and US. In short, having Mr. Trump as President may have ameliorated some of the worst economic aspects of Brexit and the market is reacting to this development by relentlessly bidding cable," said Schlossberg.
We think this is unlikely because supporting the UK would risk turning the EU – a larger trading entity against the US.
In addition, Trump will not want the Uk to get an especially good deal with the EU as it will strengthen the UK's negotiating stance in any subsequent negotiations with the US.
He has made it clear that way out at the top of his list of priorities it to get a good deal for American workers, who no doubt feel they have lost out in the past.
"The system was gamed for whatever reasons to begin with, the gaming's got to be removed, and it's got to be balanced for the American worker, American business, the American economy and trade deals are going to be walked away from if they can't be renegotiated to the point where they are net-positive for our GDP and they are positive for our good-paying job growth.
"And it is something Donald Trump is not going to walk away from. He is committed to it," said Dan Dimarco, Donald Trump's spokesperson.
What would be preferable from Trumps point of view is for the UK to come to the table desperate for a deal with the US, immediately placing it at a disadvantage in negotiations.
Ultimately, to expect the author of the 'Art of the Deal' to weaken his hand out of some nostalgic loyalty to the UK or even for personal reasons, seems a little naive and somewhat unlikely to us.
It is questionable, therefore, whether the current Trump bump rally has any legs, unless more concrete promises of a 'special treatment' for the UK are forthcoming.