Pound to South African Rand About to Break Below the Magic 20.00 Marker
The South African rand continues to strengthen at a rapid pace and could soon force the GBP/ZAR exchange rate below the 20.00 level.
Calm has been restored to international markets and it appears that 'Turnaround Tuesday' has given way to a strong Wednesday.
The rand is thriving in these conditions - with markets turning more confident once more investors are lapping up ZAR in order to invest in the high-yielding assets the country offers.
With interest rates in the United States now forecast to remain lower for longer following Brexit, South Africa's high interest rate environment is sucking in currency.
The pound to South African rand exchange rate is understandably under pressure as a result.
Analysts are now in agreement that the Bank of England will cut interest rates lower than the current 0.5%, this should make borrowing in sterling and saving in ZAR an attractive investment strategy.
GBP/ZAR is now knocking on the floor at 20.00 which should break way soon enough.
However, from a purely technical standpoint we observe that the pair has formed a pattern which could be warning that downside may be reaching a floor.
The chart of GBP/ZAR is showing a completed-looking - or almost complete – 'zig-zag' pattern, 'measured move' or 'ABCD' pattern down from the 23.3470 highs.
This pattern is showing that the C-D leg is now of the same length as the A-B leg, indicating the pattern may be complete.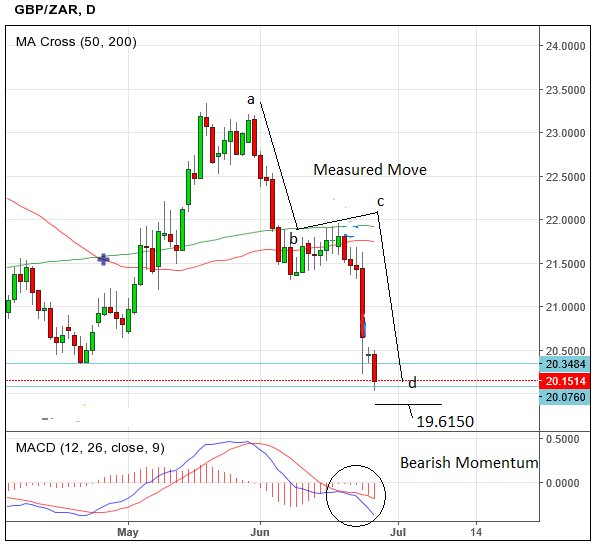 If so, then it is likely the next move in the pair will be up as the exchange rate bottoms and starts to reverse its short-term trend.
Given the lack of signs from price action that the down-move is reversing, however, such a rotation is still too early to call.
Instead the down-trend remains intact, although there is an increasing possibility it may stutter to a halt soon.
Due to the threat of a technical bullish reversal the bar should be raised for an extension lower, with a break below the key 20.0000 level being really necessary for more downside.
Confirmation would come from a move below 19.9000, and a target down at 19.6150, where the S2 monthly pivot is situated.
Latest Pound / SA Rand Exchange Rates
* Bank rates according to latest IMTI data.
** RationalFX dealing desk quotation.
The pound continued to leech lower on Monday morning after the shock of Brexit was followed by more uncertainty, both economically and politically.
John Cairns of Rand Merchant Bank, encapsulated the uncertainty still pushing the pound lower in his daily update:
"The UK may be tearing itself apart. Opponents of Brexit have called for another referendum, a re-Brexit, and are arguing for Parliament to vote to stay in the EU.
"Scotland wants another independence referendum. And both the Labour and Conservative Parties are in turmoil. Reflecting the uncertainty, GBP/USD has dropped back to 1.34 this morning — not far off Friday's 1.3220 low — and some market participants are calling for further 5% – 10% losses."
Cairns adds that the easy global market conditions which have followed on from Brexit are expected to be supportive for the Rand, increasing expectations for even more downside given more weakness from sterling is expected:
"It is not all negative. The silver lining for the rand remains that global monetary conditions will be easier after the Brexit vote.
"Fed futures, amazingly, have completely priced out further hikes this year and are even toying with the idea that the Fed could cut rates. Further ECB and BoJ easing is all but assured. Switzerland has already reacted with currency intervention on Friday."
Featured Content
Mortgage Direct - a Spanish mortgage broker specialising in the provision of mortgages for expats - have confirmed they have secured their Spanish license.