Pound to South African Rand Recovery Heads toward Setback Risk
"However, the market remains long
of

GBP and bulls will likely need reassurances on the UK economic outlook," - Rabobank.
Image © Adobe Images
The Pound to South African Rand exchange rate climbed further from three-month lows early in the new week but would risk losses back to a notable support level on the chart from Thursday if the latest Bank of England (BoE) decision ruffles feathers in the speculative market.
Rands were lower against Dollars and Pounds on Tuesday ahead of a busy schedule of economic event risks in the South African, U.S. and UK calendars including Institute for Supply Management (ISM) surveys of the manufacturing and services sectors, a BoE policy decision and industrial figures from South Africa.
"USD/ZAR's failure to reclaim 18.02/18.15 (200-DMA) could prompt a deeper drop," says Tanmay Purohit and Kenneth Broux, both strategists at Societe Generale.
"GBP/USD has important support situated at 1.2670/1.2600," they add in technical analysis that is also pertinent for the GBP/ZAR outlook later this week.
The Pound to Rand pair was testing the 23 handle on Tuesday but would likely slip back to something like 22.74 or below later in the week if the above levels in GBP/USD and USD/ZAR are realised as the GBP/ZAR tends to closely reflect the relative performance of the Rand and Sterling when each is measured against the Dollar.
---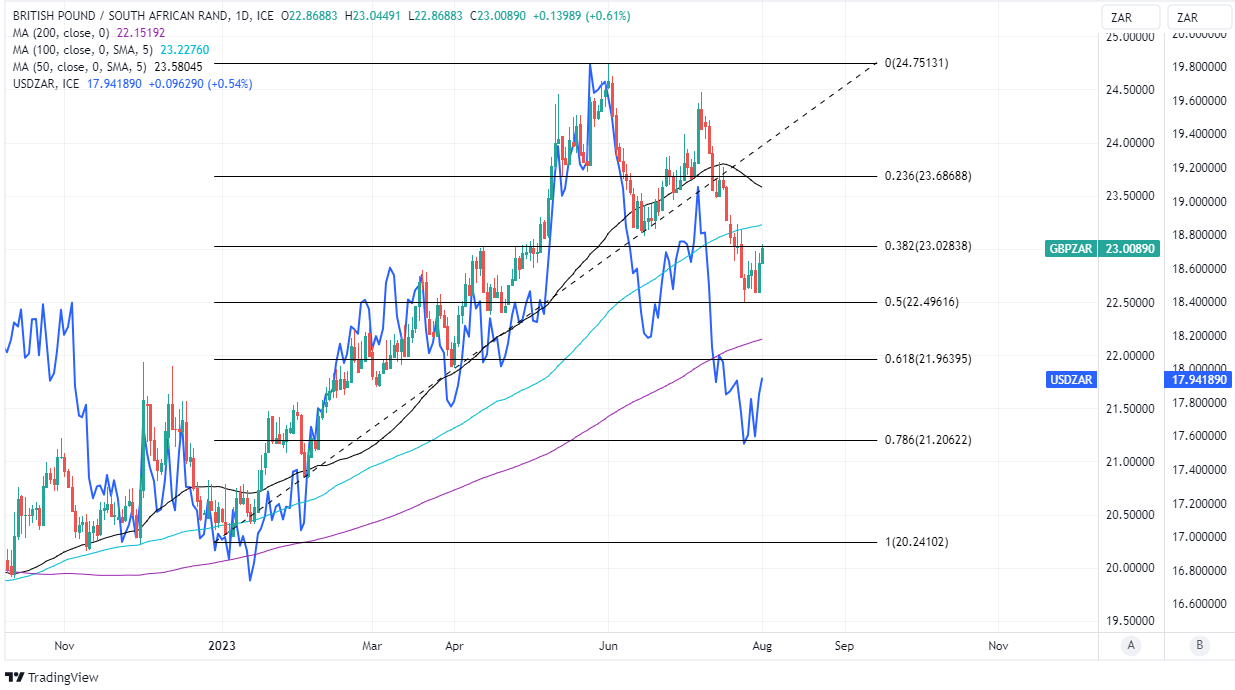 Above: Pound to Rand rate shown at daily intervals with Fibonacci retracements of 2023 rally indicating possible areas of technical support for Sterling and shown alongside USD/ZAR.
---
"The rand lost ground going into month-end yesterday, after a largely resilient performance for much of July, says Walter de Wet, a strategist at Nedbank.
"Although the extent of the losses thus far is short of the 18,00 level, the short-term technical indicators suggest an overbought USD at this time. This morning, the Reserve Bank of Australia has announced that it has left rates on hold, with the global central bank community remaining dependent on data points," he adds.
Gold and mining production figures are out on Thursday and act as the highlights of the South African economic calendar this week though U.S. economic data and Dollar trends are likely to be the main drivers of price action ahead of then, and the latest Bank of England (BoE) interest rate decision on Thursday.
"While load shedding has proved less severe in July and parts of June than expected (aiding rand strength), a meaningful number of renewable energy projects have been hampered by SA's sharp rise in interest rates, which has added noticeably to operating costs," says Annabel Bishop, chief economist at Investec.
"Markets have viewed last week's FOMC decision positively, with the Fed decidedly less hawkish, allowing for expectations that the US has reached the peak of its current interest rate hike cycle, spurring market risk on," she adds in a Monday research briefing.
---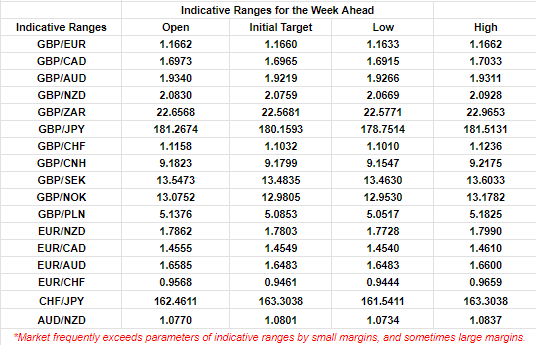 Above: Quantitative model estimates of ranges for the week ahead. Source Pound Sterling Live.
---
Second quarter GDP figures came in much stronger than was expected in the U.S. last week so the risk or chance is of manufacturing and services sector PMI numbers also coming in upbeat on Tuesday or Thursday with bullish implications for the U.S. Dollar if the market reaction to last week's economic growth data was anything to go by.
But for Sterling exchange rates the main event this week is the Bank of England interest rate decision on Thursday when analysts, economists and financial markets will be looking to see Bank Rate raised by a further 0.25% to 5.25% in advance of something like two more further increases later in the year.
There is high uncertainty over what the BoE will do on the day, however, given the significant number of rate rises announced so far and the June decline in UK inflation rates but some economists say mortgage interest rates are too low in the UK and that further increases in Bank Rate are necessary in order to raise them.
"Critically, judging by the gap between offered and effective mortgage rates, probably less than half of the BoE's tightening that started in October 2021 has passed through into the real economy so far," says Kallum Pickering, an economist at Berenberg.
"The UK thus faces many more months of de facto policy tightening to come even after policymakers stop raising the bank rate," he adds in a Tuesday research briefing.
---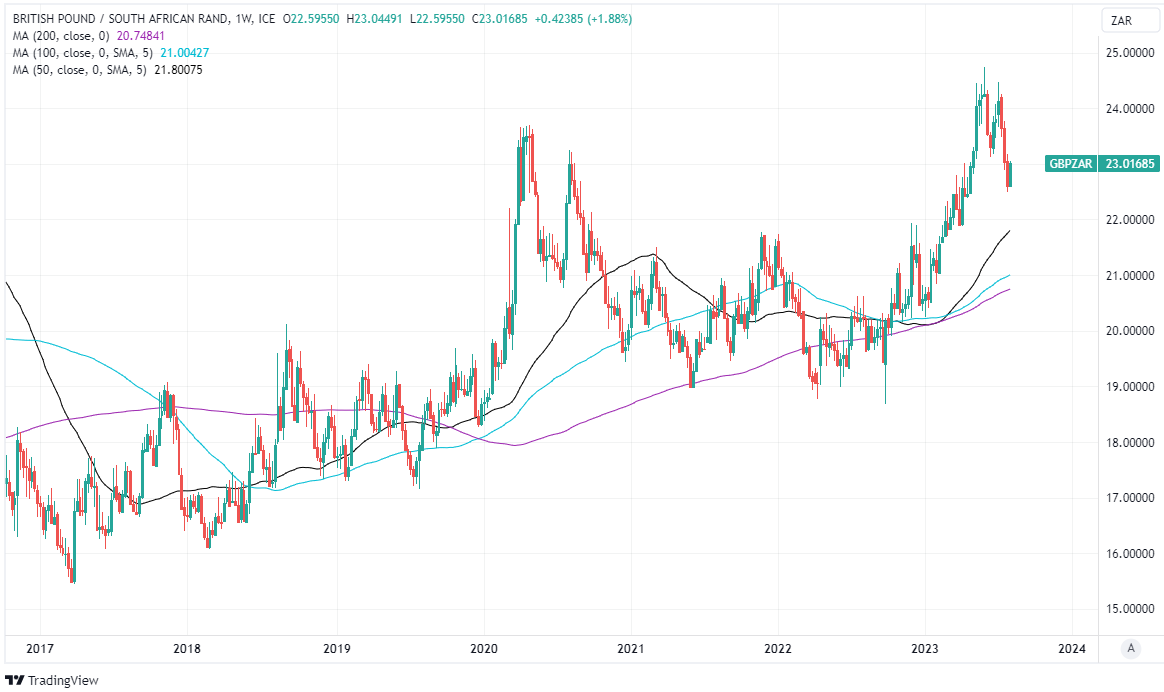 Above: Pound to Rand rate shown at weekly intervals. Click image for closer inspection.
---
It's relevant, however, that money and credit data out on Monday suggested the cost of new mortgages rose 7 basis points to 4.63% in June as the outstanding rate on the overall mortgage book climbed 10 basis points to 2.92%, which would at least appear to leave it some way short of where the BoE estimates it needs to be.
The BoE has previously estimated Bank Rate would need to reach 4.75% for monetary tightening to bring inflation back to the 2% target but the overall mortgage book is comprised of loans charging interest rates that are fixed over mainly 02-year and 05-year periods, hence the relatively slow pace through.
It's not clear if this slower passthrough was or wasn't already taken into account by the BoE when estimating that Bank Rate would need to reach 4.75% to bring inflation down, though mortgage interest rate fixing period is shorter in the UK than it is in places like the U.S. and Europe but longer than in many other parts of the world.
"The latest CFTC speculators' data suggest that net long GBP positions have edged away from their recent high. However, the market remains long of GBP and bulls will likely need reassurances on the UK economic outlook if they are to retain their nerve," says Jane Foley, head of FX strategy at Rabobank.
"The market is still debating whether the BoE will hike rates this week by 25 bps or 50 bps. The odds of a larger move dropped on the softer than expected print of UK June CPI inflation data. The relatively dovish ECB policy meeting last week also had an effect in muting expectations of a 50 bps move from the Bank on August 3," she adds.