South African Rand Rally Fades as Large Order Flow Seen Melting Away
Image © Adobe Images
GBP/ZAR spot rate at time of writing: 22.35
Bank transfer rate (indicative guide): 21.57-21.72
FX specialist providers (indicative guide): 22.01-22.15
More information on FX specialist rates here
The Rand was in retreat from August highs against the Dollar, Pound and most other counterparts Wednesday amid speculation suggesting that a one-off but large flow of orders for the South African currency was fading way, with price action coming amid choppy month-end trading.
South Africa's Rand rose against the Indonesian Rupiah and Brazilian Real but was down and out for the count against other major emerging market currencies while being lower across the board relative to the developed world's ten largest.
Wednesday's losses came amid further gains for stocks, oil and gold as well as other commodities, not to mention rising bond yields the world over.
All of the above are indicative of a so-called risk-on market in which riskier and higher yielding currencies might typically be expected to rise, but many emerging markets units including South Africa's Rand have often demonstrated little correlation with those assets this montt.
"The large consistent flow that seemed to start on Friday morning continued for most of yesterday. The fact that USDZAR has sold off 60 figures and it had hardly bounced more than a couple of figures in London hours until yesterday implies to me there might well have been a large time weighted average price order going on in," reads a note from the London dealing desk at J.P. Morgan. "Obviously the move in the implied yields is causing some to trim ZAR shorts but the flows we have seen from hedge fund and international real money have been very light. It does feel like it might be over now so I would think Rand will normalise somewhat."
Above: Rand performance relative to major developed and emerging market currencies. Source: Pound Sterling Live.
South African inflation figures surprised on the upside for July this Wednesday and shortly after the country's bond yields rose in a typical reaction to mounting price pressures, while the Rand sold off.
Annual inflation rose from 2.2% to 3.2% when markets looked for 3.1%. Month-on-month CPI rose from 0.5% to 1.3% when consensus looked for 1.2%. Core inflation rose from 3% to 3.2% when markets looked for a steady 3%.
Wednesday's data lifted the South African consumer price index back above the lower band of the 3%-to-6% South African Reserve Bank (SARB) inflation target and may have been responsible for the turn in the Rand given that, in a world where the cash rate is expected to remain low for some time to come, it indicates further declines in 'real' or inflation-adjusted bond yields.
There's no way of telling for sure and J.P. Morgan's London dealing desk has observed unusually large and consistent demand for the Rand in recent days that it feels may be the result of one large buyer carrying out a one-off transaction. Price action took place toward the tailend of an August month that's typically inhospitable to emerging market currencies and risk assets in general, given that trading volumes tend to fall during the period which is typically a summer holiday month in the Western hemisphere.
Above: USD/ZAR rate at daily intervals alongside South African 10-year government bond yield (black line, left axis).
"With EM risk sentiment remaining mildly positive, the National Treasury came to market," says Tebogo Mekgwe, a currency derivatives dealer at Rand Merchant Bank. "A strong auction did not come as a surprise given the elevated yield levels on offer. The R186s cleared auction at 7.33% (market 7.36%)."
Mekgwe says demand was robust for South African government bonds sold at auction on Tuesday but notes that overall order flow was light beforehand and that it remained so throughout the session.
RMB also says swaps for longer-dated government bonds trading beyond the 10-year part of the maturity spectrum or 'curve' have seen little volume in recent days. Some of these bonds have seen a steady upward climb in yields of late that's not inconsistent with limited demand on the market.
USD/ZAR turned higher from around 16.80 Wednesday while the Pound-to-Rand rate lifted from lows of 22.0 struck in the prior session, although this isn't out of line with RMB's forecasts and guidance for a 16.50-to-17.50 USD/ZAR range in the third quarter. Such USD/ZAR price action implies a 21.47-to-23.23 range for the Pound-to-Rand rate the entire time that GBP/USD holds within the 1.28-to-1.3265 range that's confined it thus far in August.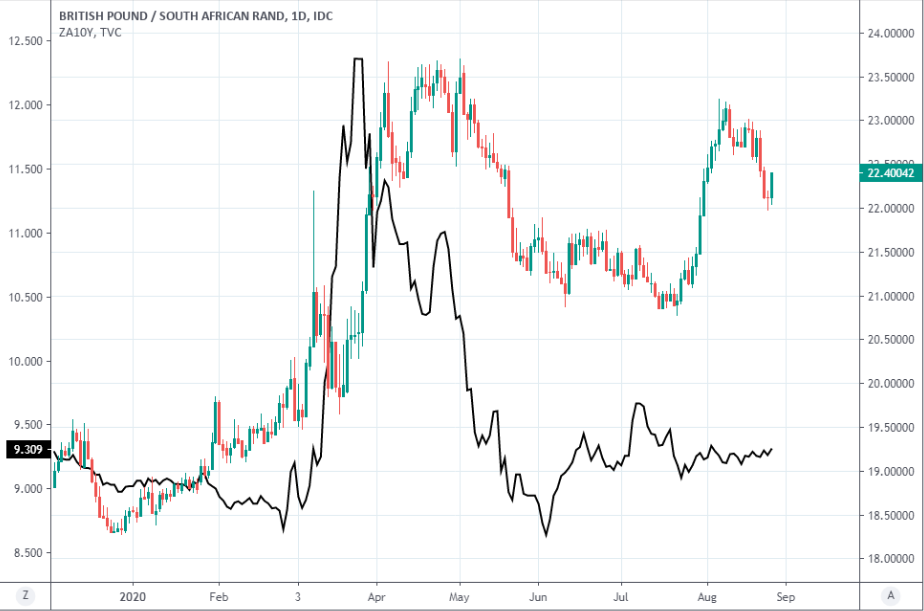 Above: Pound-to-Rand rate at daily intervals alongside South African 10-year government bond yield (black line, left axis).
---
Achieve 3-5% More Currency: The Global Reach Best Exchange Rate Guarantee maximises your currency purchasing power. Find out more.
Invest in Spanish Property. A selection of discounted properties due to the covid-19 crisis, online viewings and transactions possible. Download the Guide
Invest in Portuguese Property. A selection of discounted properties, online viewings and transactions possible. Download the Guide
Featured Content
Mortgage Direct - a Spanish mortgage broker specialising in the provision of mortgages for expats - have confirmed they have secured their Spanish license.