South African Rand At Risk Amid Virus Outbreak and Technical Damage on the Charts
- ZAR recovers as USD softens and SARB's indicator rises.
- Easing of U.S.-EU trade tensions also in mix but risk abounds.
- USD/ZAR broken above key level, threatening further upside.
- And prospect of coronavirus pandemic significant risk to ZAR.
- Ahead of crunch February budget and March rating decision.
Image © Adobe Images
- GBP/ZAR Spot rate: 18.9388, up 0.52% for today

- Indicative bank rates for transfers: 18.2759-18.4085

- Transfer specialist indicative rates: 18.6547-18.7683 - >> Get your quote now
The Rand recovered from a 2020 low Tuesday but is vulnerable to fresh losses in the days ahead given weakness in China's Renminbi resulting from fears over the coronavirus that's spreading there, adding an international dynamic to a full sleight of risk already hanging around the ankles of South Africa's currency.
South Africa's Rand gained in the morning session Tuesday as the Dollar softene, partly in response to reports suggesting France will suspend the collection of downpayments on a newly-introduced digital services tax. That would lessen the risk of the U.S. clobbering EU goods including those from the UK with punitive tariffs in retaliation for the new levy that targets companies that are headquartered mainly in the U.S.
The Rand was also buoyed when the leading indicator of the South African Reserve Bank (SARB) rose for a second consecutive month Tuesday although the currency had set a new 2020 low overnight after Asian stock markets and China's Renminbi tanked amid concerns over a deadly coronavirus that can, after all, be transmitted from human-to-human. The Pound saw strong gains over the Rand Tuesday and although the move was tempered around noon, risks still abound for the South African currency.
"Coronavirus concerns and yesterday's Hong Kong rating downgrade (Moody's Aa2 to Aa3 stable) have taken the wind out of the equity markets' sails this morning," says Kit Juckes, chief FX strategist at Societe Generale. "Weaker equities have taken bonds yields down a little, and that has helped the safe-haven, low-yielding currencies. The yen is the strongest major currency, ahead of the Swiss franc this morning. Yuan, won, rand and rouble are all weaker."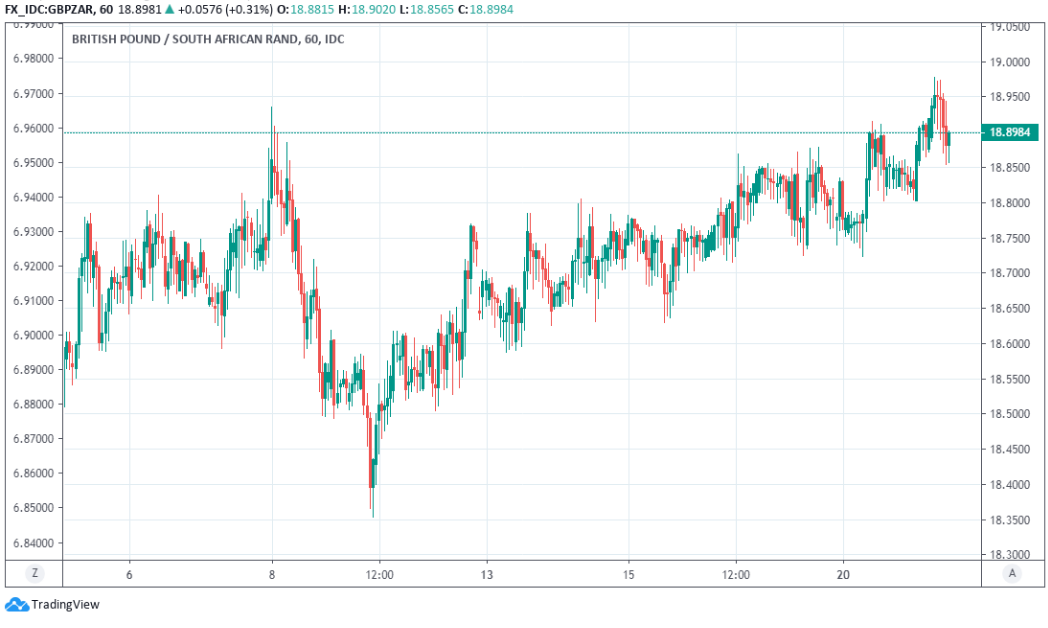 Above: Pound-to-Rand rate shown at hourly intervals.
Some 291 cases of Coronavirus were said to have been confirmed in China Tuesday, with six deaths so far and with more than 100 cases reported in the already troubled city of Hong Kong. China's National Health Commission had confirmed 224 cases as of 18:00 on Monday, although the number is widely reported to have risen since. Japan, South Korea and Thailand have all also confirmed cases of the virus this week, stoking fears of a possible pandemic.
"The prospect of another SARS-like contagion in Asia is enough to unnerve the most hardened of investors. The loss of life is devastating – as is the potential to cripple economies," says Nema Ramkhelewan-Bhana, an economist at Rand Merchant Bank. "The realisation has tempered market appetite, with Asian stocks down in this morning's session and the CNY breaking its multi-week strengthening trend – a bellwether for other EM markets today."
It's now feared the virus may be more infectious than previously thought after multiple healthcare workers were also struck down with the newest strain of the pneumonia-like disease that's got analysts and investors fearing an outbreak on a similar scale to that seen with the severe-acute-respiratory-syndrome. That killed 800 people across Asia between 2002 and 2003, with some 8,000 people infected in total. SARS had a nearly 1-in-10 mortality rate.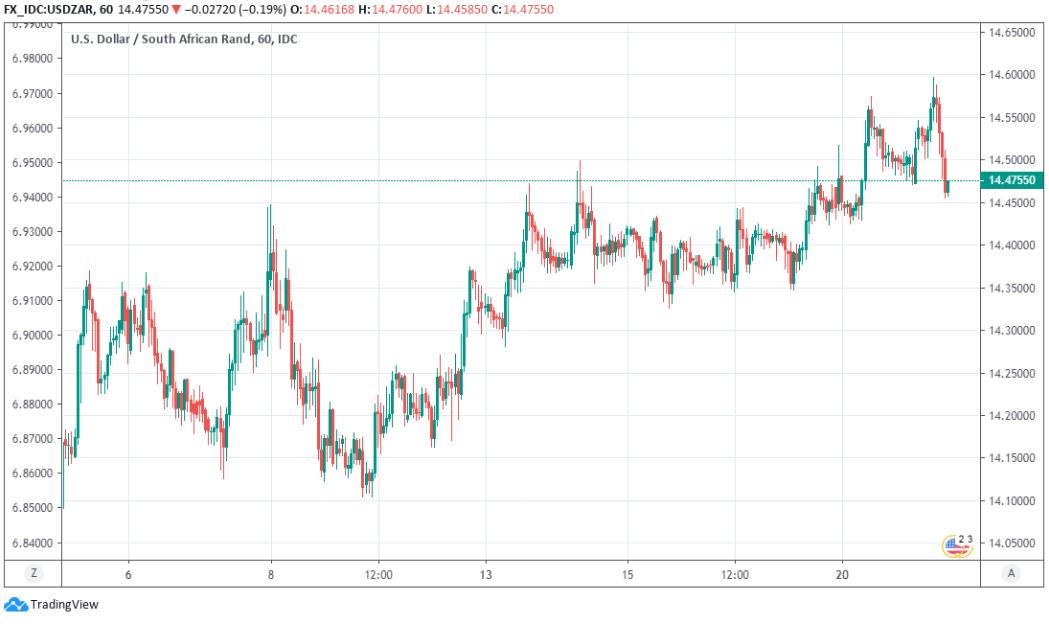 Above: USD/ZAR rate shown at hourly intervals.
The USD/CNH rate was up 0.53% Tuesday despite broad weakness in the Dollar, denoting an even weaker Renminbi. South Africa's Rand has a strong positive correlation with the Renminbi due in part because of the country's strong trade relationship with the world's second largest economy. 10.1% of the country's exports went to China in November 2019, contributing to a valuable Rs6bn South African trade in goods surplus with the rest of the world.
"Having breached the upper bounds of its recent trading range, the rand is vulnerable to further losses, though the US dollar index appears toppish at 97.6 after the US and France agreed not to impose punitive tariffs in its digital tax dispute, suggesting that the local unit should maintain a narrow trading range," Ramkhelewan-Bhana warns. "The president's notable absence from Davos is as comforting as it is troubling. His resolve is firm though."
Pandemic concerns have buffeted the Rand at the same time as the South African currency approaches a pivotal moment in a domestic story whose main protagonists are Finance Minister Tito Mboweni, President Cyril Ramaphosa and the ratings agency Moody's.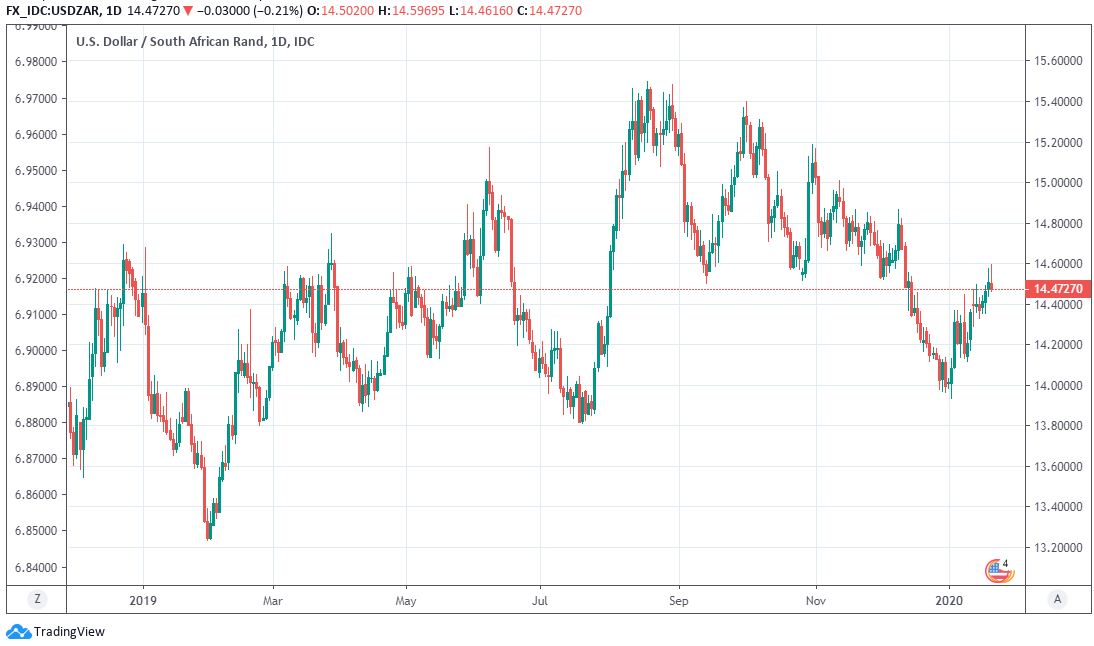 Above: USD/ZAR rate shown at daily intervals.
"The South African rand has been the second worst performing EM currency since the beginning of January. This can be mainly attributed to renewed market concerns that Moody's may downgrade South Africa to junk," says Michael Every, a strategist at Rabobank. "The resistance area around the 14.50 level is the key technical pivot to watch in USD/ZAR. A break higher would likely trigger stop losses and would bring into focus the December high at 14.8687 next."
Load-shedding at the overly indebted, if-not insolvent Eskom is widely believed to have driven South Africa to a second consecutive economic contraction in the final quarter. And with the first-quarter of each year tending to see seasonal weakness in GDP growth, South Africa could be on course for an ugly recession just as Moody's makes its decision on whether to strip the country of its last remaining investment grade credit rating.
Economic contraction will automatically lift the debt-to-GDP ratio and necessitate higher spending on welfare items at a time when Treasury needs to reduce spending and halt the increase in the debt ratio if it's to save the country's top credit rating. February's budget will be key to if the March decision does see the rating cut to 'junk' although in the meantime, markets will scrutinise all economic data while keeping one eye on Eskom for indications of fresh load-shedding, although the company says none is expected Tuesday.
"The IMF cut South Africa's growth forecast to 0.8% for this year, citing structural challenges as well as fiscal strain as the leading causes," says Bianca Botes, a treasury partner at Peregrine Treasury Solutions.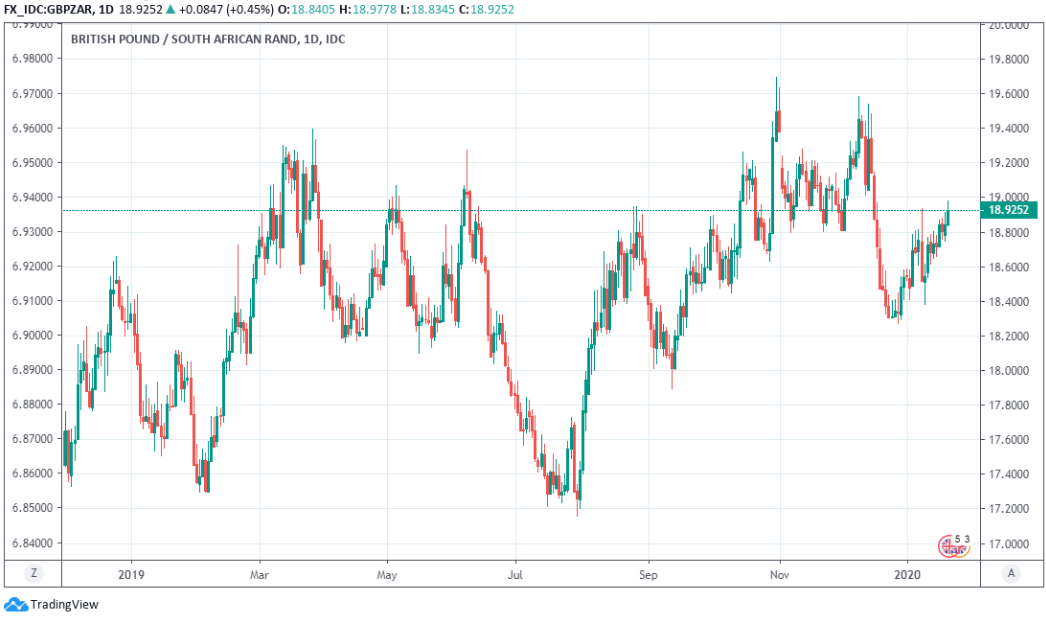 Above: Pound-to-Rand rate shown at daily intervals.
Time to move your money? The Global Reach Best Exchange Rate Guarantee offers you competitive rates and maximises your currency transfer. Global Reach can offer great rates, tailored transfers, and market insight to help you choose the best times for you to trade. Speaking to a currency specialist helps you to capitalise on positive market shifts and make the most of your money. Find out more here.

* Advertisement