South African Rand Eyes Midterms Test as Credit Rating Threat Returns
Image © Government of South Africa
- ZAR weakens ahead of Tuesday's U.S. midterm elections.
- But vote could prove a boon for ZAR if Democrats prevail.
- Although renewed rating threat means gains may not last.
The Rand weakened again Tuesday ahead of the U.S. midterm elections, which are as important for the emerging market world as they are for the U.S. itself, and as doubts grow over whether the country can retain its last remaining investment grade credit rating for much longer.
Americans head back to the polls Tuesday in order to determine the composition of congress over the remaining two years of the Trump presidency.
Some have labelled Tuesday's midterm elections as a referendum on President Donald Trump himself, and to a certain extent, they may be right.
All 435 seats in the House of Representatives and 35 of 100 Senate seats will be up for grabs in the ballot and polls suggest the Democrats will retake the House of Representatives, while Republicans are expected to hold the Senate.
"Markets would look kindly on a gridlock in Washington as it would lessen the risk of radical policy and regulatory changes, which would favour risk assets – the lira and rand being the obvious beneficiaries," says Nema Ramkhelawan-Bhana, an analyst at Rand Merchant Bank.
The Rand has suffered steep losses in 2018 thanks to a resurgent U.S. Dollar so anything that forces the greenback into a time-out would be a boon for the South African currency.
America's Dollar has risen around 4% this year thanks to a stellar performance from the economy that has compelled the Federal Reserve to go on raising its interest rate.
This has lifted borrowing costs in South Africa and elsewhere while making imported goods more expensive to buy, raising the country's trade and current account deficits. The latter is a crucial consideration for international investors.
A Democrat House could slow the Dollar because it would make a second round of tax cuts more difficult to achieve. It could also hamper efforts to repeal unnecessary regulations and reduce red tape for businesses.
"USD/ZAR could test its September low of 14.00 if the mid-terms pan out as expected. But investors appear to have adopted a wait-and-see approach to guard against the unknown. A surprise Republican win in both chambers could embolden Trump to take stronger trade measures, spurring US dollar strength and amplifying asset price volatility," says Ramkhelawan-Bhana.
Above: USD/ZAR rate shown at daily intervals.
The USD/ZAR rate was quoted 0.38% higher at 14.19 during noon trading Tuesday, denoting a stronger Dollar and weaker Rand, while the Pound-to-Rand rate was 0.62% higher at 18.57.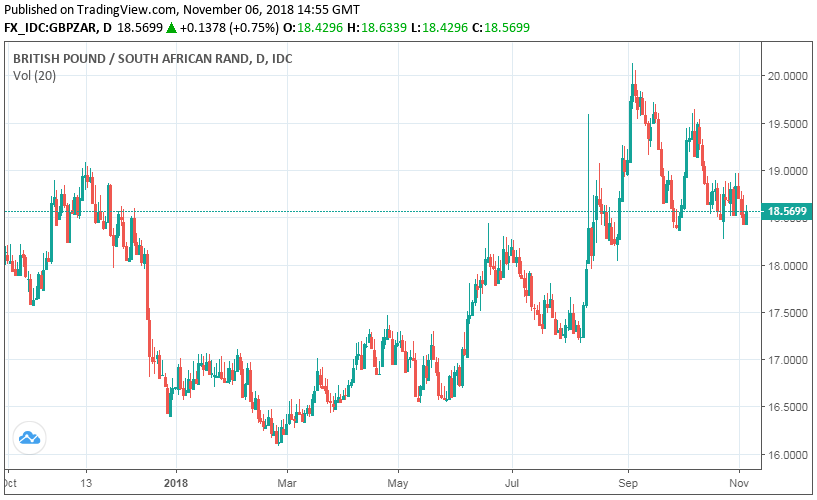 Above: Pound-to-Rand rate shown at daily intervals.
Although a drubbing of Republicans in the midterms might boost the Rand for a period, the trajectory of the currency outside of the short-term will depend on the economic performance of South Africa and whether the country is able to cling onto its last remaining investment grade credit rating.
"Mboweni's mini-budget (MTBPS) on 24 October has unambiguously disappointed. Market anxiety over the prospects of a potential downgrade by Moody's has suddenly increased, so the rand sold off approximately 3% against the dollar," says Cristian Maggio, head of emerging market strategy at TD Securities. " Those moves have somewhat corrected back in the following days, but levels for both ZAR and bonds remain weaker than on 23 October."
Bank-beating exchange rates! Get up to 5% more foreign exchange by using a specialist provider to get closer to the real market rate and avoid the gaping spreads charged by your bank when providing currency. Learn more

here
Credit Rating Threat Returns to Haunt Rand
South African Finance Minister Tito Mboweni delivered a spending plan in late October that is estimated to leave the budget deficit at put the budget deficit at 4% in 2018 and 4.2% in 2019, before the mismatch between government income and spending stabilises at 4% in subsequent years.
That is a significant deterioration from the projections reported back in February when the government said its budget deficit would fall from a 4.3% in 2017, to 3.6% in 2018 and that it would stabilisie at 3.5% in 2020.
Revenue shortfalls due to ambitious earlier estimates and poor tax collection was the main culprit behind the "fiscal slippage" but higher levels of unplanned government spending also played a role too.
After having staved off the threat of a credit rating downgrade to "junk" status in February, analysts are once again pondering how much longer Moondy's will leave South Africa's local currency credit rating at "investment grade".
"We now see higher risks of a downgrade to junk by Moody's over the next 12-18 months, although we continue to assess this risk below 50%. The biggest imminent risk, in our opinion, is the change of outlook by Moody's on SA's sovereign debt from stable to negative, which would prompt markets to price in higher odds of a downgrade - this could already happen over the course of November or December," Maggio writes, in a recent note to clients.
A loss of investment grade status would be destructive for the Rand and the economy because it would force institutional investors whose portfolios track the Citi World Government Bond index to jettison South Africa's bonds.
Foreigners were known by authorities to have held around 40% of South African government bonds back in August so any downgrade would be sure to prompt a significant pickup in capital flight from the country and fresh pain for the Rand.
The government is caught between a rock and a hard place at present in that it must retain the support of voters ahead of an early-2019 election, or risk installing anti-establishment and anti-market forces in office, but also satisfy ratings agencies. Those agencies want to see the budget deficit falling as a percentage of GDP.
However, South Africa's lacklustre economic performance is making the government's task of balancing the national books all the more difficult because, after slipping into recession back in the second quarter, the economy continues to underperform.
This means the Rand could be vulnerable to further losses once the dust settles on the U.S. political situation.
"There is no SA data scheduled for release today – and perhaps thankfully so, after yesterday's lacklustre PMI print. The index fell for a fourth consecutive month to 46.9 in October, from 48 in September – its lowest read since July 2014, underscoring the weakness in the economy," says Ramkhelawan-Bhana. "An overburdened consumer, paired with sluggish production growth, does not bode well for full-year GDP estimates."
Bank-beating exchange rates! Get up to 5% more foreign exchange by using a specialist provider to get closer to the real market rate and avoid the gaping spreads charged by your bank when providing currency. Learn more

here