Today's Japanese Yen News
Pound-Japanese Yen Rate May be Eyeing Six-year Highs says Commerzbank
- GBP/JPY "needs to go on the radar," says Commerzbank
- After testing 155.37; 15-Yr resistance line on the charts
- A break above puts 162.81 in the pipeline medium-term
Image © Adobe Stock
GBP/JPY reference rates at publication:
Spot: 153.09
Bank transfers (indicative guide): 147.73-148.80
Money transfer specialist rates (indicative): 151.71-152.01
More information on securing specialist rates, here
Set up an exchange rate alert, here
The Pound-to-Yen exchange rate has recently tested a major 15-year resistance on the charts and may be steeling itself for a break toward six-year highs, according to technical analysts at Commerzbank, although softness in Sterling and a tentative stabilisation of the Yen are headwinds for GBP/JPY.
GBP/JPY had risen by almost a double-digit percentage for 2021 when trading around 152.75 at the mid-week mark, aided by a robust performance from Sterling and also steep losses for the Yen.
The Yen has fallen from favour amid Japan's battle with a fourth wave of coronavirus infections, which prompted authorities to contemplate declaring a state of emergency in Tokyo on Wednesday.
Declines by the Japanese currency have played a significant role in lifting GBP/JPY more than eight percent from around 140 back in January, enabling it to make two attempts during May and June at rising above a major resistance barrier on the charts.
"The Japanese Yen remains weak on its crosses generally and GBP/JPY should go back on to your radar. In fact GBP looks fairly bullish on its crosses and we suspect it will break higher shortly," say Karen Jones and Axel Rudolph, both technical analysts at Commerzbank. "The 2007-2021 resistance line at 155.37 is starting to look exposed. Above here will target the 200-week moving-average at 162.81."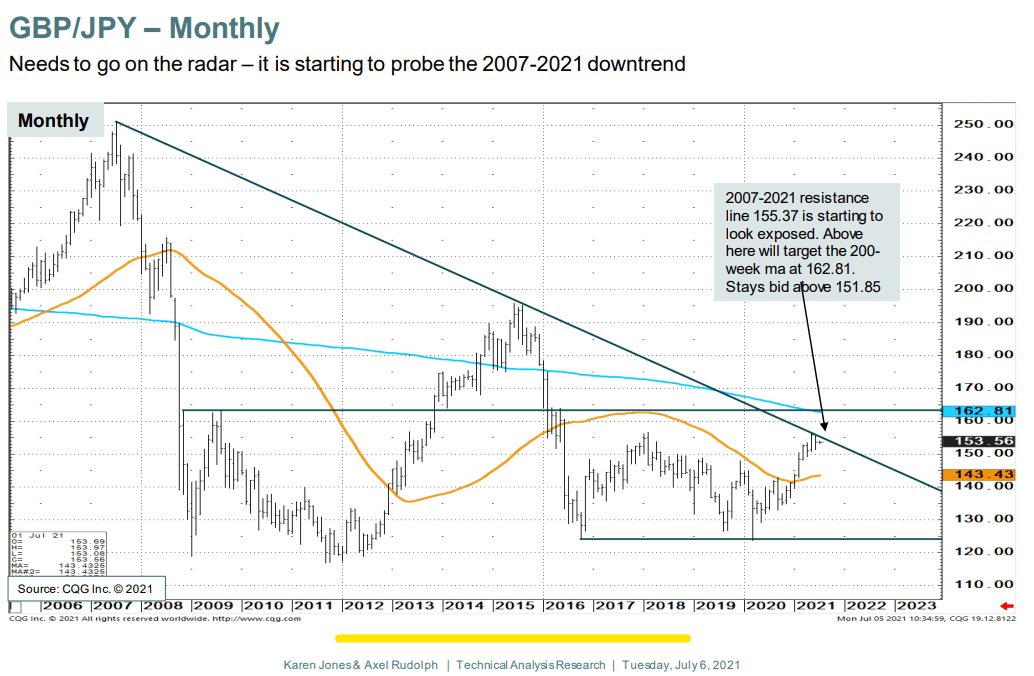 Above: Commerzbank shows long-term resistance line and technical analysis.
Secure a retail exchange rate that is between 3-5% stronger than offered by leading banks, learn more.
Commerzbank told clients this week that GBP/JPY is one of several Sterling pairs which could be on the cusp of another meaningful leg higher.
The Pound-to-Yen rate would be trading at its highest level since before the Brexit referendum of June 2016 if and when it reaches the 200-week moving average at 162.81, which is around 4.7% above Tuesday's market price.
Sterling would potentially need to have significant momentum behind it in order for GBP/JPY to reach the above-described level however, given that the Yen has itself recently demonstrated an inclination toward stabilisation, which has stalled the 2021 increase in USD/JPY.
"This rally ran out of steam last Friday at 111.66 close to the high from March 2020 at 111.71 and USDJPY has been falling since," says Thomas Fitzpatrick, a senior strategist at Citi in a note to clients on Wednesday.
GBP/JPY always closely reflects the relative performance of Sterling's main exchange rate GBP/USD and Japan's equivalent USD/JPY, so would likely struggle if Citi's Fitzpatrick was right when advocating on Wednesday that clients should bet on a USD/JPY decline.
"A move through good support around 110.33-110.42 is expected given this setup and should yield a downside acceleration," Fitzpatrick adds.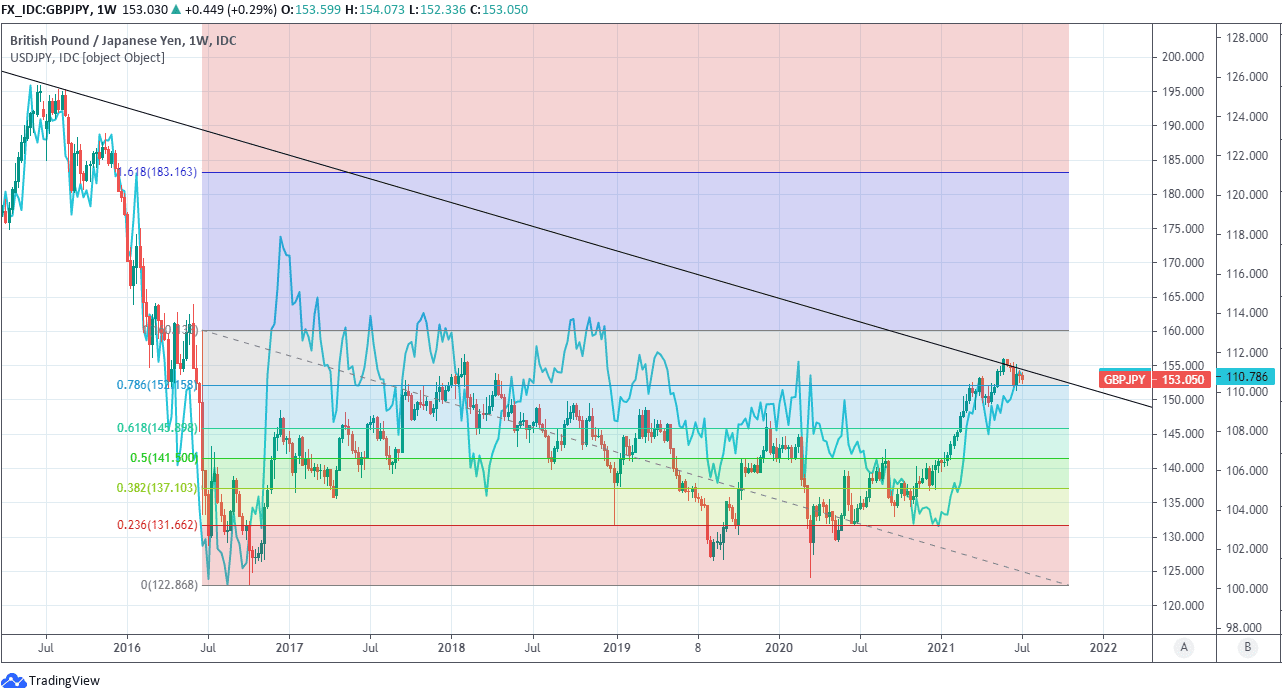 Above: Pound-Yen exchange rate shown at weekly intervals with Fibonacci retracements of Brexit referendum decline, 15-year trendline and USD/JPY (blue).
Fitzpatrick says USD/JPY could fall as far as 107.50 in the weeks ahead, which would push the Pound-Yen rate down to 148.38 in the absence of an offsetting rally that lifts GBP/USD above Wednesday's 1.38 level.
But with GBP/USD humbled by last month's monetary policy announcement from the Federal Reserve, much about the outlook for the Pound-Yen rate depends in the short-term on the performance of the Japanese currency.
This in turn means that much about the Pound-Yen outlook is also hinged upon developments beyond the borders of the UK and Japan, given investors' perceptions of the Yen as a 'safe-haven' asset, a large number of outstanding wagers against it that built earlier this year alongside now-lofty expectations for a global economic recovery and lingering uncertainties about the path of the coronavirus.
"The markets are so well priced for good news that the continued evidence of a spread in the Delta variant may now start to play a role in reversing this clear downtrend for the yen," warns Derek Halpenny, head of research, global markets EMEA and international securities at MUFG, Japan's largest lender and the world's fifth largest bank on some measures.
"While JPY correlations with US yields remain notable, the biggest change in recent weeks is the negative JPY correlation with the EMBI Global spread, suggesting some increased sensitivity to global risk conditions. If COVID news worsens with US yields lower, a larger JPY correction stronger is feasible," Halpenny adds.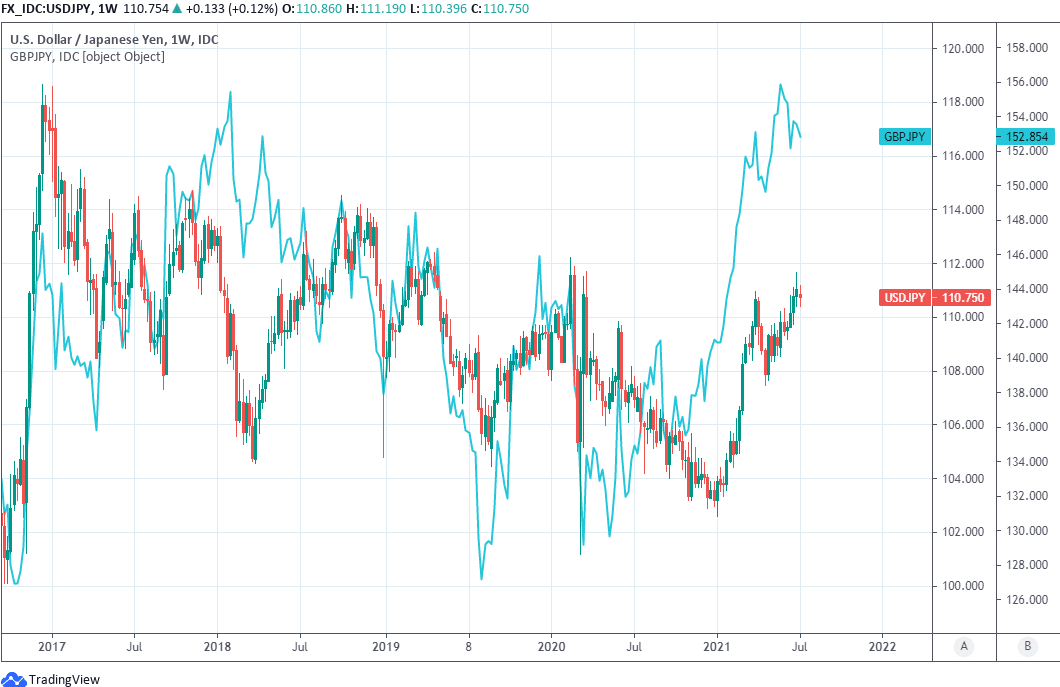 Above: USD/JPY shown at weekly intervals alongside GBP/JPY (blue line).