Pound-to-Yen Rate: Short-Term Forecast Lower; Long-Term Higher; Say What?
Image © kasto, Adobe Stock
- GBP/JPY has formed bearish pattern close-up
- Longer-term it looks bullish
- Pair could fall to 142 and then start recovery
The Pound-to-Yen exchange rate is showing an apparent contradictory setup creating uncertainty as to where it will head next, but we believe we have decoded the charts and arrived at an understanding on where the pair is headed across multiple timeframes.
When viewed on higher time frames it looks bullish and when looked at close up it appears decidedly bearish - begging the question which way is it in fact going?
"Near-term outlook stays bearish in GBP/JPY with 145.99 resistance intact. On the downside, break of 144.02 will resume the fall from 149.48 and target 139.39/47 key support zone," says an analysis from ActionForex.
At the same time, analysts are bullish on longer-timeframes. They also earmark the 139 key low as an important watershed level.
"In the bigger picture, as long as 139.29 cluster support (50% retracement of 122.36 to 156.59 at 139.47) holds, the uptrend from 122.36 (2016 low) would still extend beyond 156.69 high," say ActionForex. "However, decisive break of 139.29/47 will suggest that such uptrend is completed and turn outlook bearish. In that case, the next target is 61.8% retracement at 135.43."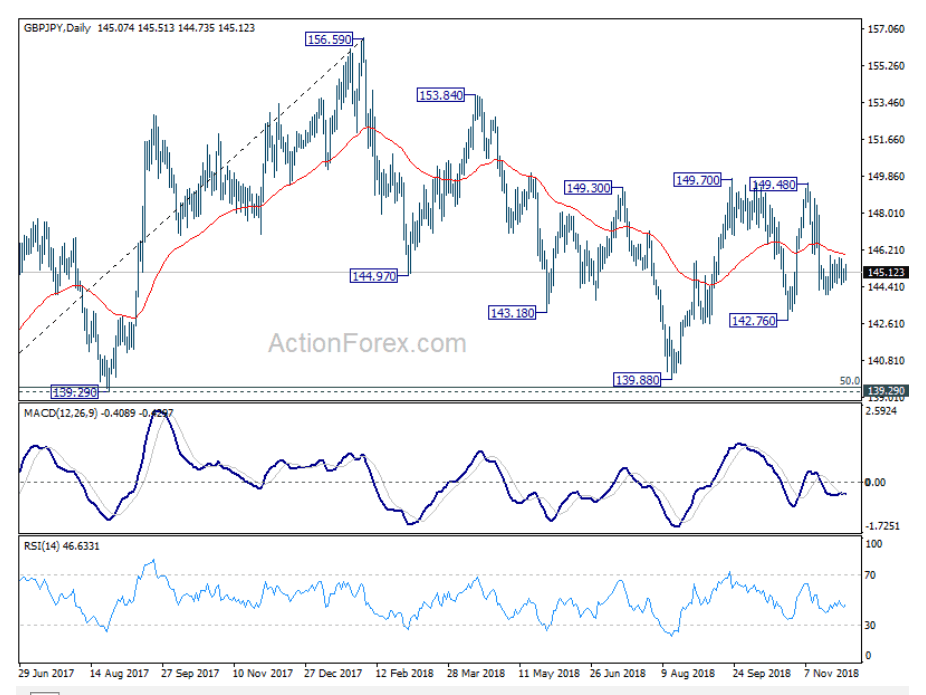 Actionforex's mixed outlook actually mirrors our own.
We see a possible bearish flag pattern forming when viewed close up, with downside connotations to a target at circa 142.
Pan out a bit, however, and it's a different story. The pair has formed a descending wedge pattern after the previous rally peaked at the 156.60 January highs. Descending wedges are expected to break bullishly higher once they conclude.
The pair has already attempted several false breakouts but has failed after each attempt.
Also looked at from afar, the pair appears to have formed what looks very much like an inverse head and shoulders since May. This too is a bullish indicator.
How to resolve this contradiction?
One solution to the contradictory paradox might be to expect downside in the short-term followed by upside in the longer-term.
This technical resolution actually synchronises quite nicely with the current consensus expectation with regards to the evolution of Brexit and the outlook for Sterling.
Most analysts expect increased volatility for the Pound in the short-term as Theresa May's deal probably fails to win the approval of Parliament, but eventually, the consensus expectation is still that some sort of a 'benign' Brexit will be achieved and the Pound will rally in the end.
Advertisement




Bank-beating GBP/JPY exchange rates: Get up to 5% more foreign exchange by using a specialist provider to get closer to the real market rate and avoid the gaping spreads charged by your bank when providing currency. Learn more

here