Sell GBP/USD Strength say BMO Capital and Scotiabank
The British Pound finds itself well within recent ranges at the start of the new week at 1.2404.
The UK currency has recaptured some lost ground following Friday's notable losses against the US Dollar but the near-term outlook remains tepid as per our most recent studies.
The inability of Sterling to strike fresh highs against the Dollar has left strategists at BMO Capital Markets anticipating a trading opportunity should the rate extend higher towards the top of recent ranges.
"In view rising geopolitical risk and Brexit uncertainties, we expect limited upside potential in GBPUSD this week," says analyst Stephen Gallo in a note dated April 10.
GBP Faces Downside Risks this Week
Gallo argues that due to Brexit uncertainty, GBPUSD has traded without any clear fundamental drivers so far this year.
"However, following last week's broad underperformance of the GBP, there are tentative signs that the currency is developing a positive relationship with risk appetite," says Gallo. "In fact, we still see downside risks in the pair on a 1-3M basis given that Brexit negotiations will probably continue their recent rocky nature until at least July."
The analyst expects upcoming data releases to weigh on the Pound with annual core CPI inflation data (due Tuesday) expected to decelerate by a tenth to 1.9%.
"A bigger-than-expected decline would initially send the GBP lower, but it would also come as a relief for real household incomes, which is GBP-supportive," says Gallo.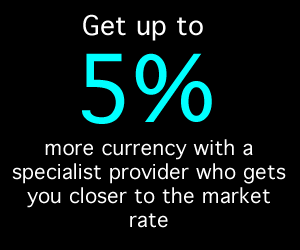 However, for the BMO analyst the bigger shock would be a material deterioration in labour market conditions on Wednesday, and he expects the main impetus for the GBP to come from the result on average weekly earnings (i.e. wage growth).
As such, the Pound is a sell on rallies:
"For the time being we would look to sell GBPUSD strength into the 1.2550 area.
"Support is at 1.2200, but we think it would take a string of very weak UK data in combination with a big flare-up in geopolitical tensions for that support level to break this week."
Analyst Shaun Osborne at Scotiabank shares the 'sell on strength' strategy with his opposite number at BMO Capital.
"GBPUSD is essentially range bound still in a broader sense and the short-term chart suggest that Cable dips continue to attract buyers – via steady accumulation through the overnight session from the upper 1.23s, near last week's low," says Osborne.
It is noted GBP/USD is vacillating around the 40-day MA (1.2402) and should really head a little more decisively lower on from here on the basis of the (bearish) weekly price patterns that have formed over the past few weeks.
"We favour selling rallies, rather than chasing the pound lower from here for now," says Osborne.