Pound-Dollar Rate a Sell: RBC Capital's Trade of the Week
Image © Adobe Images
GBP/USD spot rate at time of publication: 1.3136
Bank transfer rates (indicative guide): 1.2776-1.2868
Transfer specialist rates (indicative guide): 1.2988-1.3018
Learn more about specialist rates here
The call to sell Sterling against the Dollar was made ahead of the 0.87% decline registered on Monday, but there is still further downside to come before it fulfils its potential.
The GBP/USD exchange rate opened the week at 1.3287 but has subsequently fallen to 1.3144 on Tuesday with a bout of widespread selling of Sterling being triggered by rising tensions between the EU and UK over the state of trade negotiations that has left markets increasing their expectations for a 'no deal' outcome.
"News over the weekend that the UK is planning domestic legislation that would override the EU withdrawal agreement significantly increases the risk of exiting the transition period without a trade deal at the end of the year and the UK trading on WTO-terms from January 2021. Moreover, having effectively reneged on the deal with the EU, it would be that much more difficult for the UK to do deals elsewhere," says Adam Cole, Chief Currency Strategist at RBC Capital.
EU and UK negotiators will convene this week in London to try and make further progress, however given that both sides have fallen back onto their red lines it remains difficult to see how a compromise can be achieved without the intervention of EU leaders.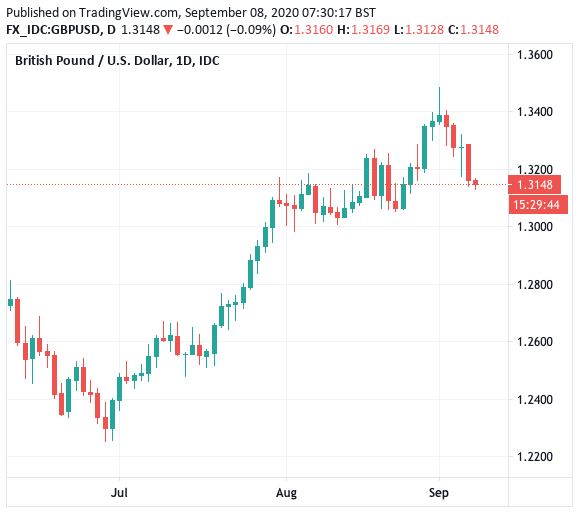 The Telegraph meanwhile reports on Tuesday that Johnson will tell EU leaders the Withdrawal Agreement is "contradictory" and must be rewritten. "The Prime Minister believes the UK-EU Withdrawal Agreement is legally ambiguous and would leave Northern Ireland isolated from the rest of the UK, something that was "unforeseen" when he agreed to it last year," reports the newspaper.
The Pound had risen during August as market focus turned to rising equity markets and the UK's accelerating economic recovery, however Autumn will likely see focus turn to Brexit trade negotiations and the prospect of the two sides failing to reach agreement.
"We still think markets are underpriced for this risk and as the UK's self-imposed deadline of having visibility on agreement by September becomes more binding, downside risks for GBP are growing. While we are neutral on USD in the longer-term, still extended shorts apparent in Friday's IMM data leave the risks skewed to a further rebound from recent weakness in the short-term," says Cole.
RBC Capital's Thematic Trade of the Week targets a fall in the Pound-to-Dollar exchange rate to 1.2950.
Featured Content
Mortgage Direct - a Spanish mortgage broker specialising in the provision of mortgages for expats - have confirmed they have secured their Spanish license.