Pound-Dollar Exchange Rate Cementing New Range Above 1.30 say Tech Analysts
Image © Adobe Images
- GBP/USD looking increasingly comfortable above 1.30
- Lloyds say GBP/USD can still fall to 1.28-1.27
- Move above "1.3285 would alleviate the current downside risks"
The Pound-to-Dollar exchange rate looks intent on carving out a new range for itself above the psychological 1.30 level, according to insights from technical analysts at JP Morgan and Lloyds Bank.
The Pound has put in a strong performance thus far this week, trading higher off the back of some better-than-expected Services PMI data, but the "the move seemed largely flow-driven in nature," says a note from the JP Morgan currency dealing desk.
The GBP/USD exchange rate is quoted at 1.3186 at the time of writing, but the conversion had been as low as 1.3054 on Friday, January 03, after the U.S. Dollar found a strong bid in the wake of the killing of Iran's leading military leader Qasem Soleimani.
Fears that tensions in the Middle East were about to escalate lead to expectations for an extension of the Dollar's move higher, however with Iran yet to respond tensions appear to be cooling somewhat.
As such, the Dollar - which tends to benefit in times of geopolitical stress - has faded back, allowing the GBP/USD exchange rate to return to higher levels.
JP Morgan says the lack of any material pullback suggests a possible extension for Sterling.
GBP/USD can go to 1.3280/90 says JP Morgan where more serious resistance resides.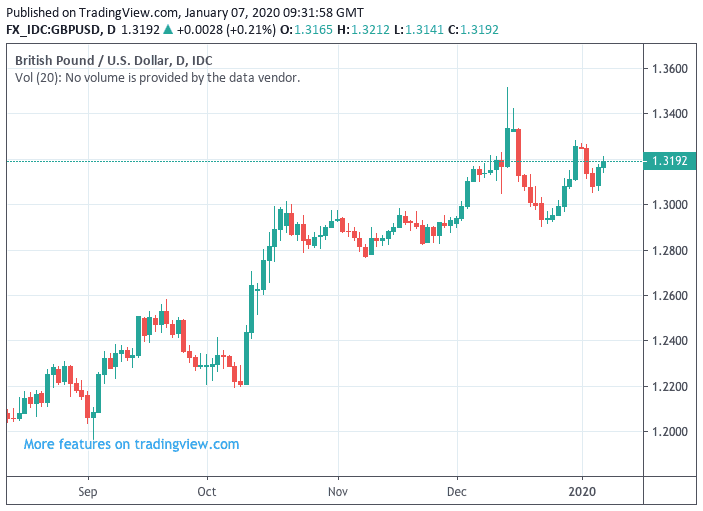 Above: GBP/USD retains a trend of appreciation, in place since August. * Time to move your money? | Get industry-leading exchange rates and maximise your currency transfer potential with Global Reach. Speaking to a currency specialist will also help you to capitalise on positive market shifts while protecting against risk. Find out more here. * Advertisement
"More likely though we are now in a 1.30-1.33 range and, barring a blow-up in the simmering US-Iran tensions, the sedate start to the G10 year will continue. The data calendar is light for the rest of this week," says JP Morgan.
Robin Wilkin, cross-asset strategist at Lloyds Bank says, "after the stronger data prices may develop into a near-term range between 1.3050 support and 1.3285 resistance."
However, Wilkin says while Sterling has put in some strength more work must be done to convince that the exchange rate is in fact locked in an uptrend. He warns that the sharp reversal from 1.3515 and then 1.3285 suggests risks are "still biased to the downside for a move back to the 1.2800-1.2700 support region."
"Only a move back through 1.3285 would alleviate the current downside risks and suggest a push towards 1.3385 and maybe a re-test of 1.3515," adds Wilkin.
Long term, Lloyds Bank's technical analysis team believe the cycle from the 2007 highs at 2.1160 completed at 1.1490 in 2016, with a higher low at 1.1950 in 2019.
"As such an eventual recovery through 1.45 towards 1.60/1.65 is expected in the years ahead. Medium term, we see the risk of a ~1.25 to ~1.35 range developing first," says Wilkin.
Time to move your money? The Global Reach Best Exchange Rate Guarantee offers you competitive rates and maximises your currency transfer. They offer great rates, tailored transfers, and market insight to help you choose the best times for you to trade. Speaking to a currency specialist helps you to capitalise on positive market shifts and make the most of your money. Find out more here.

* Advertisement