Pound-Dollar: Technical Target at 1.22 say Goldman Sachs
Image © DragonImages, Adobe Stock
How low can Pound Sterling go?
This is the question most will be asking in view of the Pound's most recent Brexit-inspired jitters: The UK is a mere three months out from exiting the European Union yet no final agreement governing that exit has been sealed.
Uncertainty abounds, and understandably the British Pound is bearing the brunt of that uncertainty.
Yet, some would argue the Pound could, or should be, lower than it currently is: Consider, GBP/USD at 1.2605 is higher than the sub-1.20s triggered in the wake of the EU referendum in 2016.
Could Sterling be immune to Brexit risks - i.e. has Brexit done its worst, or can it suffer falls below 1.20 in the event of a chaotic Brexit?
Of course these are complex questions, and a useful way of cutting through the noise is to deploy technical analysis, to give us a clear view on the outlook based on market structure.
Sheba Jafari, an analyst with Goldman Sachs says near-term could see the Pound remain under pressure, but ultimately a floor should be found in the 1.22 region.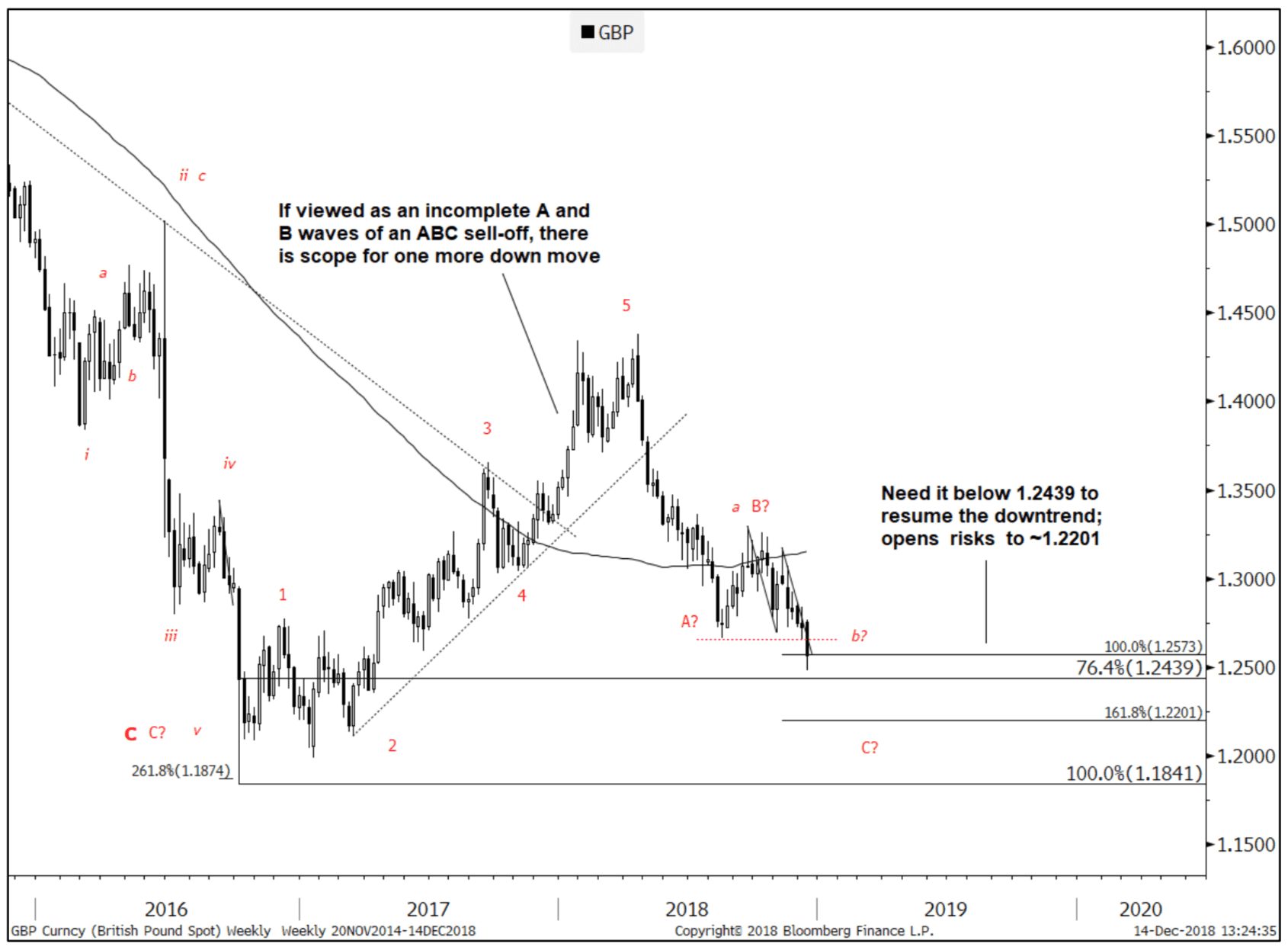 "If the initial sell-off into August lows formed 5- waves, then the market should eventually resume its underlying downtrend," says Jafari in a briefing to clients dated December 17. "The next level to watch is 1.2573-1.2439. The area includes an ABC target from the September 2018 high, meaning that if it were to hold above the level, there's a risk this might still be corrective."
Jafari is looking for confirmation below 1.2439 before engaging in downside exposure, after which the next level in focus is 1.22.
"Thinking bigger picture, it's difficult to suggest new lows in GBPUSD, mainly because of the impulsive nature of the rally from Oct. '16 though to April 2018. Typically, this should mean that the underlying trend is positive. For that reason, it will be important to watch for signs of a base if/once 1.22 has been reached," says Jafari.
Goldman Sachs would consider bearish exposure to the Pound-Dollar exchange rate in the event of a fall below 1.2437, and would look to book profit nearer 1.22.
Advertisement




Bank-beating GBP/USD exchange rates. Get up to 5% more foreign exchange by using a specialist provider to get closer to the real market rate and avoid the gaping spreads charged by your bank when providing currency. Learn more

here