Pound to Canadian Dollar Forecast: 1.618 in Three Months
Predictions and Pound to Canadian Dollar exchange rate forecasts from market pricing sources, investment banks and technical analysts.
Market Implied Expectations:

In one month the Pound / Canadian Dollar exchange rate could be at 1.6167 according to market pricing as of 06/02/2023.
In three months: 1.618
In six months: 1.6192
In one year: 1.6218
In two years: 1.6161
In three years: 1.6161
Institutional Forecasts: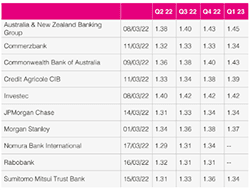 Global Reach maintain a PDF forecast report showing what the major investment banks are forecasting. The report includes the average forecast of all investment banks surveyed by Bloomberg as well as the highest and lowest forecast points over numerous timelines. You can request the free report download here.
Latest Pound-Canadian Dollar Forecast News on Pound Sterling Live: