Pound Sterling Outlook Brightens on Signs the threat of a Conservative Brexit Rebellion is Fading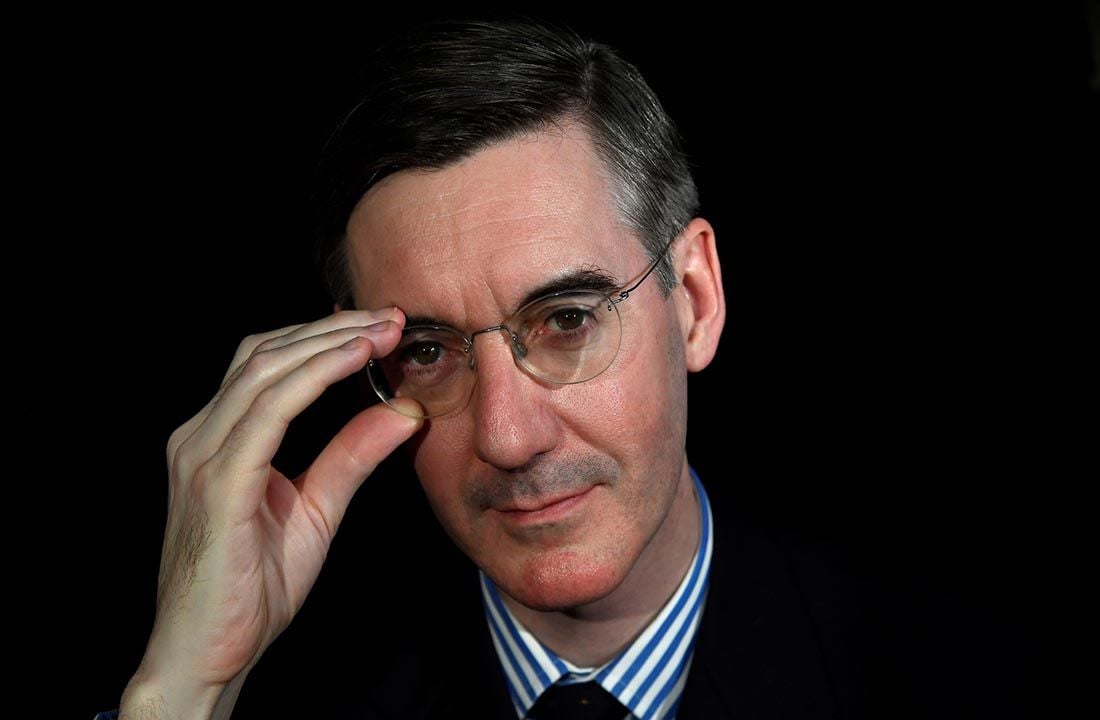 British Conservative Party politician Jacob Rees-Mogg, Chair of the European Research Group and leading Conservative party opponent to Theresa May's Brexit vision. Picture taken March 21, 2018. REUTERS/Toby Melville
- Brexiteers said to be struggling in quest to torpedo May's preferred Brexit plan
- Pound is best performing currency of past month, could go higher
- Pound-to-Euro exchange rate @ 1.1222 today, Pound-to-Dollar rate @ 1.3044
Predictions for a stronger British Pound by year-end 2018 have been boosted by news reports that Conservative party resistance to Theresa May's preferred Brexit deal might be struggling to gather momentum.
Reports on Wednesday, September 12 suggest Conservative party Brexiteers are struggling to gather the support required to jettison Theresa May's Chequers plan and ensure a 'clean' break from Brussels takes place in March 2019.
Members of the Eurosceptic European Research Group (ERG) are seen to be making the case against May's plan and have even been reported to be strategising to remove May.
The Times however reports members of the ERG are struggling to gather the required numbers to support an open defiance of Theresa May's Chequers plan; indeed backbench Brexiteers are reported to have distanced themselves from the position of the ERG.
"One accused the group of taking a "nothing is ever quite enough" approach and several predicted the scale of opposition to an eventual deal would be smaller than the ERG predicted," reports the Times.
If these reports are true - and the Times does have a reputation for accuracy on the matter - then the threat to Theresa May's quest to delivering a Brexit deal might have been over-exagerated and the prospect of a Withdrawal Agreement being signed by November remains likely.
Foreign exchange price action over recent weeks confirms the Pound appreciates on signs that a deal will be reached in 2018 as it rules out the threat of a chaotic Brexit in March 2019.
Amidst the myriad of threats standing in the way of any Withdrawal Agreement is the threat of a rebellion by those members of the ruling Conservative party who would prefer a 'clean' break from Brussels.
"We believe that, while agreement on a deal between the EU and the UK Government before December would be greeted with relief, the far greater risk to a smooth and orderly exit lies in Westminster, not Brussels," says John Wraith, a Strategist with UBS in London. "We expect economic data in the UK to lose momentum over the rest of this year as anxiety mounts."
Analysts have been warning for some time that for a real recovery in Sterling to transpire, not only must Brussels show a willingness to strike a deal, but members of Prime Minister May's Conservative party must also be navigated.
"Markets, including Sterling, apparently stay cautious as the internal division on Brexit in the Conservative party isn't solved yet. We maintain the view that 'real' Brexit progress is needed to justify a sustained comeback of Sterling," says Piet Lammens at KBC Markets in Brussels, summing up the markets current coy stance on Sterling in relation to the Conservative party.
Vladimir Miklashevsky, a Senior Economist and Trading Desk Strategist with Danske Bank says that while the Pound's "risk premium" has the potential to fall further to the benefit of Sterling, he tactically favours selling the Pound against the Euro on any strength, as he is concerned about potential fallout at the looming UK Conservative Party Conference.
Therefore, should these developments concerning the state of domestic resistance be correct and May's hand is stronger than previously assumed, we might expect further uncertainty to drain away and the Pound to garner support as a result.
Advertisement


Get up to 5% more foreign exchange for international payments by using a specialist provider to get closer to the real market rate and avoid the gaping spreads charged by your bank when providing currency. Learn more here
WTO Option Out of Favour?
The Pound has over recent months been weighed by caution that the EU and UK might not strike a deal, and that the two sides would part ways in a chaotic break-up under World Trade Organisation rules.
The report from the Times come on the day the ERG make their case for a Canada-style free trade agreement as the preferred outcome to Brexit negotiations.
The ERG, lead by Chairman Jacob Rees-Mogg, laid out their position on the question of the Irish border mid-week, arguing their vision for a 'clean break' from Brussels will neither endanger the peace process or require a hard border for the trade of goods.
Indeed, there is a great deal of alignment with their vision and the vision set out in the Chequers plan, but the Chequers plan does draw serious questions over just how free the UK will be from EU rules and regulations as it seeks a regulatory alignment on goods between the EU and UK.
The ERG prefer a broadbased free trade agreement styled on Canada's agreement with the EU, but they would also rather leave the EU on WTO terms than accept the Chequers plan in its current format.
Various ERG members and other backbench MPs have threatened to vote down any Withdrawal Agreement that they don't like, which could well mean the EU and UK fail to ratify an agreement by March 2019 and a WTO default takes place.
However, the Times has spoken to potential Conservative party rebels and has found reservations about a departure from the EU on WTO terms.
"If Theresa May comes back with something that looks like Chequers I would look very carefully at it and I suspect I would go along with it," one MP said to the newspaper.
It therefore looks like the ERG's ambitions might be curtailed to pressuring the government into changing the Chequers agreement into something that looks like a Canada-style agreement, rather than completely scuppering the government's plans.
The domestic developments gel with positive developments on the EU side where chief Brexit negotiator Michel Barnier has been making concerted efforts to spell out that a deal can be done, and is indeed likely, under Theresa May's Chequers formula.
Barnier this week said a deal was likely in six to eight weeks, news that prompted a sharp rally in the value of the Pound confirming the market's desire to see a deal done soon.
Pound Could Gain Further if Progress is Maintained
Recent developments ensure the Pound is now the best performing G10 major over the course of the past month: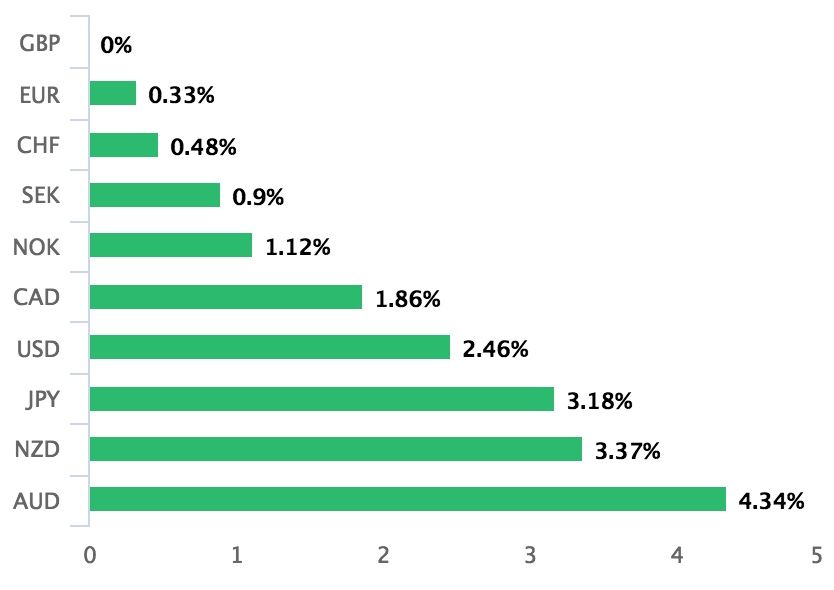 And, with signs that a 'clean' Brexit rebellion might be waning, we see little reason why the Pound can't bank further gains.
"Our main scenario is that UK will get a transitional agreement, which explains our forecast for a stronger Pound towards the end of this year. This seems to have gained some support recently," says a foreign exchange strategy note from Scandanavian banking giant S.E.B.
Pound Sterling is seen holding recent gains made against the Euro in mid-week trade, with 1 GBP achieving 1.1231 EUR on the inter-bank markets at the time of writing.
This marks a notable improvement for Sterling sellers who saw inter-bank rates as low as 1.0991 in late August, and analysts are forecasting the potential for further short-term advances amidst an ongoing shift in sentiment regarding the state of ongoing Brexit Withdrawal Agreement negotiations.
Forecasts being pencilled in by one prominent technical analyst we follow suggest the GBP/EUR exchange rate could be on course to break the 1.13 level over coming days, while another is optimistic that coming weeks might even see levels towards 1.16 being taken in.
"If beaten-up currencies are having their day in the sun, the Sterling may join in the fun. Short positions have been building and showed the first signs of turning last week. There is room for a bounce to gain momentum," says Guy Stear with French investment bank Société Générale.
Brent Donnelly, a spot FX Trader with HSBC in New York says 2019 could be a good year for the Pound if negotiations proceed as planned.
"If there is a deal, GBP should rally on the news and then keep rallying into year end as the market removes stale shorts and possibly looks at long GBP as a 'Trade of 2019'," says Donnelly in a brief to clients.
Advertisement


Get up to 5% more foreign exchange for international payments by using a specialist provider to get closer to the real market rate and avoid the gaping spreads charged by your bank when providing currency. Learn more here