Barnier makes 'Monumental' Overture to UK sending British Pound Rallying Against the Euro, Dollar and Other Major Currencies
Michel Barnier. Image © European Union, 2018 / Source: EC - Audiovisual Service / Photo: Lukasz Kobus
- Comments follow meeting with key German minister
- Barnier's comments "hugely rejuvenating" for Sterling
- But analysts warn upside scope for Sterling to be limited as hurdles remain
The British Pound has surged higher against a host of major currencies mid-week following comments from chief EU Brexit negotiator Michel Barnier that "the EU is preparing to offer a partnership with Britain such has never been with any third country."
The comments were made alongside Germany's foreign minister Heiko Maas and will go some way to calm market fears that the EU and UK are headed for a 'no deal' Brexit scenario.
"That kind of bullishness has been in short supply of late – if it has ever been there at all – and had a hugely rejuvenating effect on the Pound," says Connor Campbell, market analyst with Spreadex.
Clear message from @HeikoMaas at his meeting with @MichelBarnier : @EU_Commission has our full support. #EuropeUnited pic.twitter.com/yoSltuDzdL

— Axel Dittmann (@GermanyonBrexit) August 29, 2018
"We respect Britain's red lines scrupulously. In return, they must respect what we are," Barnier said. "Single market means single market, there is no single market a la carte."
Analyst Viraj Patel with ING Bank N.V. describes the comments as "monumental for GBP."
Indeed, the British Pound has surged in response:
The Pound-to-Euro exchange rate was seen trading a whopping 0.90% higher at 1.1098 in the hour following the comments and has kept heading higher. at the time of updating on Thursday, August 30 the exchange rate is at 1.1134.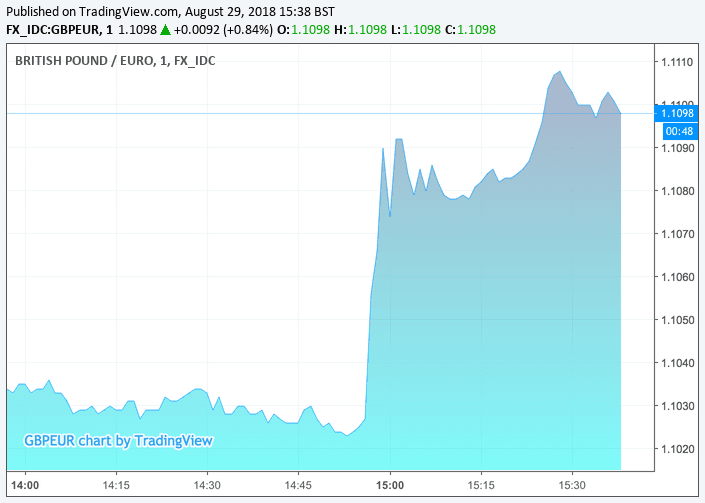 The Pound-to-Dollar exchange rate was trading 0.91% higher at 1.2982 in the hour following the comments, and is at 1.3029 on August 30.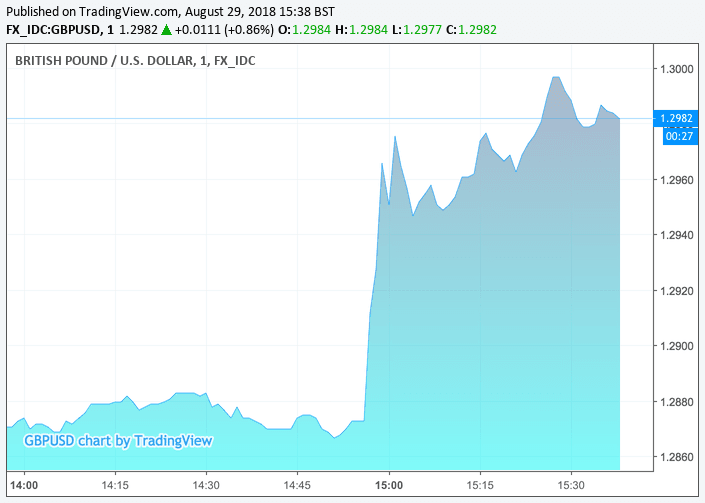 German foreign minister Maas adds "we are aiming for an ambitious and close relationship with Britian after Brexit both in economic and in security and foreign policy."
That Barnier's comments come following a meeting with Maas is important as Germany carries significant clout in Europe; any agreement on Brexit will inevitably have to have some kind of German approval.
"The Pound has history of reacting positively to any indications of a softer Brexit and this announcement, as well as the fresh relationship between Dominc Raab and Barnier, has resurrected this possibility. If this trend continues, then the Pound could well bounce into September on the front foot," says Hamish Muress, currency analyst at OFX.
Concerning the outlook for Pound Sterling from here, ING's Patel says the Pound could shoot much higher as "no deal Brexit risks get priced out."
He suggests the GBP/USD exchange rate could go as high as 1.31-1.32.
Giving credibility to the notion that the recent fears of a 'no deal' - which has put the Pound under notable pressure - were overblown is an assessment by lead UK Brexit negotiator Dominic Raab that the finalisation of an initial deal was 80% complete.
Raab made the comments in an evidence session given to the UK parliament's upper chamber.
Raab adds Britain's negotiating stance on Brexit, published in July, has received a reasonably positive reaction from other members of the European Union.
"I think it's had a reasonably positive landing, we're getting a lot of constructive engagement, and ... a lot of talk about the practical considerations rather than 'in principle' dismissal, and I think that's valuable from our point of view," Raab told the Lords EU Committee.
Following Sterling's jump, Joshua Mahony, Market Analyst at IG, warns that the market could be getting a little too far ahead of itself.
"Unfortunately, while we are seeing some significant improvement in market sentiment after this announcement, there is feeling that we have seen this all before. Almost all the preceding 'breakthroughs' have been swiftly proven to be a false dawn, and thus while we are seeing the pound spike higher, there is certain to be some hesitancy until we see a more consistently positive tone from the EU."
ING's Patel also sees limits to the Pound's recovery potential:
"We believe the politics will continue to outweigh the economics for GBP in the short-term – especially if the Brexit strategy of UK government remains one that is seemingly trying to fit a square peg in a round hole. Only a concrete resolution between UK and EU officials over the Irish backstop dispute – which would effectively finalise the Withdrawal Agreement and significantly reduce the odds of 'No Deal' Brexit – would trigger a material move higher in GBP over the coming months."
It would appear we are seeing a new negotiating tactic by the EU, one that seeks to counter the UK's tactic of talking up a 'no deal' Brexit in order to force concessions from the EU.
With today's new stance the EU could presumably place more pressure on the UK, and indeed blame the UK, should talks ultimately fail or reach deadlock once more.
Whatever the tactics, what is clear is that the two sides are jockeying and ultimately finding a way forward to a deal.
Advertisement


Get up to 5% more foreign exchange for international payments by using a specialist provider to get closer to the real market rate and avoid the gaping spreads charged by your bank when providing currency. Learn more here