The Pound Spikes as UK Unemployment Rate Dips, at a Multi-Day Best vs. Euro and Dollar
Image © Adobe Stock
Pound Sterling has responded in a positive fashion to UK labour market data which showed a sharp and unexpected dip in the country's unemployment rate.
Sterling leapt to a 0.3% gain against the Euro and 0.25% against the US Dollar after the UK's unemployment rate was recorded at 4.0% by the Office for National Statistics; markets were expecting it to remain stuck at 4.2%.
This represents the lowest unemployment rate since 1975.
Employment grew by 42K in a three-month-on-three-month basis.
The data continues a strong year-on-year trend in quarterly employment growth: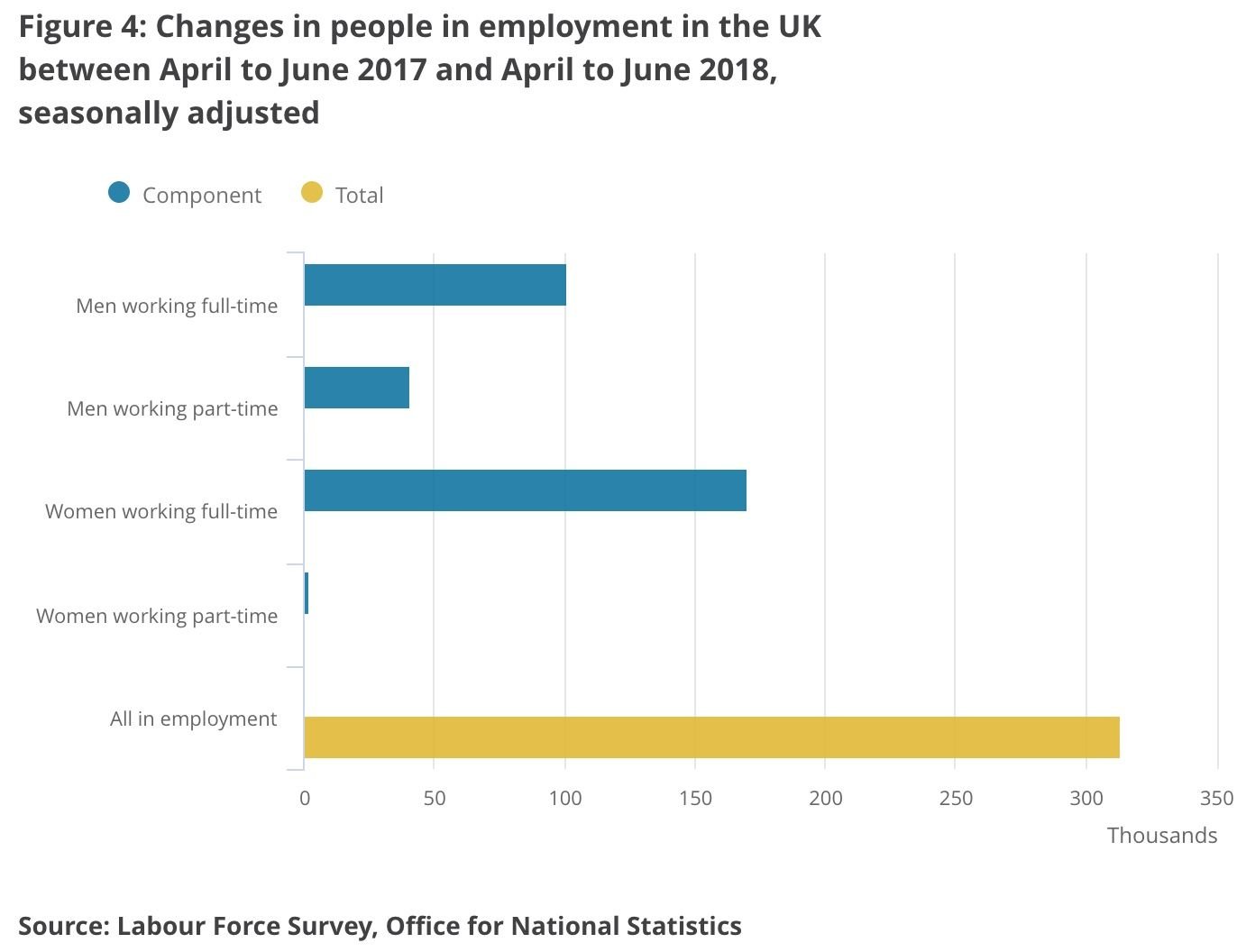 Yet, despite the good news on falling unemployment, wages continue to disappoint.
Average earnings, with bonus included read at 2.4%; economists and markets were expecting a reading of 2.5%.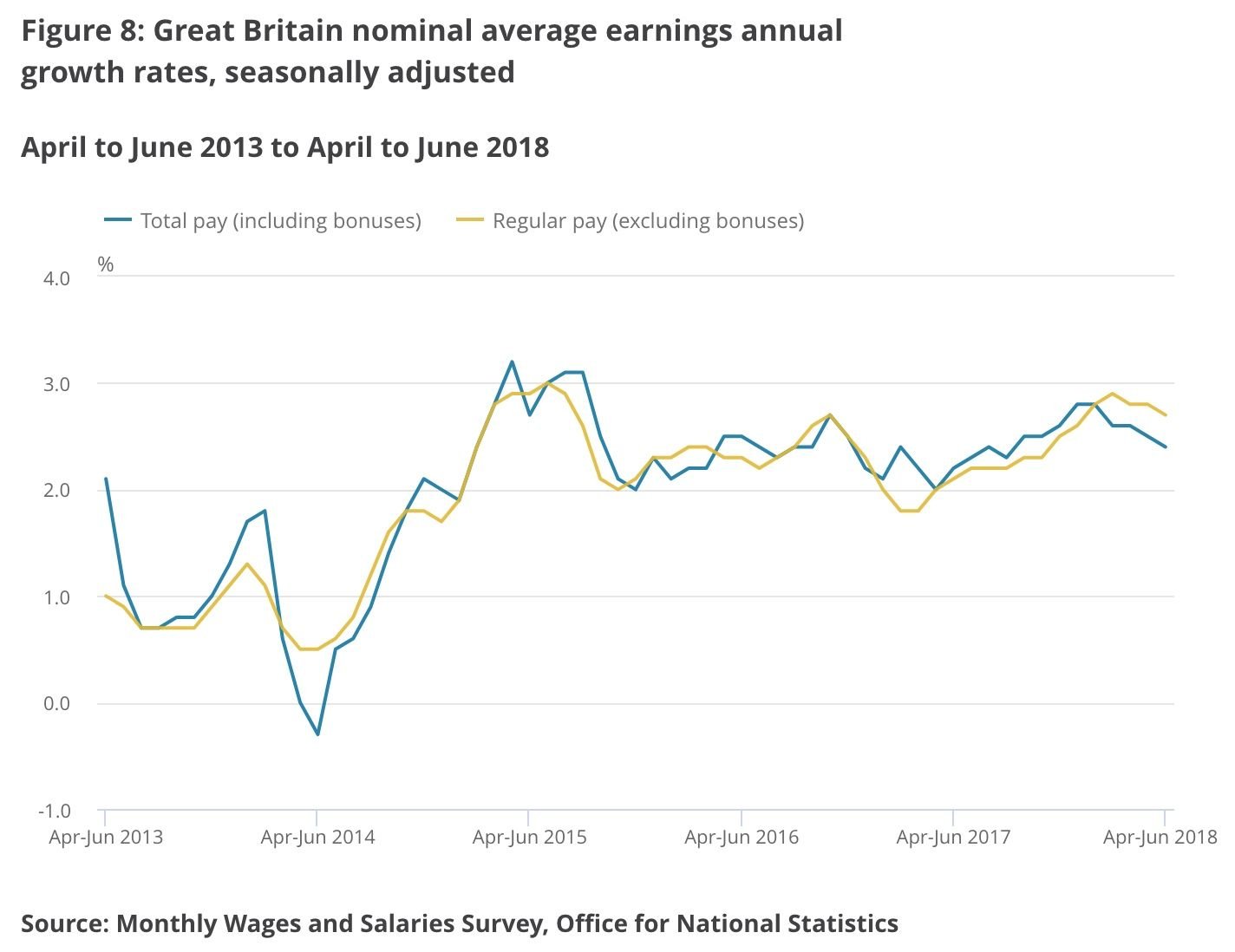 The ongoing decline in UK unemployment is therefore not having the typical upward effect on wages, and this will certainly keep Sterling's gains in check.
The slowdown in wages was driven mainly by the private sector as public sector core wages remained stable at 2.2% 3m/y, while headline wages grew slightly faster at 2.2% 3m/y compared to 2.1% 3m/y in May.
The Bank of England is keenly watching UK wage dynamics when it comes to deciding on whether or not to keep pushing interest rates higher with the theory being that rising wages tend to generate greater domestic inflation.
However, that the unemployment rate continues to decline, yet wages remain static, will cause some degree of bewilderment amongst policy makers.
All the more puzzling is that the ONS reports job vacancies to be at 829,000 for May to July 2018 which is 20,000 more than in the February to April period and 51,000 more than at the same time a year earlier. This is in fact the highest since comparable records began in 2001.
There is clearly something wrong with the transmission mechanism between strong labour demand, fewer workers being available and wage dynamics.
Encouragingly though, productivity in Q2 increased by 0.4% q/q offsetting the -0.4% q/q contraction in Q1.
Following the release we see the Pound-to-Dollar exchange rate at 1.2792 and the Pound-to-Euro exchange rate is higher at 1.1220.
"Not the worst UK jobs report. Unemployment down to historic lows at 4% (softer June job gains). Regular pay posted a solid +0.4% monthly growth (need a few more of these for investors to bring forward BoE tightening bets). Overall not enough for GBP to ignore Brexit risks at the moment," says foreign exchange strategist Viraj Patel with ING Bank N.V. in response to the numbers.
Ruth Gregory, Senior UK Economist with Capital Economics says "the latest labour market figures showed that real wage growth remains subdued, casting doubt over the likely strength of any recovery in consumer spending growth. While employment continued to grow, the pace of expansion now appears to be slowing."
However, Capital Economics continue to expect a sustained (albeit modest) recovery in real pay this year and next, putting consumer spending on a firmer footing.
More timely economic surveys suggest there are rising pay growth pressures which could feed through into the official data over coming months.
The 8 August IHS Markit/REC report on jobs flagged that "low candidate availability and robust demand for staff led to a further steep increase in salaries awarded to permanent starters" and that "temporary pay rates rose at a marked and accelerated rate that was close to April's two-year record".
Advertisement


Get up to 5% more foreign exchange for international payments by using a specialist provider to get closer to the real market rate and avoid the gaping spreads charged by your bank when providing currency. Learn more here
Featured Content
Mortgage Direct - a Spanish mortgage broker specialising in the provision of mortgages for expats - have confirmed they have secured their Spanish license.