British Pound Relief as May Stays
- Pound Sterling overturns losses suffered on Boris Johnson exit from government
- May has the numbers to stay on as Prime Minister
- But expect further volatility in Sterling this week
Image © Lee Goddard / Number 10 Downing Street
Pound Sterling is in consolidation mode following a turbulent star to the week in British politics that saw the resignation of ardent Brexit supporter and Foreign Secretary Boris Johnson.
The resignation suggested to foreign exchange markets that the tenure of Theresa May as Prime Minister is now questionable as the prospect of a challenge on her leadership grows following the resignation of Johnson, which in turn greatly increases the odds of futher uncertainty and a hard-Brexit; an idea currency markets aren't comfortable with.
The Pound plunged to fresh four-month lows against the Euro and threatened to reverse its July gains against the Dollar on Johnson's resignation, but it soon reversed the losses in a move that surprised some.
There is certainly an attitude of wait-and-see being adopted by markets as Theresa May rebuilds her top team following the resignations of Boris Johnson and Brexit Secretary David Davis on Monday. Both have been replaced by apparently competent figures.
Meanwhile, the calculus in the House of Commons required to execute her disposal simply don't appear to be in place which hints that maybe markets overreacted.
As such, the Pound is actually still treading familiar territory against most major currencies, and the headlines you will see in the tabloids covering the matter will certainly smack of their typical click-bait approach to covering the currency.
Midweek sees the Pound-to-Euro exchange rate quoted at 1.1306 with this week's low following the Johnson resignation quoted down at 1.1232. What the five-minute graph below shows us is that the Pound remains well supported: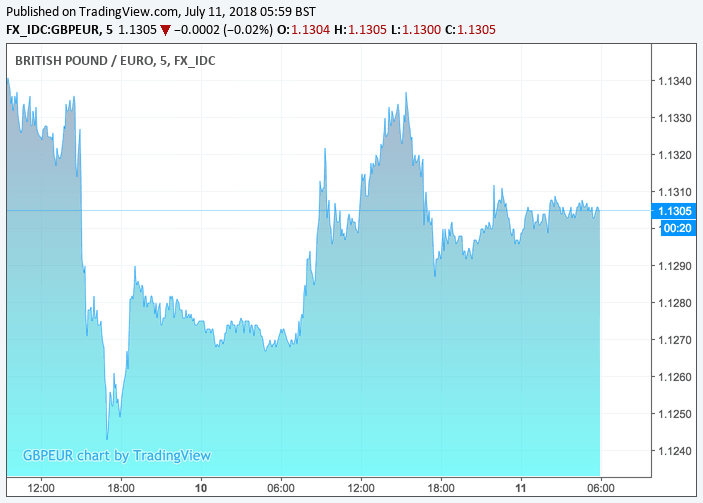 The Pound-to-Dollar exchange rate is meanwhile at 1.3237, this week's low is at 1.3188.
In fact, if we look at the daily chart of the GBP/USD exchange rate we will notice Sterling is maintaining its July recovery from multi-month lows suffered against the Dollar late in June:
For the Pound what matters going forward is whether or not Theresa May stays on; this is important as her leadership presents certainty to markets both in terms of domestic politics and Brexit outcomes.
Indeed, initial reactions by businesses to May's plan have been cautiously welcoming.
For Theresa May to go she will need to be deposed by her parliamentary party and right now there don't appear to be the numbers required to topple May in the House of Commons.
48 members of the Conservative's parliamentary representatives will need to send letters to Graham Brady, the chairman of the party's 1922 Committee that represents all Conservative backbencher MPs, expressing displeasure in their leader. Brady will then in turn trigger a vote of confidence in the Prime Minister.
48 MPs could yet still send in their letters and if the no-confidence vote carries a leadership contest will then be initiated.
Crucially, for a no-confidence vote to carry more than half of the party must vote in favour.
There are 316 Conservative MPs, and right now judging by news reports and Westminster chatter I doubt there are nearly enough MPs willing to vote against their Prime Minister and risk the inevitable hard-Brexit that doing so would trigger. If that kind of momentum existed we would certainly have seen the key 48 number triggered already.
Looking at the state of the foreign exchange markets I would suggest traders are also aware that May looks difficult to unseat.
"GBP is softer, but only marginally so and is unlikely to break one way or the other until it is clear whether yesterday's events will eventually lead to PM May's leadership being challenged," says Adam Cole, an analyst with RBC Capital Markets.
With such an outcome looking unlikely, the prospect of further consolidation looks to be the most likely path forward for the Pound over coming days but we do caution that volatility will remain high as the currency will be subject to erratic and unpredictable news flow and both dips and bounces must be expected.
EU Response to White Paper Next Key Event
The response of the European Union to the UK government's White Paper on the future trading relationship - due for release on Thursday - will now be the next major test for the British Pound we believe.
The White Paper will detail the 'Chequers agreement' that appears to be a turn by the government to a 'softer Brexit' that sees the UK and EU remain closely aligned, particularly when it comes to the trading of goods.
Traders and businesses gave the plan a cautious welcome and we believe Sterling would be notably higher had doubts grown over May's leadership in the wake of the cabinet resignations.
If the EU rejects the White Paper, or expresses doubts that it is unworkable, it will be taken as a sign that they are seeking yet more concessions from the UK.
With Theresa May aware that she has limited room to give futher concessions, and with the government agreeing to step up plans for a no-deal Brexit, markets could become wary that the UK and EU are heading for a no-deal outcome.
This would be negative for Sterling.
In short, we would expect the EU to strike a cautiously optimistic note, and Sterling to remain supported into the weekend.
But with UK politics moving so quickly, we keep an eye on the headlines.
Volatility in Sterling "will remain elevated because we believe the EU will adopt a sceptical position regarding the proposed customs arrangements," says Richard Grace, a strategist with CBA.
However, "behind the scenes both sides concede they will need to soften their respective stances to conclude a comprehensive trade agreement over the next few months," adds Grace.
Advertisement




Get up to 5% more foreign exchange by using a specialist provider to get closer to the real market rate and avoid the gaping spreads charged by your bank when providing currency. Learn more

here