Pound Looks to Recover Losses Triggered by Johnson Departure, Market Ponders May's Survival Skills
- Odds of a leadership challenge on May slashed, but she is not out yet

- Expect Pound to remain vulnerable to political headlines for remainder of week

- Sterling hits fresh four-month lows following Johnson departure

Image © Foreign and Commonwealth Office, Reproduced Under CC Licensing
Pound Sterling slumped two a fresh four-month low against the Euro at the start of the new week after Foreign Secretary Boris Johnson resigned his post in protest over Prime Minister Theresa May's Brexit policy, heightening speculation that a confidence vote on her leadership might be triggered.
Justifying his decision, Johnson said the "Brexit dream was dying" and that the UK was "truly headed for the status of colony" while accusing the prime minister of "sending our vanguard into battle with the white flags fluttering above them".
The foreign secretary's decision to walk away follows the resignation of David Davis, the Secretary of State for Exiting the European Union, who cited significant disagreement with the UK's position and negotiating strategy for his departure.
For Sterling, the resignations are significant in that they inject a fresh dose of uncertainty into the outlook.
The currency had actually opened the week sharply higher after PM May managed to guide her cabinet into supporting her preferred stance on future Brexit negotiations, which has seen the government water-down some of its so called 'red lines' in order to spur on talks as they remain stalled on the question of the Northern Irish border.
May's new 'third way' on a future trading relationship between the EU and UK is the latest attempt to unblock the stalemate concerning Ireland.
At the time of writing the Pound is down at 1.3237 against the Dollar having squandered an earlier 0.58% gain, the Pound-to-Euro exchange rate swiftly converted a 0.26% gain into a 0.31% loss that leaves it consolidating at 1.1273.
Sterling was the worst-performing currency on the day: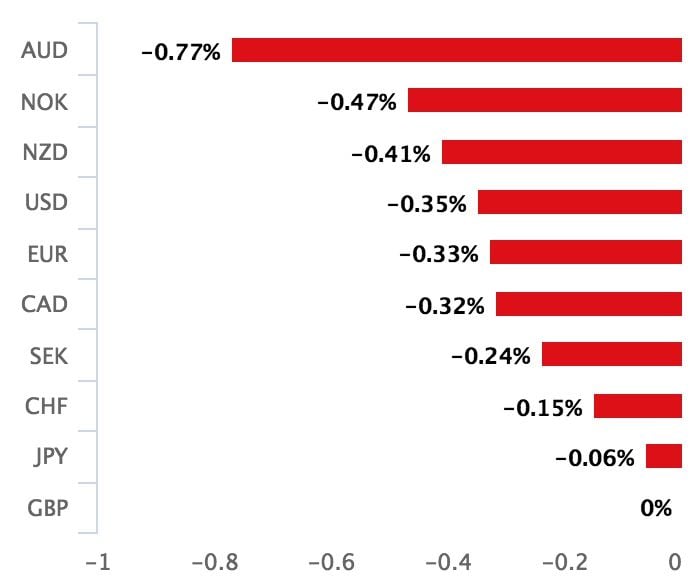 "GBP weakens after Boris Johnson's resignation, as it increases the likelihood of both a no-deal Brexit and an outright government crisis. Expect GBP to stay volatile and weak due to high political uncertainty," says a flash comment from Danske Bank's research department.
I am told Downing Street "spiked" @BorisJohnson - that is they announced he was quitting BEFORE he actually finished writing his resignation letter. This is getting very brutal

— Robert Peston (@Peston) July 9, 2018
"The Pound is now rattled after the resignation of Boris Johnson. It held good value earlier following the departure of David Davis but the news of Johnson stepping down has led to GBP/USD crashing over a cent lower," says Phil McHugh, chief market analyst at Currencies Direct. "The odds of a general election by the end of the year have now moved further in to 7/4. With Brexit tensions now really coming to a head we can expect political uncertainty to drive the pound lower."
Betting markets have slashed odds from 6/1 yesterday, into just 6/4 today, that a general election will be called before 2018 is finished according to Oddschecker, the betting market probabilities collator.
The general public is meanwhile seen backing an election being called this year, with a whopping 90% of bets being placed on the election taking place before 2019.
"Just when Theresa May finally thought that she had made a breakthrough in her Brexit negotiations, this resignation late on Sunday night could spell a turbulent week for the PM," says Oddschecker spokesperson George Elek. "Punters are sensing that a coup could be on the horizon, and it could be yet another walk to the polling station for UK voters."
Money is meanwhile being raised to help fund backbencher Jacob Rees-Mogg should be opt to try and run for Prime Minister in the event of a Conservative Party leadership vote.
The group 'Ready For Rees-Mogg' has sent round an email saying 'Theresa May's government is falling apart'.
Advertisement




Get up to 5% more foreign exchange by using a specialist provider to get closer to the real market rate and avoid the gaping spreads charged by your bank when providing currency. Learn more

here
May's Way
But don't count May out yet, she will likely have the backing of a good portion of her party who back her strategy for a close relationship with Europe, and this could well provide recovery potential to Sterling going forward.
48 Conservative MPs must write a letter to The 1922 Committee expressing no-confidence in the Prime Minister in order to trigger a vote of no-confidence. For the motion of no-confidence to carry more than half of the party's 316 must vote in favour.
We don't believe there to be enough MPs that are willing to throw May away to effectively drive the UK into a hard-Brexit and she will therefore survive.
Foreign exchange markets know this and this perhaps explains why Sterling is consolidating.
Many of the prime minister's supporters believe she would win a contest and cement her authority; but May would face a leadership challenge if she lost, with Johnson among the potential candidates.
Asked by the Guardian newspaper whether May would contest a no confidence vote, a Downing Street source said simply "yes" and asked whether May was confident that the rest of her cabinet backed the negotiating position agreed at Chequers, which is due to be fleshed out in a white paper later this week, he added: "There is no reason to think otherwise."
Furthermore, we would expect EU negotiators to be more open to May's strategy noting that shoring her up will avoid the likelihood of a hard-Brexit as posed by Conservative challengers.
The EU has demanded the integrity of its single market and customs union be preserved but that there be no physical infrastructure placed on the border between Northern Ireland and the Republic.
PM May agreed in December that in the absence of an agreed solution to this conundrum the UK would remain effectively inside the EU's single market and customs union until one could be reached.
With less than six months to go before a deal outlining the UK's withdrawal and future relationship with the EU must be reached, an "agreed solution" was still missing in action at the June European Council summit.
This saw the PM out to secure cabinet support for a deal that effectively means continued single market and customs union membership for all of the UK's goods trade, alongside a "mobility of labour" agreement that has been criticised as code for the continued free movement of labour, which it is hoped would move talks along.
The move won applause from remain-supporting members of the government but heavy criticism from the minority of lawmakers who had backed leaving the European Union and wanted to see the referendum result delivered in both spirit as well as on paper.
"UK Foreign Secretary Boris Johnson has followed David Davis out of the door, and as it stands a hard Brexit is not 'coming home'. The reaction from the Pound has seen this morning's gains completely wiped out, though any losses should be limited for the time being. These two key cabinet resignations now increase the likelihood of a softer Brexit, an idea and concept that has always resonated well with Sterling," says Hamish Muress, a currency analyst at OFX.
A successful leadership challenge would give way to a three month period of political uncertainty and domestic campaigning at a point in the negotiations where officials do not have the time to spare. A change of leadership could also make another UK general election, that risks installing a Marxist Labour Party government in office, all but inevitable.
It could also place a complete and clean exit from the European Union back on the table, which would be unwelcome news for currency markets.
Traders originally dumped the Pound after the referendum as markets are of the view that, at best, an exit from the European Union will mean slower economic growth over the longer term than otherwise would have been the case and lower interest rates for an extended period. Both of these things are typically bad for a currency.
Advertisement




Get up to 5% more foreign exchange by using a specialist provider to get closer to the real market rate and avoid the gaping spreads charged by your bank when providing currency. Learn more

here