The Pound Today: Analysts Strike a Bullish Note Ahead of Bank of England Meeting
- Markets might be too pessimistic on Sterling heading into BoE event
- GBP/EUR most susceptible to a positive change in sentiment towards Sterling
- BoE has little interest in seeing further Sterling weakness from here says one analyst
© IRStone, Adobe Stock
Update: The Bank has indeed gone ahead and fulfilled expectations laid out in this article. For the full reaction and analysis, please follow our updates here.
Foreign exchange markets will scrutinise Thursday's Bank of England interest rate statement for clues about the prospect of an interest rate rise in either August and November.
The decision and accompanying minutes to the meeting are released at 12:00 B.S.T and the first signal to take account for is the vote split of the Monetary Policy Committee in favour of raising rates at the June meeting.
Should more than two members of the MPC vote for a rate rise, we would suggest an August hike is alive, and this could in turn prove positive for the Pound.
Economists have been eyeing the August 02 meeting ever since the Bank's Monetary Policy Committee took the decision to hold bank rate at 0.5% in May, rather than raise it to 0.75%. A May hike had previously been considered a done deal, until inflation fell sharply in March and April, and the economy was shown to be limping out of a bruising first-quarter.
"The communication predicament it got itself into in May was of its own making, as it had first signalled a rate hike and then taken this back. The most recent economic data was mixed and does not provide a clear picture as to whether the BoE will take action today or not," says Analyst Antje Praefcke at Commerzbank, highlighting the relative uncertainty presented by today's event.
Ongoing Brexit uncertainties also appear to be impacting the Bank's judgement.
Despite signs of a pick-up in economic activity, the odds of the BoE going ahead with an hike in August remain below 50%.
This soft pricing for an August interest rate rise is reflected in the Pound-to-Dollar exchange rate which has struck a fresh 7-month low at 1.3147 just hours before the meeting. The Pound-to-Euro exchange rate meanwhile continues to muddle along in a familiar range and is quoted at 1.1376.
Given the dour sentiment towards Sterling, one strategist tells us there could be value in betting on a recovery in the Pound as is often the case when sentiment is so one-sided.
"Although we expect a relatively hawkish set of MPC minutes, we believe that outcome wouldn't trigger a major reversal in GBP/USD," says Stephen Gallo, head of European FX strategy at BMO Capital Markets. "We would avoid GBP/USD and would favour playing the 0.87/0.88 range in EUR/GBP as a result."
The EUR/GBP range of 0.87 /0.88 gives a range of ~1.15/1.1360 in GBP/EUR terms.
"We think the MPC will look to avoid perceptions that it is shifting to a more dovish stance... the MPC has little reason to encourage a further extension of GBP weakness," says Gallo.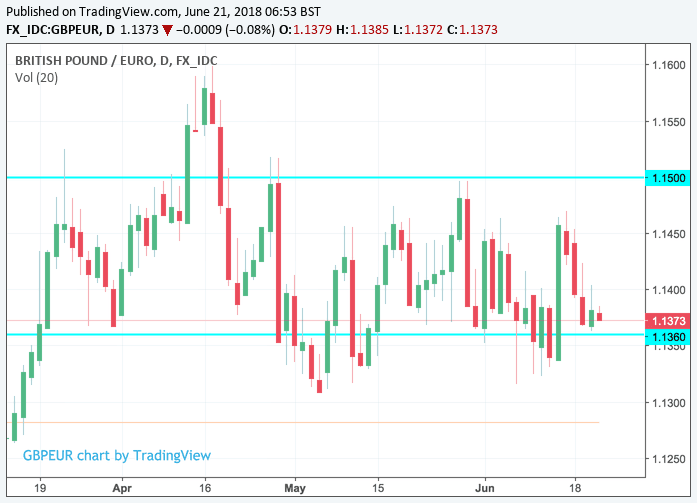 The implications are that Sterling might be in for a positive surprise and the top end of the Pound's ongoing range described by Gallo could come into play.
The analyst argues that GBP/USD might be dancing to another beat which is that of the broader US Dollar impulse higher. The Greenback has been on the charge for months now and there is little to indicate to the analyst that the run higher is coming to an end, although we have heard from other analysts who are now eyeing a potential turn in trend for the US currency.
Regardless, interest rate markets show investors are pessimistic about an August hike, this therefore sets Pound Sterling up for an eventful session Thursday as any commentary in the MPC statement that is seen to support expectations of a forthcoming rate rise would be almost certain to have a powerful and positive impact on the British currency.
Advertisement




Get up to 5% more foreign exchange by using a specialist provider to get closer to the real market rate and avoid the gaping spreads charged by your bank when providing currency. Learn more

here
James Rossiter, senior global strategist, TD Securities is also eyeing any positive moves for Sterling largely to come against the Euro:

"We expect the BoE to leave policy on hold, with a 7-2 majority vote though a risk for a 6-3 outcome. The latter could create a bit of a hawkish feel, especially if the Bank also confirms Q1 weakness was temporary. We think this meeting should still keep them nicely placed for an August hike."
"For GBP however, we think the currency will largely be left without a major directional push. A hawkish outcome will likely place emphasis on EUR/GBP downside, while a dovish outcome should see cable feel most of the repercussions."
However, Rossiter thinks evidence favouring an August hike will need to be overwhelming before the British Pound can break out of its recent ranges against the Euro.
The #MPC must indicate clearly today that the August meeting is "live" to support market pricing of a 45% chance of a hike. But with activity and wage data surprising to the downside in April, the MPC can't credibly give that signal. We expect a modest dovish reaction today. pic.twitter.com/W7GZs1GQ3B

— Samuel Tombs (@samueltombs) June 21, 2018
Lee Hardman, a currency analyst at MUFG in London says while the latest Brexit developments have largely overshadowed the Bank of England event, this "does not mean it will be a non-event for the Pound."
"The UK rate market still views the probability of an August rate hike as finely balanced, which should increase the sensitivity of the Pound to the updated BoE policy signal tomorrow," says Hardman. "If the BoE gives the green light to an August hike, the pound could regain some upward momentum. In contrast, it would remain vulnerable to further weakness in the near-term if no clear signal is provided. We have been pencilling in a hike for August, although acknowledge it is a close call."
Adam Cole, Chief Currency Strategist with RBC Capital Markets notes that while the bounce back in the data the Bank was expecting at the May Inflation Report has not materialised to the same extent, there is certainly some
evidence that the weakness in Q1 GDP will prove temporary.
"It is therefore possible to see some stronger guidance on rates at the upcoming meeting, which GBP would take well," says Cole.
Robert Wood, an economist with Bank of America Merril Lynch is however sceptical believing that the Bank likes to 'talk the talk', but rarely follows through and 'walks the walk' which inevitably leads to disappointment for Sterling bulls:
"Remember accelerating UK wage growth? Gertjan Vlieghe's five-month annualized wage growth, a reason to hike last year, fell to its weakest in a year. Other data are a touch weaker than the BoE expected, while the Brexit outlook seems challenging for the economy."
"BoE speakers keep signaling their intention to hike, but we assume next week's statement is likely to fall short of committing to August. Not only might the BoE have been guided by their recent experiences, we also fail to see the urgency."
"We expect a holding position of 'we expect to hike this year but let's see how the data evolve'. The risk is as it has been all year: that the BoE are hawkish despite the data."
However, the Bank of England focus does not end at midday as Governor Mark Carney will be giving a speech at the annual Mansion House event this evening and there is a good chance he might spell out in more detail what the path for UK interest rates looks like.
Remember, we are just receiving the minutes from the meeting today, and this can often be frustratingly short on detail, therefore the Mansion House speech could actually prove to be the decisive event for Sterling.
Advertisement




Get up to 5% more foreign exchange by using a specialist provider to get closer to the real market rate and avoid the gaping spreads charged by your bank when providing currency. Learn more

here