The British Pound Hit by Heavy Selling, Month-End Flows and Technical Sell Orders Chief Suspects for Move
The British Pound has come under notable pressure on Tuesday, March 27 despite no obvious headlines.
Instead, we are left having to do some detective work into the underlying flows market to try and determine where the big supply and demand orders are lying, and it appears the culprit right now could be Germany's Bundesbank.
The Pound-to-Dollar exchange rate is some 0.37% lower at 1.4185, the Pound-to-Euro exchange rate is down by 0.43% at 1.1379. In fact, Sterling is the day's worst-performing major global currency at the time of writing:
Above: The Pound takes a dip against the US dollar, a bunch of sell orders were triggered in the late 1.42's we are told.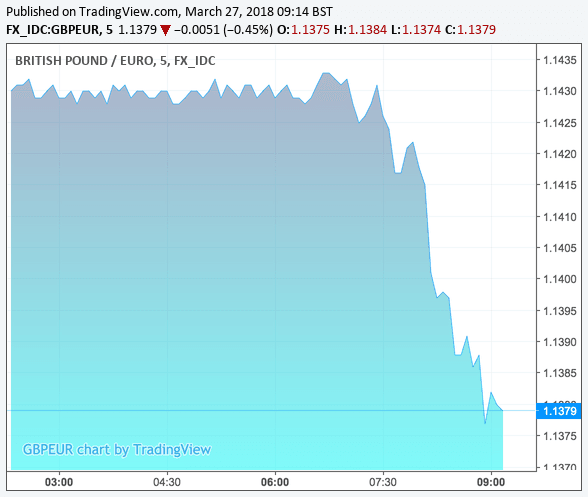 Above: The move lower against the Euro is being cited on month-end flows
What is behind the move?
There are no obvious catalysts in terms of news flow; i.e. the Bank of England is quiet and there are no Brexit headlines.
What we do know is that there was a massive bout of sell orders triggered on the GBP/USD at 1.4250, exactly where it started rolling over.
This confirms technical considerations are firmly in control of this market and from what we are hearing it is actually the GBP/EUR exchange rate that is the source of the current moves in Sterling. "Currently EURGBP the primer driver," says foreign exchange market analyst Mike Paterson at ForexLive.
Keep in mind that we are approaching month-end in a holiday-shortened week; flows triggered by global asset and fund managers can often distort markets as they seek to rebalance their portfolios to account for FX moves.
"Month- and quarter-end flow is likely to cause further volatility in a low liquidity Easter environment," says Robin Wilkin, who sits on the Global Cross Asset Strategy desk at Lloyds Bank Commercial Banking.
"Month-end buying seen behind EUR/GBP rise to a one-week high of 0.8784," says a report from Reuters, referencing the Pound-Euro exchange rate's capitulation back down to 1.1384 from the day's high of 1.1433.
Paterson adds, "the usual month-end BUBA demand to pay for UK contributions to EU still providing support and pushing cable lower too.
BUBA refers to the German central bank, the Bundesbank. The UK makes monthly contributions to the European budget which inevitably creates a demand for Euro's as Sterling is converted and it would appear that Paterson says the Bundesbank is responsible for making the exchange, we will seek clarity on this point.
"I warn every month-end about the Bundesbank needing to buy a substantial amount of EUR/GBP for the UK's contribution for EU membership and yesterday was no exception. Seems that they're back in this morning judging by the spike to 0.8775 from 0.8755," says Paterson.
EUR/GBP at 0.8775 and 0.8755 gives GBP/EUR at 1.14 and 1.1422.
With regards to all of the above drivers what must be made clear is that they are rather mysterious and hard to fathom, what is clear though is that these moves are typically short-term in nature.
"Pressure on the GBP appears to be flow-related, rather than fundamentally driven. We remain constructive on the longer run outlook for the GBP," says Shaun Osborne with Scotiabank in Toronto. "Cable has slid nearly 150 pips from the overnight high and while losses are significant, they do not qualify as a technical reversal (it is a marginal call but the signal is not there) and the broader uptrend remains intact."