British Pound: Markets are Watching the Troubled UK Construction Industry as Downturn Deepens
© Adobe Stock
The UK construction industry is in recession after contracting for three consecutive quarters to the end of December. Friday's data indicates that recession may have deepened in January.
The Pound Sterling fell sharply against its international rivals during early trading Friday after the latest instalment of the IHS Markit construction PMI showed an already-troubled industry suffering another blow in January.
January's IHS Markit PMI index fell to 50.2, from 52.2 in December, which is a much faster decline than had been expected by the market.
Consensus had been for a more modest fall to 52.0 during the recent month but the actual result has taken the index back to its lowest level since the end of the third-quarter of 2017 - which was a particularly difficult period for the industry.
The IHS Markit PMI is a survey that measures changes in business conditions in the construction industry from month to month. It asks respondents to rate current conditions across a range of areas including employment, production, new orders, prices, supplier deliveries and inventories.
"January's PMI data indicated a difficult start to 2018 for the UK's construction sector, underlined by business activity growth slumping to a four-month low and new orders sliding back into decline," says Sam Teague, an economist at IHS Markit.
The Pound was quoted broadly higher at the opening of the London session, before the report's release, although Sterling gave up most of its gains following Friday's announcement.
Sterling was marked up down 0.37% at 1.4211 against the Dollar and the Pound-to-Euro rate was quoted 0.18% lower at 1.1382 in response to the report.
Above: Pound-to-Dollar rate shown at hourly intervals.
Friday's PMI showed total industry activity barely rising at all and, most notably, the residential construction sector also posted a fall in building activity.
Weakness in the UK construction sector has been well advertised during recent quarters.
However, until January, the supply and demand disparity in the housing market had seen the residential construction sector offering preventing a more marked decline in the broader industry. That support now looks to have fallen away.
"On a more positive note, confidence towards future growth prospects improved, with many firms anticipating an increase in new project wins later in the year. Meanwhile, intense cost pressures continued across the UK construction sector," IHS Markit goes on to say.
Friday's data comes closely on the heels of January's IHS Markit manufacturing survey, which showed the index posting a surprise fall for the month.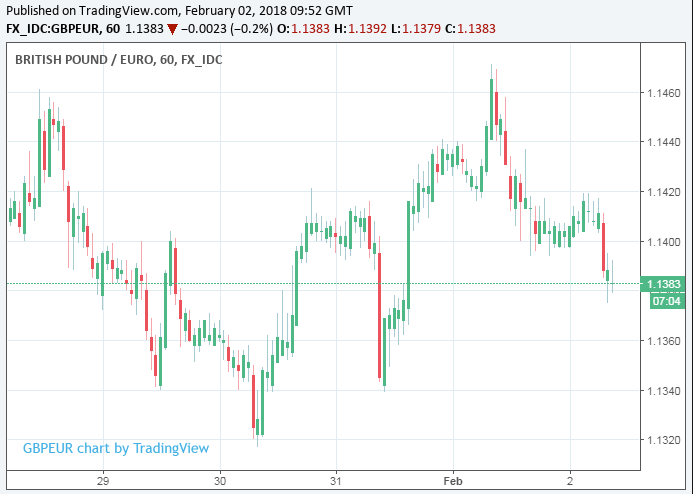 Above: Pound-to-Euro rate shown at hourly intervals.
The construction industry, which accounts for around 6% of UK GDP, is firmly embedded in a recession after having contracted for the three consecutive quarters leading up to the end of December 2017. A recession occurs when output contracts for two consecutive quarters.
UK construction output still grew by 5% in 2017 overall, although this was due to a very strong first quarter that saw large numbers of projects completed.
Since then, a fall in new orders has seen firms struggle to replace completed work as the number of new commercial construction projects has fallen sharply.
The industry has also been hit by a continued slowdown in the London housing market, which suffers from oversupply in the luxury segment and has been stymied by a series of tax changes in recent years - not to mention the Brexit Put that has kept wealthy foreign landlords away.
Friday's data comes closely on the heels of the final instalment of GDP data for 2017, which showed the economy regaining more of its lost momentum during the final months of the year.
Quarterly GDP growth came in at 0.5%, up from 0.4% in the third quarter and the best three monthly performance seen in that year.
As a result, annual GDP growth was 1.8% for 2017 as a whole, just 0.1% below the rate seen in 2016, despite a sharp slowdown that occurred during the first half when quarterly GDP growth slipped to 0.3%.
However, all of that being said, the final quarter of 2016 also saw a very strong GDP number only for it to be revised down at a later date. The Office for National Statistics has made increasingly frequent revisions to UK economic statistics in the last 24 months.
Advertisement
Get up to 5% more foreign exchange by using a specialist provider to get closer to the real market rate and avoid the gaping spreads charged by your bank when providing currency. Learn more here.
Featured Content
Mortgage Direct - a Spanish mortgage broker specialising in the provision of mortgages for expats - have confirmed they have secured their Spanish license.