UK's Move to Oil Brexit Process Boosts Pound to Euro Exchange Rate, But Juncker Still Not Happy with Offer
Pound Sterling edged up against the Euro to hit a high of 1.1408 ahead of the weekend amidst the latest developments on the Brexit front.
Signs that the UK is serious about pressing ahead with the EU - and is willing to concede ground - has caught the attention of wary traders.
But, to put the move in GBP/EUR into context, it is hardly eye-opening in scope as Sterling ultimately still languishes near historical lows against its major currency competitors with markets waiting for the fog posed by Brexit to clear.
Some of that fog is now starting to evaporate though as the early stages of Brexit negotiations have gone surprisingly smoothly.
If this can continue, then the British Pound will finally have the justification to recover as certainty regarding the future relationship with Europe is made clear.
At the time of writing GBP/EUR is seen at 1.1393, up 0.22% on the day's open.
Thus far all the signs have suggested the UK is willing to move fast and cede ground to the EU in order to get the intial stages of talks concluded in order to progress with the details of future trading relationships.
In a major conceession, the UK agreed to the EU's timetable that sought to agree on major sticking points such as the divorce bill, the Irish border and status of EU citizens living in the UK ahead of discussions on a trade deal.
This has since been followed by May confirming the UK would allow EU citizens to settle in the UK in order to avoid any uncertainty regarding their status.
"As for the Pound, Theresa May's unofficial Brexit discussions about the rights of EU and British nationals at dinner with Merkel and co. yesterday evening, alongside a final hawkish hurrah from departing Bank of England Monetary Policy Committee member Kristen Forbes, gave the currency a boost this Friday," says Connor Campbell at Spreadex in London.
"Hear, hear!" says David Johnson, founding director at currency specialists, Halo Financial. "It's reassuring to see that first on the agenda for agreement includes the rights of expats – something that has been playing on our clients' minds for well over a year. Whether that's UK citizens retaining rights while living in the EU, or employers wishing to protect the rights of EU citizens in the workforce, this is a considerable cause for concern for many."
If negotiations can continue in an orderly manner then the prospect of the UK avoiding the so-called cliff-edge scenario where we are ejected from the EU is likely to be avoided.
UK Chancellor, Philip Hammond, has been vocal on wanting a prompt agreement in principle to create a transitional period for UK businesses.
However the Government has also warned it will not accept a bad deal that in effect sanction the UK from leaving Europe.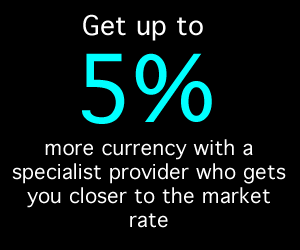 Juncker, Labour not Happy
But, enthusiasm towards Sterling has been curbed by subsequent comments from the President of the EU Commission, Jean-Claude Juncker.
Never a fan of Britain, Juncker said that May's concessions represent a first-step and more details will be needed.
May's overture was "a first step but not sufficient," said Juncker.
Juncker has long been antagonistic to Britain, recall David Cameron's opposition to Juncker being elevated to EC President in 2014.
This is a man who would be quite happy to see the maximum possible damage inflicted on the UK as a result of the Brexit vote.
And it's not just Juncker who wants to see Britain fail in this regard.
The Labour Party's shadow Brexit Secretary, Keir Starmer, said May's assertion that "we won't be seeing families split apart," was "falling far short" of the unilateral guarantee his party has on offer.
We struggle to see how what May has offered is anything but a unilateral guarantee.
But it does serve to remind us that Labour will oppose each and every move made by May in their quest to somehow get their man into number 10.
Whether or not this is a possibility will be made clear next week when Parliament passes the Government's legistlative agenda. If the DUP fail to vote with the Conservatives expect chaos to ensue.
Political uncertainty therefore remains as thick as ever, and the Pound will likely cling to the safety of recent levels against the Euro as a result.
Save