UK Inflation Defies Forecasts and Falls Putting the Pound on the Back Foot

Pound Sterling fell on Tuesday November 15th as UK inflation data surprised pundits by actually falling back below 1%.
The Pound was put on the back-foot as foreign exchange markets react to an unexpected slowdown in UK inflation.
UK annualised inflation has fallen back to 0.9% in the month of October, down from September's reading of 1%.
Analysts had forecast a reading of 1.1% as the impact of a weaker Pound started to make itself increasingly felt on shop-floor prices.
In fact the ONS note that there is no explicit evidence that the fall in the pound was having a significant impact on consumer prices
The ONS say the main downward contributors to the change in the rate were prices for clothing and university tuition fees, which rose by less than they did a year ago, along with falling prices for certain games and toys, overnight hotel stays and non-alcoholic beverages.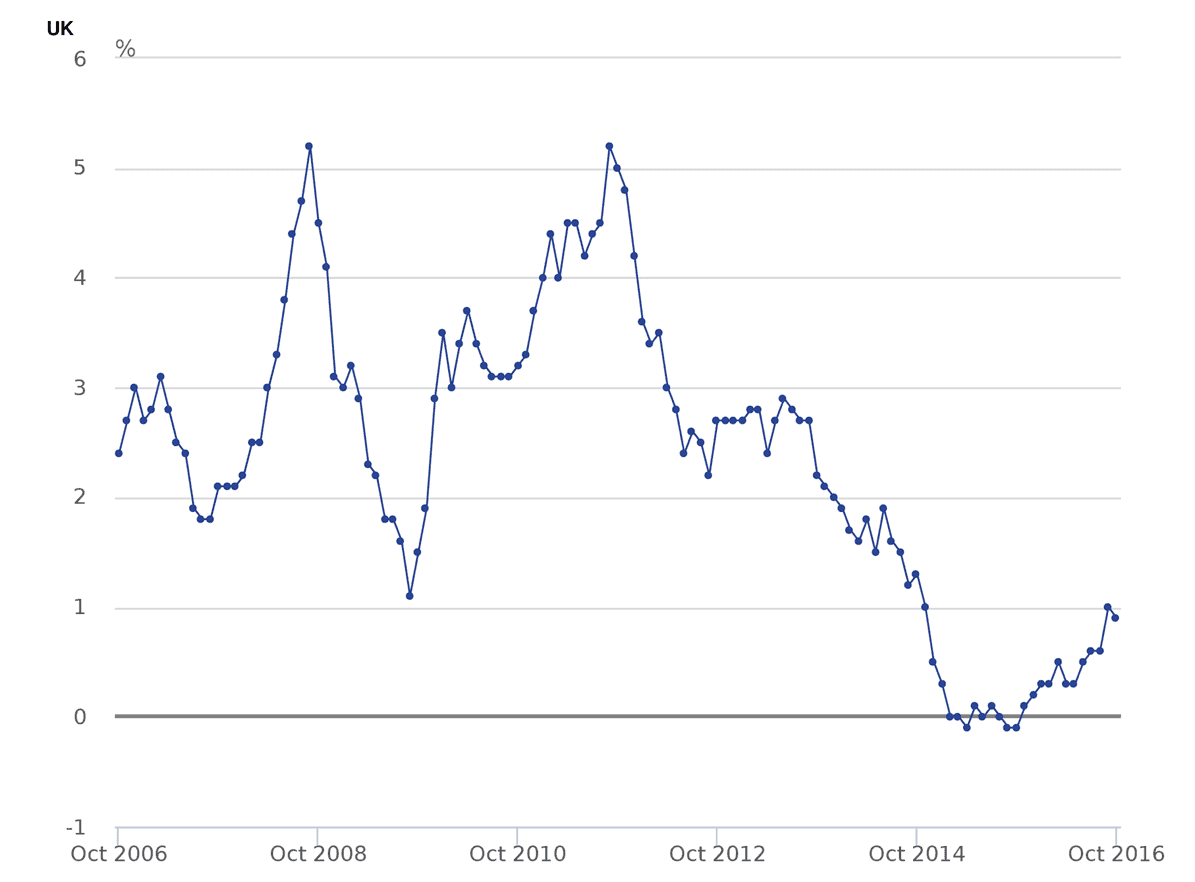 "News that inflation declined in October will come as a surprise to many analysts who had been predicting a rise towards the Bank of England's much-touted two percent target," says Dennis de Jong, Managing Director at UFX.com. "While the decline will ease pressure on consumers, Governor Mark Carney will be eager to find a way to spur growth against a backdrop of financial uncertainty."
The impact on an already struggling Sterling was notable.
"The GBPUSD sold off to 1.2414 following the unexpectedly soft inflation data. Cable is set for a deeper correction to 1.2350 for a head-and-shoulders formation following last Friday's peak at 1.2673. The daily MACD has flattened, which should prevent GBP-longs from picking up enough momentum for a renewed attempt to 1.2840 (100-day moving average)," says Ipek Ozkardeskaya at London Capital Group.
The GBPEUR meanwhile remains stuck just above the 100 day moving average at ~1.1520, the level could provide support. Indeed, those hoping for the recovery to extend will require this level to hold.
Latest Pound/Euro Exchange Rates
* Bank rates according to latest IMTI data.
** RationalFX dealing desk quotation.
UK Inflation Could Break 3% Barrier
However, expectations for higher inflation over coming months remain, despite this apparent blip in the trend higher.
"We think inflation will peak at about 3.2% in the first half of 2018," says Scott Bowman at Capital Economics.
Bowman notes:
"Inflation should resume increasing in coming months as the depreciation continues to make its way through the inflation pipeline. Indeed, pressures at the beginning of the supply chain have continued to build, with producer input price inflation hitting 12.2% and output price inflation reaching 2.1%."
The October reading should enforce the recent decline seen in Sterling which would have needed a strong inflation reading to convince markets to maintain its recent strength.
Higher inflation is typically dealt with by raising interest rates at the Bank of England - these higher rates in turn attract foreign investor inflows which in turn drive up the value of the Pound.
Expectations for an interest rate at the Bank of England will have faded somewhat on the back of this data, if anything it opens up the prospect of another interest rate cut in 2017 if need be.
However, analysts at Investec say they see the UK's inflation rate peaking at 2.8%.
Investec's Victoria Clarke believes that the Bank of England won't be in any rush to raise interest rates in the event of inflation breaching their 2% target:
"The likely temporary nature of the overshoot of the Bank of England's 2% inflation goal this time, suggests to us that the BoE is unlikely to be budged into tighter policy over the next couple of years."
Latest Pound / US Dollar Exchange Rates
* Bank rates according to latest IMTI data.
** RationalFX dealing desk quotation.
British Pound Losing Support from Global Reflation Trade
Sterling's retracement, following a stellar week of gains, should be expected as the recent strong run has been viewed by many to be merely corrective in nature and the Pound should not be viewed as having the fundamental fuel behind it to embark on a long-term rally.
Aiding the Pound higher of late have been growing expectations that inflation is to overshoot established projections in the developed world over coming years.
This view has been adopted since Donald Trump won the US Presidential Election and markets start to take his pro-stimulus agenda seriously.
Trump may boost spending by $500 BN as he seeks to fix the United States' creaking infrastructure while also offering generous tax cuts.
This could see inflation shoot higher, not just in the US but the UK and Eurozone.
However, the trade could not last forever particularly as US bond prices have fallen so far and have done so in quick time.
A retracement higher in bond prices should be expected which should put a cap on rising yields which are inversely related to bond prices.
The spread between UK, US and German bond yields will continue to be a key driver for foreign exchange markets.
"2Y U.K.-U.S. yield spread remains a drag and the outlook for relative central bank policy remains bearish for GBP. We look to GBP weakness and hold a year-end forecast of 1.21," says Eric Theoret, an analyst with Bank of Nova Scotia.
Scotiabank are neutral on GBP for the moment having noted it appears to have faded its recent rally with a return to last week's congestion around 1.24 against the US Dollar.
The 50 day moving average is providing resistance at 1.2635.