Reactions: British Pound hit by Raft of Forecast Downgrades Against Euro and US Dollar Following 'Flash Crash Friday'

The latest institutional analyst views and reactions to the collapse of Pound Sterling.
British Pound to Euro exchange rate today (8010-16): 1.1107, flash crash low 1.06 as quoted by IG).
Euro to Pound Sterling exchange rate today: 0.9012, flash crash high: 0.9435.
Pound to Dollar exchange rate today: 1.2438, flash crash low: 1.16
GBP collapsed around the Asian open, with trades apparently going through below 1.15 in GBP/USD.
The move happened right at the point of thinnest liquidity and on a day (US payrolls Friday) when volumes would have been unusually thin anyway.
The official low reached has been hard to ascertain with various commercial rate providers offering different views.
The Bank of England is meanwhile investigating the cause of a sharp fall in the value of the pound in overnight trading in Asia, a spokesman for the central bank said on Friday.
"The Bank is looking into last night's fall in sterling," a Bank official told Reuters.
It will take time for the investigation to conclude but the damage to Sterling's reputation and outlook has been done, whatever the cause of the crash.
Here are the latest reactions and expectations from those in the know:
David Bloom at HSBC reckons par for the Euro and Pound is going to happen:
"GBP has gone from a cyclical to a political and structural currency. The structure and politics are conducive to a currency that needs to fall to a level that causes balance. That balancing act is and has been in our eyes is still a lot lower than where it is today.
"We continue to look for GBP-USD at 1.20 by year end and 1.10 by end 2017, taking EUR-GBP to parity."
Georgette Boele, ABN Amro believes Sterling is now oversold:
"Net-short speculative positions in sterling on the futures market are massive. At some point in time these investors will take profit on their sterling shorts, probably at a time when sterling fails to weaken further. If we take purchasing power parity into account, sterling is substantially undervalued."
Adam Cole at RBC Capital Markets says no need to panic and cut forecasts:
"Ostensibly triggered by harsh comments on UK exit terms from French PM Hollande, GBP collapsed around the Asian open, with trades apparently going through below 1.15.
"The nature of the flows that pushed GBP to the lows may not be clear for some time and for now we are not changing our forecasts, which are already well below consensus (1.25 end-year, 1.15 early next year). Spillover into broader markets has been quite limited, but the tone is moderately risk-off (USD/JPY -40pts, AUD/USD -20pts)."
Latest Pound/Euro Exchange Rates
* Bank rates according to latest IMTI data.
** RationalFX dealing desk quotation.
Kathleen Brooks at City Index says Sterling is the victim of the new world of complex alogrithmic trading:
"Apparently it was a rogue algorithm that triggered the sell off after it picked up comments made by the French President Francois Hollande, who said if Theresa May and co. want hard Brexit, they will get hard Brexit.
"These days some algos trade on the back of news sites, and even what is trending on social media sites such as Twitter, so a deluge of negative Brexit headlines could have led to an algo taking that as a major sell signal for GBP. Once the pound started moving lower then more technical algos could have followed suit, compounding the short, sharp, selling pressure.
"Thus, the pound has been the victim of the digital, headline-driven world that we live in today. For sterling, algorithms have become the modern-day version of a George Soros."
Aurelija Augulyte at Nordea Markets cuts her forecasts:
"To adjust for the recent move in the GBP and uncertainty unleashed by this flash crash, we adjust the GBP forecasts lower.
"Technically, the GBP move tonight looks like a capitulation. The 0.88 - 0.91 for the EUR/GBP is a strong resistance area in the post-Lehman trading. And while there is no anchor for the GBP/USD, the USD index also met key resistance tonight."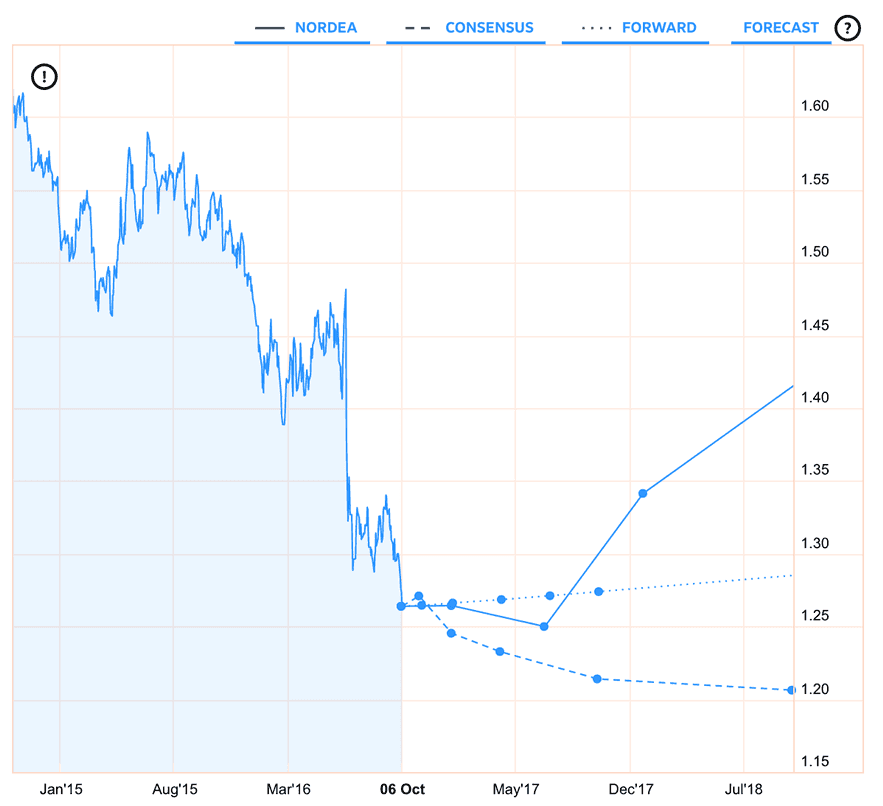 Karen Jones at Commerzbank awaits a relief bounce:
"GBP/USD has seen a massive spike lower overnight to reach the 1.1938 level. The 1.2200 target has clearly been met. Needless to say this move is overdone and we would allow for a retracement.
"We have a time zone gap back to 1.12639 (this is the gap between where London left the market and we find ourselves this morning). We would allow for this to be partially filled and note the Elliott wave count is suggesting a rally to 1.2625 intraday."
Fawad Razaqzada, Market Analyst at Forex.com says technical momentum is unambiguous:
"As things stand however, the technical bias remains bearish as none of the major resistance levels have been reclaimed yet, which is a prerequisite before sentiment potentially turns bullish on the GBP/USD.
"The point of origin of the overnight breakdown was at 1.2600, while the prior swing low was 200 pips higher at 1.2800. Until and unless the cable moves above these levels, bullish speculators should treat any bounces with extreme caution."
Polemic's Pains (an ex-trader from the City) has uncovered the real truth behind the fall:
"Some foolish folk will have done a Bloomberg News search for GBP and decided that it is due to the news that fracking had been allowed in North West England. Which is of course rubbish, because we all know that it happened because Diane Abbott was made the shadow Home Secretary."
Latest Pound / US Dollar Exchange Rates
* Bank rates according to latest IMTI data.
** RationalFX dealing desk quotation.
UK Manufacturing Data Flops
Just when you thought things couldn't get any worse for the under-seige Sterling, Friday's big data release came in well below expectations.
UK Manufacturing Production data read at 0.2% - economists are forecasting a reading of 0.5%, up from the previous month's -0.9%.
This is a big miss and undermines recent PMI and CBI survey's which had suggested a bigger improvement in activity.
The release shows production decreased month-on-month in August 2016, with a fall in mining and quarrying partially offset by a rise in manufacturing.
"After spending much of this week hearing about sterling plummeting to its lowest level in decades, the poor manufacturing production data will make further grim reading for Prime Minister Theresa May this morning," says Dennis de Jong at UFX.com.
de Jong says most observers will primarily be focused on the details of May's Brexit negotiation wish list ahead of the triggering of Article 50 in the coming months.
"Before the UK's position is clear, the pound will likely remain volatile for the foreseeable future," says de Jong.
British Pound Forecast to Test Lower Levels Against the US Dollar
Ahead of the final day of the week while Sterling has settled down somewhat the outlook remains decidedly heavy.
Hence, any reactions to data are likely to be shy on the upside and generous on the downside.
"GBP is down 0.4% and underperforming most of the G10 currencies with the exception of AUD and CHF, weakening into the NA open with a break through Wednesday's fresh multi-decade lows under 1.27," says Eric Theoret at Scotiabank in Toronto.
Regardless of the strong data Theoret reminds us that the outlook for relative central bank policy remains bearish for GBP as the BoE's dovish stance is juxtaposed against a tentatively hawkish Fed.
"Yield spreads are weighing on GBP and options markets hint to considerable demand for protection against downside risk. Brexit uncertainty is delivering added pressure via sentiment," says Theoret.
Scotiabank see limited support for Sterling ahead of $1.25 and no significant technical support ahead of $1.05.
"Momentum signals are bearish and the RSI is at the oversold threshold around 30. DMI's are providing confirmation and moving averages are bearishly aligned," says Theoret.
Euro to Pound: Growing Upside Momentum
Meanwhile, the Euro appears to be enjoying increased upside momentum and it will take quite a bit of positive data to turn the currency's ascent around.
"EUR/GBP has broken the resistance at 0.8821 suggesting a longer rebound," says Peter Rosenstreich at Swissquote Bank in Gland, Switzerland.
Watch for the key resistance at 0.9083 (01/07/2011 high) to cap the short-term upside potential.
"In the long-term, the pair is currently recovering from recent lows in 2015. The technical structure suggests a growing upside momentum. The pair is trading far above from its 200 DMA. Strong resistance can be found at 0.9083," says Rosenstreich.