GBP Rallies in Wake of Referendum Outcome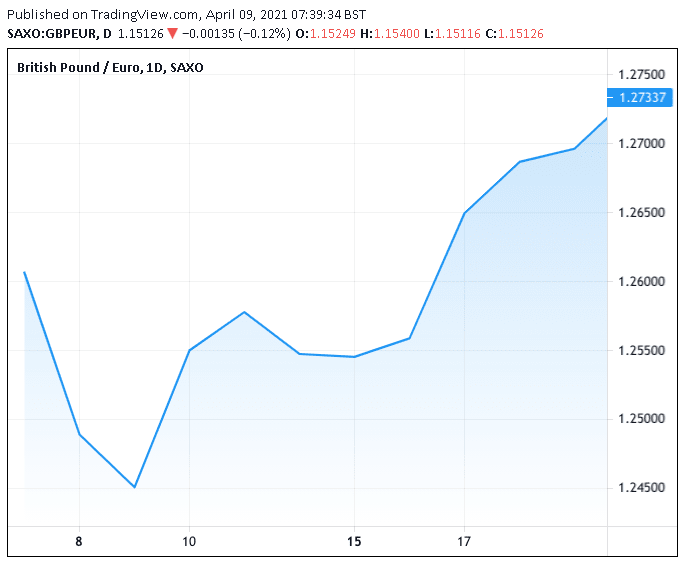 Above: GBP/EUR rallies into the referendum outcome of September 19, 2014.
Scotland's referendum on independence has passed and the United Kingdom is retained.
"Scotland has voted to remain in the United Kingdom and Pound Sterling has already unwound its pre-referendum discount," said Barclays Capital in reference to the key driver of the GBP over recent sessions.
All eyes now look to Westminster and Holyrood as further devolution promises are to be met.
Pound Sterling ran higher as soon as the polls closed, and overall had a strong day with GBP/USD 3% higher than it was 10 days ago.
GBP/EUR reached 1.28, its highest level in 2 years.
And strong gains were made against currencies right across the board.
The scale of retracement for Pound Sterling has been notable and some traders will now look to take profit.
But political nervousness around further devolution as well as the general election in 2015 remains.
"The BoE is still on course to be one of the first, if not the first, G8 central bank to raise interest rates as part of the normalisation process. In the short run it may churn a bit, but we expect the pound to stay strong on the crosses and advise buying dips," ANZ advises.
The Pound stands better chance against currencies where central banks are still considering easing measures, such as the Euro.
"We had estimated that GBPUSD and EURGBP were both trading at roughly a 1-2% discount on referendum risk. Both pairs have seen roughly a 1.5% appreciation of GBP and sharp decline in implied volatility," Barclays argues.
"We continue to like EURGBP lower based both on our above-market expectations for Bank of England rates and our expectations for generalized EUR weakness. But GBPUSD's upside likely is limited by EURUSD downside; hence we see little value in GBPUSD above these levels," Barclays adds.
Euro: Maintains Steady Hand
Given the disappointing TLTRO this week, with Eurozone banks only seeking EUR86.2bn of loans, the Euro still managed to climb against the US Dollar.
The Euro against the Pound Sterling has continued lower this week, perpetuated by the Scottish referendum result today.
However, the price maybe approaching a major trend line, which means it is worth watching.
Should we see a spike higher, the 0.78 level would make sense.
The first level of resistance to watch for in the event of such a move higher would be 0.787.
For the Euro against the US Dollar, the differences between the ECB and the Fed may continue to see rallies within a 1.2800-1.3000 range in the interim.
Barclays have revised their EUR-USD forecast significantly lower last week, and maintains a short EUR-USD position from 1.3280 targeting 1.2815.
US Dollar: Strength Continues To Manifest
The positive global equity backdrop on Thursday saw the FX Sentiment Index retreat lower to Risk-Off territory as investors continued to take the FOMC in their stride.
Without a clear hawkish signal from the Fed and with inflation off its highs, the US Dollar bull trend is still the core theme but its path has been dampened slightly.