Retail Sales Slump Sends Pound Sterling into the Red
Image © David Holt, Accessed: Flikr, Licensing Conditions: Creative Commons
- Spot rates: GBP/EUR: 1.1730, -0.10% | GBP/USD: 1.3051, -0.20%

- Indicative bank rates for transfers: GBP/EUR: 1.1430-1.1540 | GBP/USD: 1.2718-1.2810

- Indicative money transfer specialist rates: GBP/EUR 1.1560-1.1630 | GBP/USD: 1.2900-1.2960 >> Get a quote
Pound Sterling fell on Friday after the ONS reported UK retail sales slumped in December, surprising a market that had been prepared for modest growth and adding to expectations that the Bank of England would cut interest rates on January 30.
The Pound had been set for a positive end to the week before the release of retail sales for December prompted fresh selling pressure. Data showed a fall of 0.6% in retail sales on a month-on-month basis, well below market expectations for an increase of 0.5%.
Retail sales grew 0.9% year-on-year in December, which was below expectations for a reading of 2.6%.
"December's fall in retail sales volumes comes as a major shock and suggests that consumers retrenched severely at the end of last year amid heightened political uncertainty," says Samuel Tombs, Chief U.K. Economist at Pantheon Macroeconomics. "Five months now have passed without a month-to-month increase in sales, the longest spell without growth since record begin in 1970."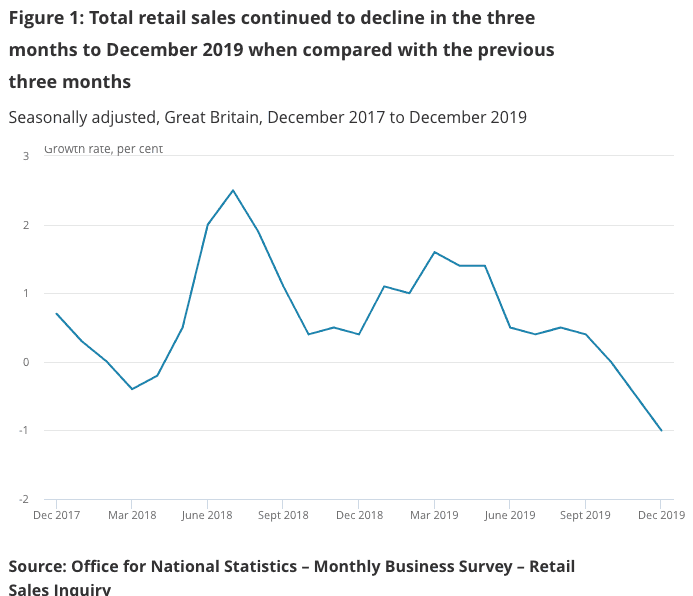 "We had thought that seasonal adjustment issues relating to the later-than-usual timing of Black Friday were to blame for November's fall and that sales would rebound in December; these data clearly rebut our theory," says Tombs.
All sectors except household goods stores and fuel saw a decline in the quantity bought for the three-month on three-month movement; driven mainly by non-food stores at negative 1.0%.
The slide in retail sales confirms the UK economy ended 2019 on a soft footing, and unless the Markit PMI data release on January 24 beats expectations, an interest rate cut at the end of the month is almost certain.
The soft data, and raised expectations for an interest rate cut have put Sterling back under pressure ahead of the weekend:
The Pound-to-Euro exchange rate is at 1.1723, having been as high as 1.1780 ahead of the retail sales release.
The Pound-to-Dollar exchange rate is at 1.3052, but was as high as 1.3117 ahead of the release.
"In the near-term, these data undoubtedly strengthen the case for the MPC to cut Bank Rate on January 30. That said, the December general election has led to a dramatic reduction in political uncertainty, and we can see from labour market and money supply data that households' disposable incomes continued to increase at a solid pace in Q4. A revival in spending in Q1 remains a solid bet," says Tombs.
Wasn't all bad news. Silver lining non-store retailing up. But 4Q19 won't go down as a good one for UK economy. Need strong signs of recovery in Jan leading indicators to keep Bank of England from (at least) flagging a 1Q20 rate cut. $GBPUSD holding given dovishness priced in pic.twitter.com/CvLU51fOuB

— Viraj Patel (@VPatelFX) January 17, 2020
The retail sales figures are nevertheless backward looking and ultiamtely fail to tell us if there was a notable improvement in economic activity following the general election. Some surveys out since the election point to a strong rebound in sentiment, and markets will be watching next week's release of the flash PMI from IHS Markit for the first major economic release out since the election.
It will take a strong outcome to convince the Bank of England that interest rates should remain unchanged. "If, as we expect, the flash composite PMI—released on Friday 24—rebounds in January, then the MPC likely still will be willing to keep Bank Rate on hold, though clearly the January 30 meeting now is finely balanced even if the PMI surges," says Tombs.
Next Friday's release is therefore the major calendar event for Sterling in the near-term and solid outcome from the PMI would likely trigger a rebound in the value of Sterling.
"There continues to be controversy as to whether Boris Johnson's clear election victory might indeed trigger a noticeable recovery in the UK economy. Ultimately, a cut in interest rates at the end of January largely depends on this evaluation. A substantial improvement in economic data following the recent general election has, unsurprisingly, hardly been possible so far. Undoubtedly, more time is needed to assess the impact of a considerably reduced political risk on the domestic economy," says Marc-André Fongern, Head of FX Research at MAF Global Forex.
Time to move your money? The Global Reach Best Exchange Rate Guarantee offers you competitive rates and maximises your currency transfer. They offer great rates, tailored transfers, and market insight to help you choose the best times for you to trade. Speaking to a currency specialist helps you to capitalise on positive market shifts and make the most of your money. Find out more here.

* Advertisement