Pound Sterling Cedes Ground to the Euro following Speaker's Curveball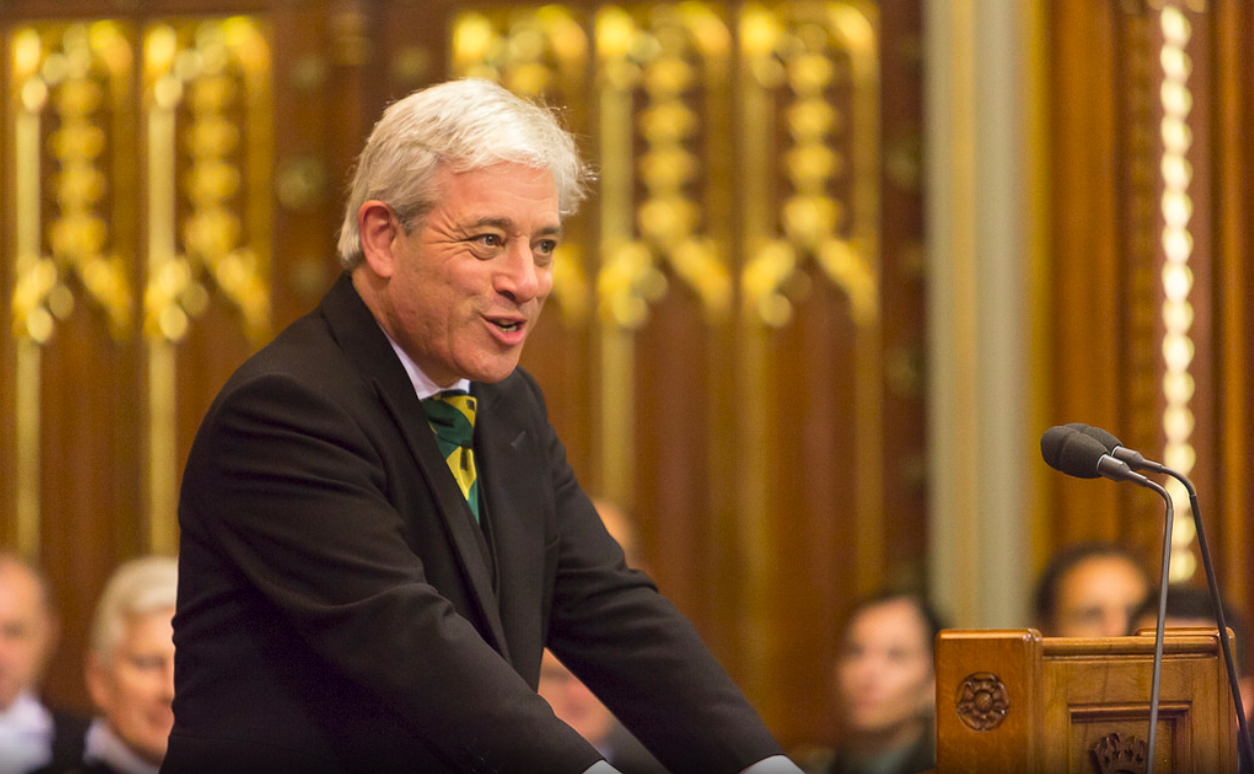 UK Parliament
- GBP treads water as market contemplates Bercow's curveball.
- Bercow's ruling may mean long Article 50 extension is a certainty.
- Sidelining Brexiteers and putting ball largely in EU's court this week.
Pound Sterling ceded ground to the Euro Tuesday as financial markets attempted to gauge the impact that a surprise intervention by House of Commons Speaker John Bercow will have on the Brexit process over the coming days and weeks.
Speaker of the House of Commons John Bercow said Monday that age-old convention, also the best description of the UK's constitution, means Prime Minister Theresa May cannot ask MPs to vote on her Withdrawal Agreement again until there has been some form of meaningful change to it.
This is because convention states that parliament should not be asked to vote on the same question twice within the same session, which puts in doubt the idea of a third parliamentary showdown over Brexit this week. A parliamentary session normally runs for around a year.
"While most experts think that the government could ultimately find a way around the ruling, even if it meant "crashing" the current parliamentary session and starting a new one, there are at least two immediate consequences of the ruling," says Adam Cole, chief FX strategist at RBC Capital Markets.
Cole says Bercow's intervention means a third attempt by PM May to pass her EU Withdrawal Agreement through the House of Commons will be almost impossible this week, but also that it makes a lengthy delay to the Brexit process a near certainty.
He says a delay is necessary to ensure a change of circumstance or substance that is sufficient enough to allow PM May's bill to go back before the House of Commons again. This leaves the ball in the EU's court for the current week.
Robert Peston, political editor of ITV News, claimed Tuesday that PM May intends to write letters requesting from the EU both a short and a long extension to the Article 50 negotiating window. He has also speculated that any extension agreed will be followed by a so-called no deal Brexit later on.
The PM is set to write to EU leaders requesting a short AND long Brexit delay. Is their a cat's chance in hell the EU will agree? https://t.co/J5gWDVKUqw

— Robert Peston (@Peston) March 19, 2019
"There are a couple of ways around this – Bercow has mentioned the government could start a new session of parliament, but this would require the Queen to end the current session and begin a new one which could be quite controversial. Another more likely option appears to be that if the EU offer an extension to Article 50 and thereby officially change the exit date, the deal could be substantially different," says Lee Hardman, an analyst at MUFG.
A number of Tory MPs have said to me that if @theresa_may makes good on her promise/threat to seek a long Brexit delay, the immediate price will be her forced resignation. This is not a happy party https://t.co/J5gWDVKUqw

— Robert Peston (@Peston) March 19, 2019
Bercow's intervention came at a time when PM May looked to be making progress toward securing support for her Withdrawal Agreement. One-by-one, opponents of PM May's proposal have indicated in recent days that they will now back the exit bill.
However, another landslide of support could come if European Research Group leader Jacob Rees-Mogg also gives way over the coming days. He said Monday that he's waiting to see what the Democratic Unionist Party (DUP) does at the next ballot before making his own mind up on what to do this time.
But it's not yet clear just what impact Speaker Bercow's intervention will have on the thinking of Brexiteers. The one reason they'd contemplated supporting PM May's deal was in order to avoid a long delay, or possible cancellation of Brexit, but Bercow just made that long delay a certainty.
No deal is now the best outcome. https://t.co/gZtNaAoygT

— Jacob Rees-Mogg (@Jacob_Rees_Mogg) March 18, 2019
DUP Party officials have been in talks with Downing Street over the Withdrawal Agreement but are yet to strike a deal that will lend their ten parliamentary votes in support of the embattled Prime Minister. The DUP voice is an influential one.
Above: Pound-to-Dollar rate shown at daily intervals.
The Pound was quoted 0.06% higher at 1.3272 against the Dollar late in the London session Tuesday, while the Pound-to-Euro rate was -0.09% lower at 1.1689. Both exchange rates have risen sharply this year, by 4.2% and 5.1% respectively.
"On the event of a chaotic exit from the EU we see risk of cable plunging below the GBP/USD 1.15 level and EUR/GBP soaring towards parity," says Jane Foley, a strategist at Rabobank.
Above: Pound-to-Euro rate shown at daily intervals.
The House of Commons including Prime Minister Theresa May voted last Thursday to have her return to Brussels and request from the European Union an extension of the Article 50 negotiating window, which is currently scheduled to end on March 29.
PM May has said that if parliament approves her EU Withdrawal Agreement then she will ask the EU for only a short two-month delay to enable ratification but that, if parliament rejects her proposal for a third time, then there could be a Brexit delay of between two and four years.
All 27 leaders of EU members must unanimously approve any extension and there's no guarantee that they'll do it. There's also little telling what they might demand in return for granting an extension or exactly how long they could demand that such a thing be.
Above: Post-referendum statistics for Pound Sterling. Source: Thomson Reuters.
Unless and until an extension is agreed the course of action currently enshrined in law will see the UK leave the EU on March 29 and default to doing business with it on World Trade Organization (WTO) terms, which is for those looking to see a stronger Pound Sterling, the worst possible outcome.
However, Foreign Secretary Jeremy Hunt also warned on Monday that the support of all EU leaders for an extension of Article 50 cannot be taken for granted. This is because a seemingly unlikely European Council veto from either Italy or one of the Visegrad Four of Central and Eastern Europe cannot yet be ruled out.
"GBP could be expected to rally on the news that a deal is in place and that a hard Brexit is firmly off the table. The knee jerk reaction could take GBP/USD above the 1.35 level, but profit-taking would then likely kick in," Rabobank's Foley writes, in a note to clients. "European Commission President Tusk has suggested that the EU could be open to a long extension "if the UK finds it necessary to rethink its Brexit strategy."
Markets like PM May's Brexit proposal because it defers a meaningful change in circumstance until at least the end of 2020 and even then, the exit envisaged by the withdrawal agreement and future relationship declaration removes the UK from the under the EU's wing in legal terms, but little more than that.
This is because the withdrawal agreement means that if the UK cannot or will not satisfy the EU's demands in the next stage of the negotiations, government will be forced to choose between two options.
That choice is between allowing the province of Northern Ireland to be annexed by the Republic of Ireland and European Union, or the UK remaining subordinate to the EU and subject to many of its laws on a potentially-indefinite basis and without any ability to influence those laws or EU institutions.
As a result, the proposal that PM May has been doggedly thrusting at parliament has gone down like a cup of cold sick with some MPs, although not nearly all of them. Many have appeared to oppose the pact simply out of a partisan and opportunistic desire to force a general election.
"While GBP would likely rally initially if the EU grants the UK any delay to Brexit beyond March 29, the fact that a no deal Brexit would still be on the table in these circumstances coupled with concern that the economy would continue to suffer under the burden of political uncertainty would likely limit upside potential," says Foley.
Time to move your money? Get 3-5% more currency than your bank would offer by using the services of foreign exchange specialists at RationalFX. A specialist broker can deliver you an exchange rate closer to the real market rate, thereby saving you substantial quantities of currency. Find out more here.

* Advertisement
Featured Content
Mortgage Direct - a Spanish mortgage broker specialising in the provision of mortgages for expats - have confirmed they have secured their Spanish license.