British Pound Resilience Shows Markets still believe 'No Deal' Brexit will be Avoided, Despite Tusk and Juncker Raising the Heat Ahead of May's Visit to Brussels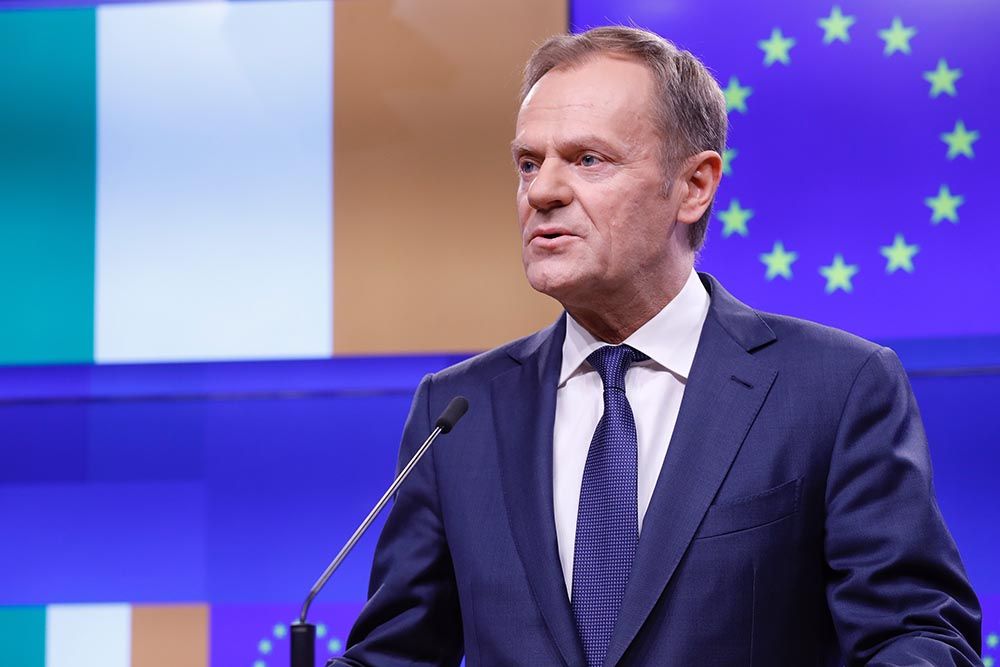 Above: European Council President Donald Tusk had some fiery words for Brexiteers at a press conferene in Brussels. Image © European Union.

- May to meet Juncker in Brussels today

- Tusk, EU leaders leave little hope for compromise

- Pound trades with the confidence a deal will still be done
- Pound-to-Euro exchange rate @ 1.1385
- Pound-to-Dollar exchange rate @ 1.2903
Pound Sterling is seen trading towards the upper end of multi-month ranges against the Euro but is seen under pressure against a broadly resurgent U.S. Dollar ahead of a crucial visit by UK Prime Minister Theresa May to Brussels on Thursday, February 07.
The Prime Minister will be heading to the European Union's capital with a view to seek changes to the Irish backstop contained in the Brexit deal's Withdrawal Agreement, as these changes are required to allow the Brexit deal to be finally ratified in the UK parliament.
However, May will be visiting a Brussels that is in no mood to compromise, a stance potentially designed to force the UK government into changing course and presenting a 'softer' Brexit to parliament that the Labour party and Conservative party moderates can back.
This is perhaps why the British Pound appeared to defy the Brexit mood music in the midweek session, with the currency recording a decent 0.30% advance on the Euro despite the rising tensions over Brexit in Brussels: a deal will pass and markets are betting it will be a softer version of the existing deal.
May will first meet European Council President Jean-Claude Juncker, before heading over to the European Parliament where she will meet EP President Antonio Tajani and the EP's Brexit coordinator Guy Verhofstadt. From there, she moves to the Europa building to meet European Council President Donald Tusk.
Based on the tone of recent Brexit communications out of Brussels we would not expect May to receive any motions of encouragement, indeed, expectations for any breakthrough remain limited at this juncture. May is not yet expected to present any new formal UK proposal aimed at addressing the Irish backstop issue which remains the main hangup for UK parliamentarians who refuse to back the deal.
We will be watching the ensuing press briefings, but would imagine interest for Sterling markets will be limited at this point: the saga is by no means in its endgame.
A visit by Irish Prime Minister Leo Varadkar invited some strong words by senior EU officials Donald Tusk and Jean-Claude Juncker on the matter of the UK's desire to see changes to the Irish backstop, both confirmed that the EU is in no way considering opening discussions on the matter, which suggests to us May will not win the concessions required to get the Brexit deal struck between the EU and UK in 2018 through the UK's parliament.
We believe the rhetoric over Brexit coming from the EU's corner has become more combative, and we therefore find it rather odd that Sterling is trading higher against a number of currencies. This only confirms that the market is looking through the noise and remains quietly confident a deal will ultimately be struck as the Prime Minister is forced to look at some kind of customs union that Labour will back.
We maintain a view the only sure-fire guarantee against a 'no deal' is the passing of May's Brexit deal, the passing of which remains a foundation for any sustainable rally in the British Pound we believe. Indeed, Sterling will gain between 2% and 5% if Britain parts ways with the European Union with a divorce deal but will slide between 5% and 10% in the event of a disorderly Brexit, a Reuters poll found on Wednesday.
"Tactically, GBP's fortunes in February will hinge on the balance between the "no deal" threat from looming deadline on 29 March and whether that deadline will be reset with an extension of Article 50.Our near-term bearishness on GBP reflects our belief that we may have to run into March before the momentum for an Article 50 extension becomes irresistible, set against the threat of a cliff edge EU exit. In the meantime, GBP will face that ticking clock of a rising probability of the default "no deal" outcome even if a majority in parliament are clearly against it," says Daragh Maher, Head of FX Strategy at HSBC.
Tusk Signals No Concessions Likely
Prime Minister Theresa May meets Northern Irish political parties today before moving on to Brussels on Thursday for a series of meetings, most notably with European Commission President Jean-Claude Juncker, with a view to laying out what compromises the UK will be looking for from the EU in order to ultimately allow the Brexit deal to pass through the UK parliament.
May has been sent back to Brussels by the UK parliament to secure changes to the backstop contained in the Withdrawal Agreement of the Brexit deal as most parliamentarians who voted down the deal are opposed to the prospect of the UK being caught in a permanent customs and single market bloc with the EU, a bloc in which the UK will have no influence and will effectively be reduced to rule-taker.
Ahead of May's visit, Irish Prime Minister Leo Varadkar has been meeting officials, including European Council President Donald Tusk who has left little doubt as to the uphill challenge May faces.
"I have been wondering what the special place in hell looks like for those who promoted Brexit without even a sketch of a plan how to carry it safely," Tusk told reporters in a joint press conference with Varadkar. Tusk added that the most important task going forward is to prevent a 'no deal' Brexit. "I hope that tomorrow we will hear from PM Theresa May a realistic suggestion on how to end the impasse."
"Tusk's message is astonishingly strong - not exactly evoking spirit of compromise which is what he called for moments before while talking about protecting peace - not anything to do with actually getting a deal done either but will get massive reactions," notes BBC Political Editor Laura Kuenssberg.
May was quick to respond via her spokesperson: "It's a question for Donald Tusk whether he considers the use of that kind of language to be helpful."
We get the sense May's job is not going to be easy, and this gives us concerns as to how she will manage to get the kind of compromises to get the Brexit deal through parliament. Remember, and we stress this, the best possible outcome for Sterling in the short- and medium-term is the deal passing through parliament. The ultimate failing of the deal could provoke substantial downside pressures for the currency.
To us it appears the EU are looking to pressure the UK into seeking an extension of Article 50, and thus delaying Brexit. Varadkar's comments in Brussels today that the door remains open to the UK delaying Brexit, or overturning Article 50 entirely, tells us this is the direction of travel they would like see taken.
Hammering home the difficulties the UK will face was an interesting comment from Varadkar to Tusk caught off camera following the press conference. Readers can draw their own conclusions as to the EU's current stance towards the UK.
Microphone picks up @campaignforleo warning @eucopresident: "they'll give you terrible trouble". Tusk nods and laughs pic.twitter.com/20xlTzqelM

— Georg von Harrach (@yourmeps) February 6, 2019
Following his meeting with the European Council President, Varadkar was then ushered onto another meeting, this time with European Commission President Jean-Claude Juncker, where the message on the Irish backstop was uniequivocal: there will be no further negotiations on the matter.
Juncker said there will be no way for the UK to win a unilateral exit from the backstop contained in the Withdrawal Agreement, a message that suggests to us that May simply will not come close to winning the concessions required of her by parliament to secure. However, a point being made by some commentators is that while Juncker ruled out a unilateral exit mechanism from the backstop he did not necessarily rule out a potential time limit.
Juncker also says alternative arrangements on the Irish border can be considered in the future, but they cannot replace the backstop.
Following meetings in Belfast, Northern Ireland's Democratic Unionist Party (DUP) stressed to British Prime Minister Theresa May on Wednesday that the Irish border backstop was the issue with her Brexit deal and needs to be replaced.
"We reiterated again the fact that the backstop was the problem ... the backstop needs to be replaced," DUP leader Arlene Foster said following talks with May, adding that the meeting had been useful and that some of the debate around the exact nature of the changes needed was a matter of semantics.
Recall, it is the Irish border 'backstop' that has hamstrung the ratification of the Brexit deal in the UK parliament, and May will need, at a very minimum, the backing of DUP votes if the deal is to ever pass through parliament. The DUP are opposed to the Brexit deal based on the current configuration of the Irish border 'backstop', saying it threatens Northern Ireland's future in the United Kingdom.
It however also appears the DUP are under pressure to ultimately agree to a deal, and we believe they will no longer be seeking the complete removal of the Irish backstop, but rather they will likely push May to get substantial legally-binding commitments such that if the backstop were ever triggered it could only be for a limited period.
Irish nationalists from Sinn Fein meanwhile warned May, in a seperate meeting on Wednesday that if she allowed a disorderly 'no deal' Brexit then there would have to be a referendum on Irish unity.
"We have said to her, in the event of a crash, in the event of a Tory crash, that she must as a democrat return to the Good Friday Agreement, and she must begin preparation for a referendum on Irish unity," Sinn Fein leader Mary Lou McDonald said. "If British politics cannot accept the specific needs of this country, of the north of Ireland, if British politics is incapable of acknowledging and upholding the Good Friday Agreement and preventing a hardening of the border, then the only last option – the backstop of last resort – is a referendum on Irish unity," she said.
On the first day of a two-day trip to Northern Ireland, May told an audience in Belfast she maintains an "unshakeable" commitment to avoiding a 'hard' border.
"The UK government will not let that happen. I will not let that happen," May said. "There is no suggestion that we are not going to ensure that in the future there is provision for this - it's been called an insurance policy, the backstop - that ensures that if the future relationship is not in place by the end of the implementation period there will be arrangements to ensure no hard border."
Time to move your money? Get 3-5% more currency than your bank would offer by using the services of foreign exchange specialists at RationalFX. A specialist broker can deliver you an exchange rate closer to the real market rate, thereby saving you substantial quantities of currency. Find out more here.

* Advertisement
"I'm not proposing to persuade people to accept a deal that doesn't contain that insurance policy for the future. What parliament has said is that they believe there should be changes made to the backstop," says May.
However, Brexiteers in the Conservative party appear to be under the impression May would seek the complete removal of the backstop. The EU simply won't bend to this and we think it is clear any deal will therefore only pass with Labour Party votes as the entire Conservative party won't be backing the deal.
"A legally binding limit won't pass in Parliament. The Prime Minister would suffer a further crushing defeat. It's open the Withdrawal Agreement, remove the backstop, or No Deal," says Nadine Dorries, a prominent Brexiteer on the Conservative party benches.
But, Sterling Still Priced for a Positive Resolution
"It is reasonable to argue that May is determined to push for EU amendments to the existing backstop and failing that find some 'alternative arrangement'. That in turn suggests she seems prepared to play this right to the wire; a factor that could serve as a cap on GBP gains in the short-term," says a client note from investment bank NAB's FX Strategy team.
The Pound continues to trade at levels that suggest markets are largely confident that enough changes on the Irish backstop question will be found to allow May to finally secure a majority in the UK parliament for her deal.
"It is reasonable to argue that May is determined to push for EU amendments to the existing backstop and failing that find some 'alternative arrangement'. That in turn suggests she seems prepared to play this right to the wire; a factor that could serve as a cap on GBP gains in the short-term," says a client note from NAB's FX Strategy team.
Currency strategists at NAB are constructive on the British Pound going forward saying that we have merely seen the currency hit a "speed bump" over recent days.
"While a disappointing set-back on GBP's path higher, we are encouraged by the limited nature of GBP's subsequent decline," say NAB.
Indeed, technical studies attest to Sterling having merely pulled back into longer-term ranges against the Euro and U.S. Dollar: levels consistent with the market's wait-and-see approach to Brexit.
Time to move your money? Get 3-5% more currency than your bank would offer by using the services of foreign exchange specialists at RationalFX. A specialist broker can deliver you an exchange rate closer to the real market rate, thereby saving you substantial quantities of currency. Find out more here.

* Advertisement