"The Pound is Pushing Higher" on a Political Declaration that Gives May a Shot at Pushing Brexit Deal Through Parliament
Image © European Union, 2018 / Source: EC - Audiovisual Service / Photo: Etienne Ansotte.
- Draft political declaration on future relationship agreed
- Sterling rallies in response to news of agreement

- But gains unlikely to last say some analysts
The British Pound marched sharply higher on Thursday, November 22 on news of a draft political declaration on future relationship being struck between European Commission and U.K. Brexit negotiators.
Headlines overnight had lead us to believe a deal was some way off; the surprise announcement jolted foreign exchange markets to life with the Pound-to-Euro exchange rate surging back up to 1.13 while the Pound-to-Dollar exchange rate trades over a percent higher at 1.2914.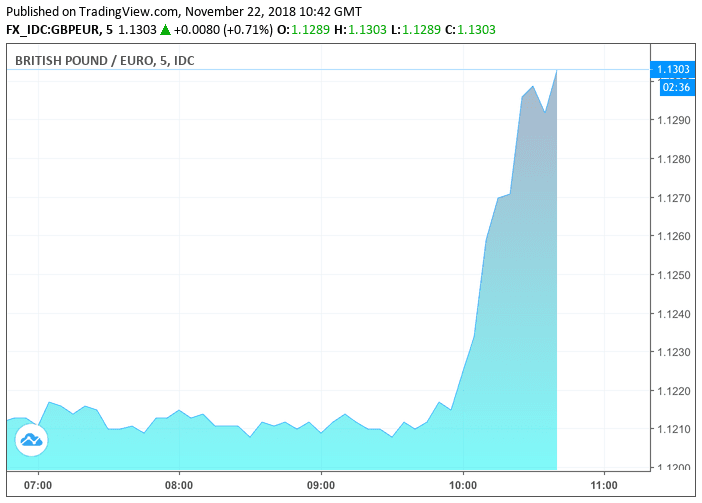 Above: Sterling's reaction against the Euro.
"The Pound is pushing higher on short covering. Latest Brexit headlines encouraging demand particularly on the EU & UK agree on draft text on future ties. Probably some further upside right now," says Neil Jones, a foreign exchange specialist with Mizuho Bank Ltd. in London.
The deal now allows for a European Council summit to take place on Sunday, when E.U. leaders will be asked to sign off on the terms of the UK's divorce and the framework for a post-Brexit relationship. In a statement outside Downing Street, the Prime Minister told reporters she is confidence European leaders will sign off on the deal.
The draft statement, which comprises 26 pages, sets out the structure for the future U.K.-E.U. relationship, which will be fully negotiated after the UK formally exits on 29 March, 2019.
"I have just sent to EU27 a draft political declaration on the future relationship between EU and UK," says Donald Tusk, the President of the European Council. "The Commission president has informed me that it has been agreed at negotiators' level and agreed in principle at political level, subject to the endorsement of the leaders."
Looking at the details, there are some important points to take note of.
"Draft Brexit text to 'ensure no tariffs', transition period can be extended 'up to one or two years', 'technological solutions' to be considered for Irish border. All good news for GBP," says analyst Matthew Ryan with Ebury.
What the agreement proposes is a 'maximum facilitation' arrangement on customs that would go some way in avoiding a hard border on the island of Ireland, something that has previously been rejected by Dublin and Brussels.
Crucially, this is something we believe will lure in some of May's Conservative party opponents to backing her deal. It could allow them the cover required to get behind the Prime Minister and vote through the deal.
In short it acknowledges that the dreaded backstop plan is to be a last resort and alternative arrangements will be pursued.
The political declaration states that on the issue of fisheries the U.K. will be an independent coastal nation that will control its own fishing rights but this is one area that some critics says could have used further clarity. Indeed, we understand France is said to be holding out on the issue of fisheries in light of the interests of their sizeable fishing fleet that will want to maintain access to U.K. waters in some shape or form.
It also appears there is no reference to Gibraltar at all, something that will likely harden Spain's resolve to vote against the deal. However, Spain's vote won't stop the deal as it does not need ratification by all member states but when the final trade deal requires ratification all member states must be in favour.
This kind of resistance from individual states will become a significant headache for negotiators in coming years.
According to analysis from TD Securities, the tweaks in the political declaration will nevertheless go some way in appeasing Conservative party rebels opposed to May's Withdrawal Agreement, particularly the proposal to pursue technological solutions to the Irish border.
"However, other sections of the document suggest even tighter alignment with EU rules than previously envisaged, suggesting that while on net this may help buy support for May's Brexit deal, the gains are likely to be limited at this point," says a note from the TD Securities research desk on the prospects for Sterling in the wake of the announcement.
Advertisement




Bank-beating GBP exchange rates: Get up to 5% more foreign exchange by using a specialist provider to get closer to the real market rate and avoid the gaping spreads charged by your bank when providing currency. Learn more

here
Curb Your Enthusiasm: This Deal Faces Hurdles
News of a deal between the E.U. and U.K. could however mean little for the Pound beyond a short-term timeframe as the deal signed off between the two sides looks unlikely to come into force.
A report in the Sun suggests "more than 100" Conservative MPs could vote against PM's Brexit deal, giving it "zero chance" of passing now.
Hence, we would expect any gains in Sterling to ultimately be contained to recent ranges even if the latest news of a deal does whittle the scale of the opposition down.
"The Irish Border issue has now been kicked down the road, and even if there is determination to solve this, the proposed deal doesn't currently have enough votes to pass through Parliament, meaning the spike in Sterling may not have the legs to last even till the weekend," says Hamish Muress, currency analyst at OFX.
The prospect of a 'no deal' Brexit looms heavy in the air. Or at least it would if were not for the briefings coming from senior government ministers that if the deal fails no Brexit will happen at all, denying Conservative party Brexiteers a cherished hard exit.
The atmosphere is therefore one of utter confusion; the situation is undeniably unhelpful for those wanting a materially stronger Pound by the end of the year as any major move higher is unlikely given the soup of uncertainty, but that no major decline has yet transpired should offer some confidence to those who cannot afford a major plummet in value.
The Prime Minister has been trying to whip up domestic support for her deal to ensure an orderly pro-Sterling transition, hoping that once the text of the deal has been fully digested her MPs would fall behind it. But, 83 MPs have officially come out against the plan and the Sun's Political Editor, Tom Newton Dunn, has been told the true number lies above 100.
There is nil chance of the plan succeeding in its current form as a result we believe.
The Europeans are unlikely to yield an inch on renegotiating the current deal, particularly since the mask of unity behind their negotiating position has slipped: There are reports of various member states pushing for last-minute changes to the political declaration on the future relationship.
Spain has confirmed they will vote against the Brexit deal if they are not given a veto over the future of Gibraltar, there are reports that a host of countries are unhappy with the current deal's provisions for fishing rights.
Theresa May's meeting Thursday with European Commission President Jean-Claude Juncker appears to have yielded enough to deliver this morning's breakthrough: recall May and Juncker had met to try and close the political declaration for the future agreement (the Withdrawal Agreement is already closed).
With a bunch of fresh European demands now on the table, we would understand why the U.K. was desperately pushing the final negotiating process forward in what we believe to be an attempt to shut out fresh demands from individual member states landing on the negotiating table.
There are so many moving parts that it is quite impossible to tell what might happen over coming days and weeks and whether or not a 'no deal' Brexit will be avoided.
But, the British Pound is trading at levels consistent with the belief a 'no deal' will still be avoided. We are struggling to reconcile the Pound's apparent optimism with the ugly political situation and reckon it is teetering on the edge of a sizeable move lower.
We argued before, and still believe now, Theresa May needs a game changer - a concession from European leaders - or the deal is dead. Another option is May calls a 'deal or no deal' scenario referendum after the Brexit deal suffers a defeat in parliament. This would not be the so-called People's vote, rather a yes/no on her Withdrawal Agreement.
This would likely require the European Union to extend Article 50, something they have already said can't be done, but we believe they can pull some other piece of legislative procedure out of the hat to make it happen.
For those watching the market, the Pound's ongoing resilience allows technical analysts to cut through the headline noise and to give a prediction on where the currency might trade over the near-term.
The Pound-to-Euro Exchange Rate in Coming Days
The sharp fall in the GBP/EUR exchange rate witnessed on November 15 - the day Theresa May's government suffered a number of high-profile ministerial resignations - has not found any substantial follow-through.
This tells us markets are still in wait-and-see mode regarding the next developments on Brexit: They are not willing to bet on a 'no deal', nor are they willing to bet that it will all be OK on the day.
"Prices are consolidating," says Robin Wilkin, a technical strategist at Lloyds Bank, noting the 1.1235 figure as being where the market is settling around.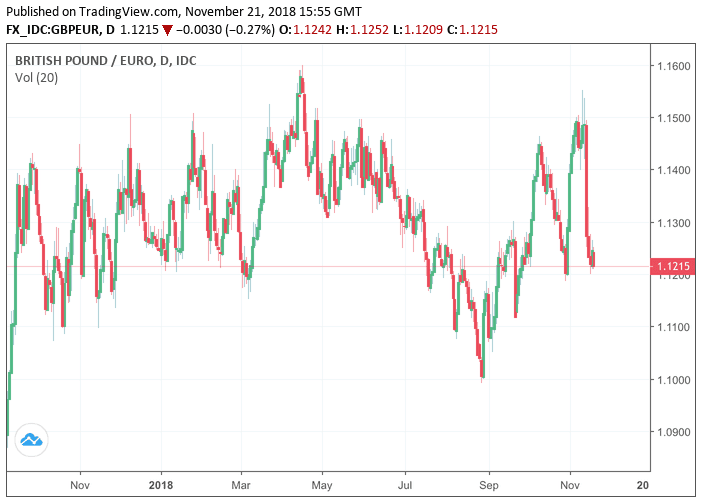 The analyst says a break back above 1.1280 would open "a deeper near-term setback" for the Euro as the GBP/EUR would likely travel back towards 1.1331.
Wilkin would then be looking to see if a 'lower high' develops in that region for another test lower towards the 1.11-1.10 range lows.
"Overall, while we await clarity on politics, prices remain trapped in a range," says Wilikin, identifying the region between 1.16 and 1.11.

The Pound-to-Dollar Exchange Rate in Coming Days
The British Pound endured a sharp drop against the Dollar on November 15 as markets reacted to the government resignations triggered by the unveiling of the Brexit deal the U.K. struck with the European Union.
Yet, the decline has not seen any follow-through and the GBP/USD exchange rate is at 1.2793: where it was on October 31.
"Prices have so far failed to extend the recovery from the 1.2700-1.2660 support, turning just ahead of our 1.2910 resistance area as the broader USD found support," says Wilkin.
Indeed, we do note the U.S. Dollar appears to have slipped into the driver seat with a broad-based sell-off in global stock markets driving a solid bid of the U.S. Dollar which retains its position as best performer of 2018.
https://www.poundsterlinglive.com/usd/10381-pound-to-dollar-exchange-rate-midweek
Technical analysis from Wilkin suggests momentum has turned neutral and at this stage, barring surprise headlines, "we expect prices to remain in a range between 1.2730 and 1.2910 into the weekend."
Should the exchange rate move above 1.2910 Wilkin sees the next resistance coming in around 1.3000-1.3080, ahead of 1.3190, and then the range highs at 1.3320.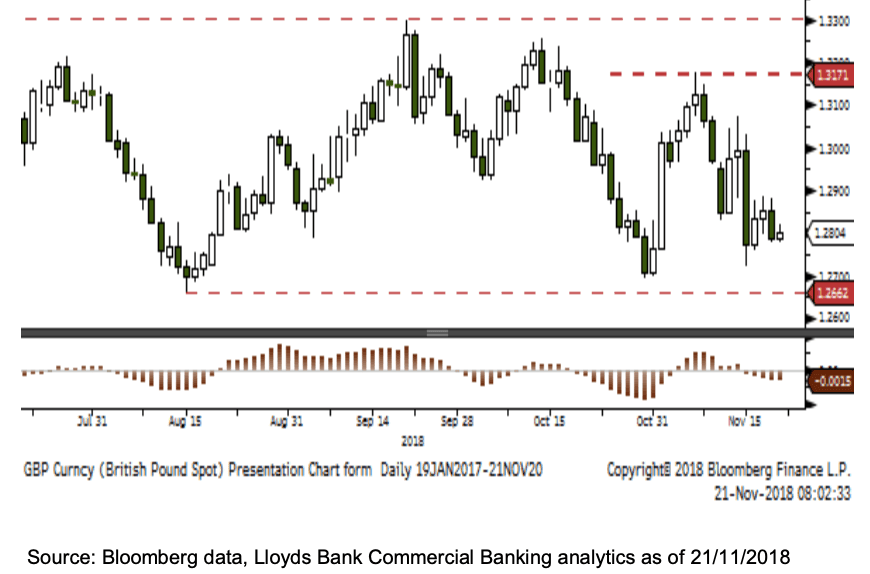 "A decline through 1.2730/1.2660 would suggest an extension towards 1.2595 and 1.2500 regions," says Wilkin.
On a longer-term it is interesting to note that foreign exchange analysts at Lloyds believe the bear cycle, which started back in 2007 at 2.1160, completed at 1.1490.
"On a multi-year basis, this suggests mean reversion back to 1.50-1.60," says Wilkin. So if you have the luxury of time, expect a multi-year rally to transpire.
Advertisement




Bank-beating GBP exchange rates: Get up to 5% more foreign exchange by using a specialist provider to get closer to the real market rate and avoid the gaping spreads charged by your bank when providing currency. Learn more

here
Featured Content
Mortgage Direct - a Spanish mortgage broker specialising in the provision of mortgages for expats - have confirmed they have secured their Spanish license.