Soft Start to the Week for Sterling on Reports May's Brexit Deal to be Rejected by E.U.
Above: Head E.U. Brexit negotiator Michel Barnier will likely reportedly reject the U.K.'s plans for the backstop mechanism. Image © European Union, 2018 / Source: EC - Audiovisual Service / Photo: Etienne Ansotte.
- Increasingly likely May's Brexit plans won't pass parliament
- Sterling day's worst performer as markets increase odds for no 'deal Brexit'
- Analysts warn of heightened volatility over coming days
Pound Sterling has endured a torrid start to the new week as Brexit headlines prompt traders to become more cautious on the prospects of the E.U. and U.K. agreeing a Brexit deal before the end of the year.
The currency is in the red, by quite some margin, against all major competitors as the optimism seen over recent weeks starts to wash away.
In our week ahead forecast we warned Sterling would likely come under pressure against the likes of the Euro and U.S. Dollar and this call appears spot-on.
We believed markets would hone in on one headline in particular.
"Theresa May's Brexit deal crashes as E.U. 'turns off life support'" reports the Sunday Times.
"This weekend senior E.U. officials sent shockwaves through No. 10 by rejecting May's plan, sparking fears that negotiations have broken down days before 'no-deal' preparations costing billions need to be implemented," says Caroline Wheeler, Deputy Political Editor at the Sunday Times.
May's plan proposes that to avoid a hard border on the island of Ireland through an all-U.K. customs union which would come into force in the event of the two sides failing to reach a trade agreement that guaranteed the Irish border remains frictionless.
But, her plans also appear to require an independent third-party mechanism that would allow the U.K. to end this backstop; something that Brussels appear to have rejected.
Instead Brussels will insist the European Court of Justice (ECJ) oversees any process where one side of the agreement seeks to terminate the backstop agreement. Brexiteers in the U.K. fear the backstop plan is a ploy to keep the U.K. under the gaze of Brussels lawmakers indefinitely.
The current backstop plans, "would lock the U.K. into a relationship with the E.U. which the U.K. could not escape except with the E.U.'s permission," says Stewart Jackson, formerly the Special Advisor & Chief of Staff to David Davis when he was the U.K.'s Brexit chief.
Jackson explains May's preferred position is for an arbitration process to allow the U.K. to leave the backstop relationship. It would be "modelled on Ukraine's humiliating deal with the E.U. under which the arbitration panel is obliged to refer issues of E.U. law to the ECJ and is bound by its decision," says Jackson.
However, this model, "would be contrary to all international practice if the ECJ were to be involved in this way in an arbitration which governed whether or not the U.K. was permitted to leave the backstop and regain control of our own laws and our external trade policy. It would also add to the delays of an arbitration," adds Jackson. "A backstop which the UK can only leave if we satisfy a review mechanism risks dropping the U.K. into a legal black hole for probably a number of years and quite possibly for longer."
Markets are wary that any deal May brings home will not be able to get through parliament with opponents on both the Remain and Leave side of the argument in her own party apparently ready to reject such a deal.
This weariness is expressed via a softer Pound.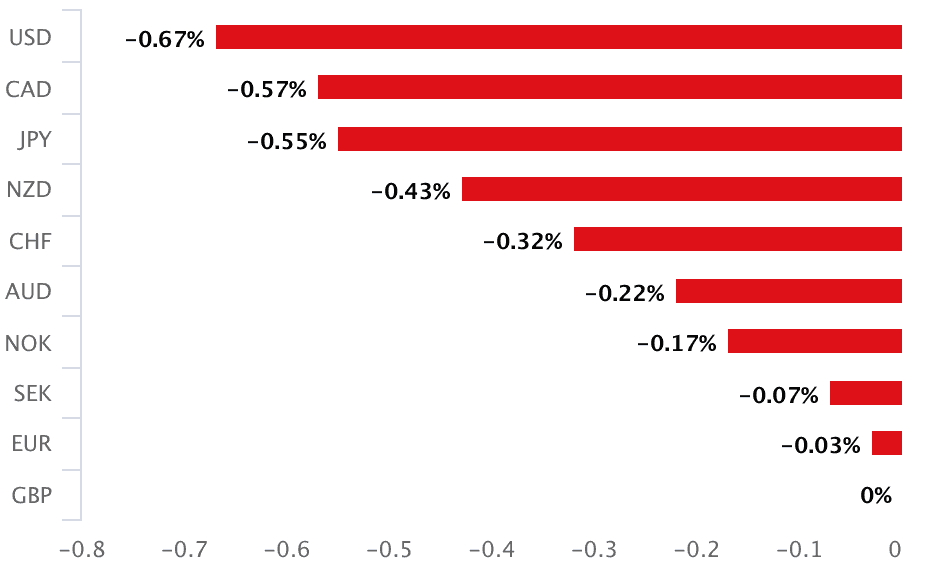 Above: The Pound's performance on Monday, November 12.
The Pound-to-Dollar exchange rate is now quoted at 1.29, having started the week at 1.2969, it is down 0.67%. According to consensus forecasts, the currency is now below where it should end the year.
The Pound-to-Euro exchange rate is quoted at 1.1403 having started the week at 1.1441. It is down 0.66%. According to consensus forecasts the currency is still well above where it should end 2018.
"The key issue remains ensuring the temporary nature of the Irish backstop and if the Pound's response to Raab's ambiguous "thumbs up" gesture last week is anything to go by, the Pound is likely to continue to trade with increased volatility this week," says Lee Hardman, currency analyst with MUFG in London.
The headlines from the Sunday Times are indeed worrying: if true then it might be the case that Theresa May will have to walk away from negotiations as she simply won't be able to muster parliamentary support for a wildly unpopular deal that risks the U.K. being subjugated to E.U. law indefinitely.
Yet, who can truly say they are surprised by this turn in events?
We always knew these negotiations would go down to the wire and with December being the final deadline we are not surprised by these negative headlines.
Markets could be accused of becoming far too optimistic on the state of Brexit negotiations of late, the E.U. always negotiates until the very end; and we are seeing just this.
The Brexit pendulum keeps swinging, and right now it is going against Pound Sterling.
"Our base case is still that the E.U. and the U.K. will reach an agreement in December but that negotiations may slip into early January," says Mikael Olai Milhøj, an analyst with Danske Bank. "Brexit remains the key driver for GBP and the UK PM still struggles to secure support for the deal internally within the UK conservative party. Hence, expect GBP to remain very volatile in coming months."
Danske Bank see a 75% chance the E.U. and U.K. strike a deal.
The Sunday Times also reports that four pro-EU UK ministers are close to quitting over May's Brexit deal, this follows minister Jo Johnson's dramatic resignation Friday. May is under considerable domestic political pressure and her ability to deliver an agreement is therefore questionable.
"The bottom line is that any Brexit deal that the EU finds acceptable will at best get a very bumpy ride through the UK parliament and could easily fail," says currency analyst Andrew Spencer with Thomson Reuters.
Yet, who besides May could deliver any kind of deal? Certainly not a replacement Prime Minister drawn from either the Remain or Leave wing of her party. It could be that the default position amidst the insufferable infighting of the Conservative party is a 'no deal' Brexit.
For now markets do not believe such an outcome likely, but were they to change views, then Sterling would likely come under more significant pressure.
Advertisement




Bank-beating GBP exchange rates: Get up to 5% more foreign exchange by using a specialist provider to get closer to the real market rate and avoid the gaping spreads charged by your bank when providing currency. Learn more

here