Euro Pops but Italy-EU Migrant Row Escalates and Bank of America Just Went "Short" Again
-Italy threatens suspension of EU funding over migrant row.
-Commision calls meeting, seeks resolution as tensions simmer.
-Bank of America technical analyst says to got short EUR/USD.
© European Union - European Parliament, reproduced under Creative Commons licensing
The Euro rose Friday as the Dollar weakened but this tune could easily change if a fresh spat between Italy and the EU worsens and chart signals continue to draw short-sellers toward the single currency.
Deputy Prime Minister Luigi Di Maio said in a Facebook post to supporters that Italy will "no longer be willing to pay the EU €20 bn a year" if the European Commission does not resolve a standoff over the Diciotti ship.
The ship docked in an Italian port earlier this week with more than 100 migrants on board that its crew claims were rescued in the Mediterranean.
Se avete 2 minuti, ecco la mia intervista di ieri sera al TG5.
Sull'accoglienza l'Italia ha già dato abbastanza. Combatterò fino all'ultimo per mantenere gli impegni presi con gli italiani su immigrazione, burocrazia, tasse, legge Fornero e pace fiscale. pic.twitter.com/t4GVDOEuXA

— Matteo Salvini (@matteosalvinimi) August 24, 2018
Politico reported Friday that the ship docked in Italy with another group of migrants aboard earlier in August, leading to a stand-off with the new coalition government, one half of which was elected after having pledged to curtail the three-year influx into Italy.
The government initially refused to allow the Diciotti to disembark the migrants, although an intervention by President Sergio Mattarella eventually saw them brought ashore.
The Diciotti has since returned to Italy with more aboard and Interior Minister, as well as leader of the League party, Matteo Salvini has said Mattarella will not be able to do the same thing again.
Salvini's position is that the migrants cannot step ashore until other EU countries agree to take them. The European Commission has called a meeting of national representatives in an attempt to find a solution.
Dopo aver superato il confine spagnolo a #Ceuta e aggredito gli agenti di pattuglia, questi signori sono stati rimandati in Marocco grazie ad un accordo internazionale di vent'anni fa.
Se lo fa la Spagna va bene, ma se lo propongo io allora sono razzista, fascista e disumano. pic.twitter.com/5AjJtN47Bg

— Matteo Salvini (@matteosalvinimi) August 24, 2018
Salvini, who is the government minister responsible for migration, has come under pressure from non-governmental organisations and other critics as a result of his stance.
He said on Twitter Thursday that he may now face charges over allegations of "kidnapping" because the migrants are being held aboard the ship against their will.
Pare che per la nave Diciotti, ferma a Catania, la Procura stia indagando "ignoti" per "trattenimento illecito" e sequestro di persona.
Nessun ignoto, INDAGATE ME!
Sono io che non voglio che altri CLANDESTINI sbarchino in Italia.
Se mi arrestano, mi venite a trovare Amici?😁

— Matteo Salvini (@matteosalvinimi) August 22, 2018
All of this comes ahead of an October 15 deadline for Italy to submit its draft 2019 budget to the European Commission for approval. Fears are that a likely Italian clash with Brussels over public spending plans would lead to even greater anti-Euro sentiment in Italy and potentially endanger the nation's place as a member of the single currency bloc.
Both Five Star Movement (M5S) and League parties, which are now in coalition together, have at various points in the past advocated referendums on Italy's continued use of the Euro. Although since being elected they have, albeit unconvincingly, made efforts to assuage market concerns over their commitment to the single currency.
The Euro-to-Dollar rate was quoted 0.80% higher at 1.1633 Friday while the Euro-to-Pound rate was 0.42% higher at 0.9048.
Advertisement




Get up to 5% more foreign exchange by using a specialist provider to get closer to the real market rate and avoid the gaping spreads charged by your bank when providing currency. Learn more

here
Time to Sell EURUSD again say Bank of America
Threats of withheld budget payments also come amid a still-fraught outlook for the Euro-to-Dollar rate on the charts, which prompted a Bank of America Merrill Lynch strategist to adovate selling the currency "short" on Friday.
"A head and shoulders top formed on the weekly chart of EUR/USD when price action decisively closed below the neckline at 1.1610 in early August. Spot declined the following two weeks to make a low at 1.1301. The bounce back is testing an optimal area, from a technical approach, to begin adding to shorts. The 1.1610 neckline is our weekly closing resistance," says Paul Ciana, a technical strategist at Bank of America, before drawing attention to the below chart.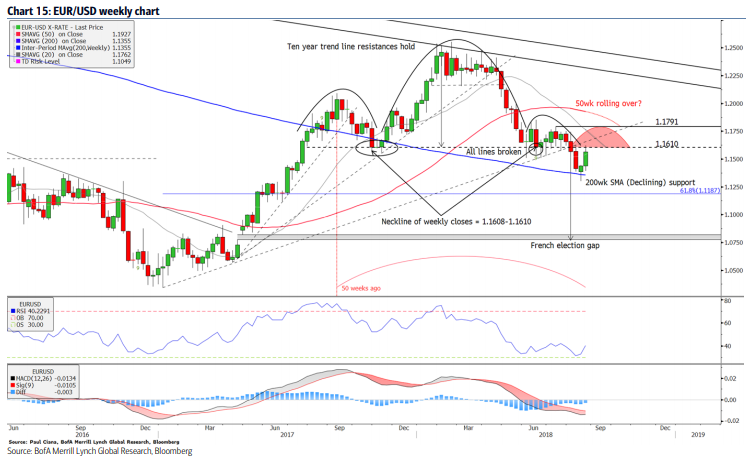 Above: Bank of America chart showing EUR/USD rate and "red bubble" area.
"The red bubble highlights a few levels that could also become significant resistance given a stronger bounce follows. This includes the 20wk SMA, currently 1.1763 and falling 35 pips/week, and a trend line from the 1Q17 low that was support and may be resistance at 1.1655, rising 15 pips/week. If EUR/USD stabilizes in/under this resistance zone, the 50wk SMA will roll over as older data drops off from the average adding to the resistance bubble," Ciana writes, in a note to clients.
Ciana and the Bank of America technical strategy team say if the market does not clear all of these levels ahead of next week then the Euro-to-Dollar exchange rate will have room to fall over subsequent days. They advocate that clients of the bank enter "short positions" when the price is within the area marked by the red bubble on the above chart.
The Bank of America view is noteworthy given they have been on the button with many of their EUR/USD calls in 2018, particularly when it came to predicting the sharp about-turn in April that subsequently saw the exchange rate hand back a 4% first-quarter gain before falling to a 3% 2018 loss.
Advertisement




Get up to 5% more foreign exchange by using a specialist provider to get closer to the real market rate and avoid the gaping spreads charged by your bank when providing currency. Learn more

here