Euro to Pound Exchange Rate to Offer a new 2016 Best Over Coming Weeks Suggest Credit Suisse Tech Studies

Credit Suisse's Christopher Hine has confirmed Pound Sterling remains a core 'short' and see fresh lows against the Euro and Dollar ahead.
Pound to Euro exchange rate today (1-10-16): 1.1548, 2016 best: 1.3675
Euro to Pound Sterling exchange rate today: 0.8665, 2016 best: 0.8725
The British Pound remains a core 'short' with Credit Suisse who say any strength in the currency is only likely to be corrective in nature.
One of the key expressions of this weakness is expected to be the rise of the EUR/GBP pair with the single currency tipped to go as high as 0.91.
The view echoes that held by the bank's fundamental strategists who also note further weakness in GBP over coming months as being likely.
"We have been long-time bears of GBP, and had taken the view that the recovery seen throughout August and into early September was corrective in nature," says Christopher Hine at Credit Suisse in New York.
EUR/GBP has seen a strong recovery after finding a floor ahead of Credit Suisse's core support target at 0.8300/0.8242.
Those looking at these two currencies from a GBP into EUR perspective should see the numbers as resistance, 0.83 = 1.2048 and 0.8242 = 1.2133.
"The recovery from here turns the spotlight back on major resistance at 0.8706/0.8816 - the 61.8% retracement of the 2008/15 decline and significant highs stretching back to 2013. We would again expect a ceiling here," says Hine.
From a Pound to Euro exchange rate angle, 0.8706 = 1.1486 and 0.8816 = 1.1343.
However, a break above this ceiling would signal that a more sustained recovery was underway for 0.9085/0.9156 next, potentially 0.9155/56.
From a GBP/EUR perspective this suggests falls down to: 1.10 and 1.0922.
Latest Pound/Euro Exchange Rates
* Bank rates according to latest IMTI data.
** RationalFX dealing desk quotation.
Hantec: EUR/GBP Chart Warns of Fading Euro Strength at Ceiling
Is the Euro topping out against the Pound again asks Richard Perry, technical analyst with Hantec Markets.
Perry notes that the Euro is struggling to break the ceiling at 0.8750. This is more or less the 0.8706/0.8816 resistance area that Credit Suisse were looking at:
"The three week push higher formed a narrow and well-defined uptrend channel however, a strong bear candle on Tuesday was followed by a doji candle yesterday. This is putting pressure on the trend channel on both daily and hourly time frames," says Perry.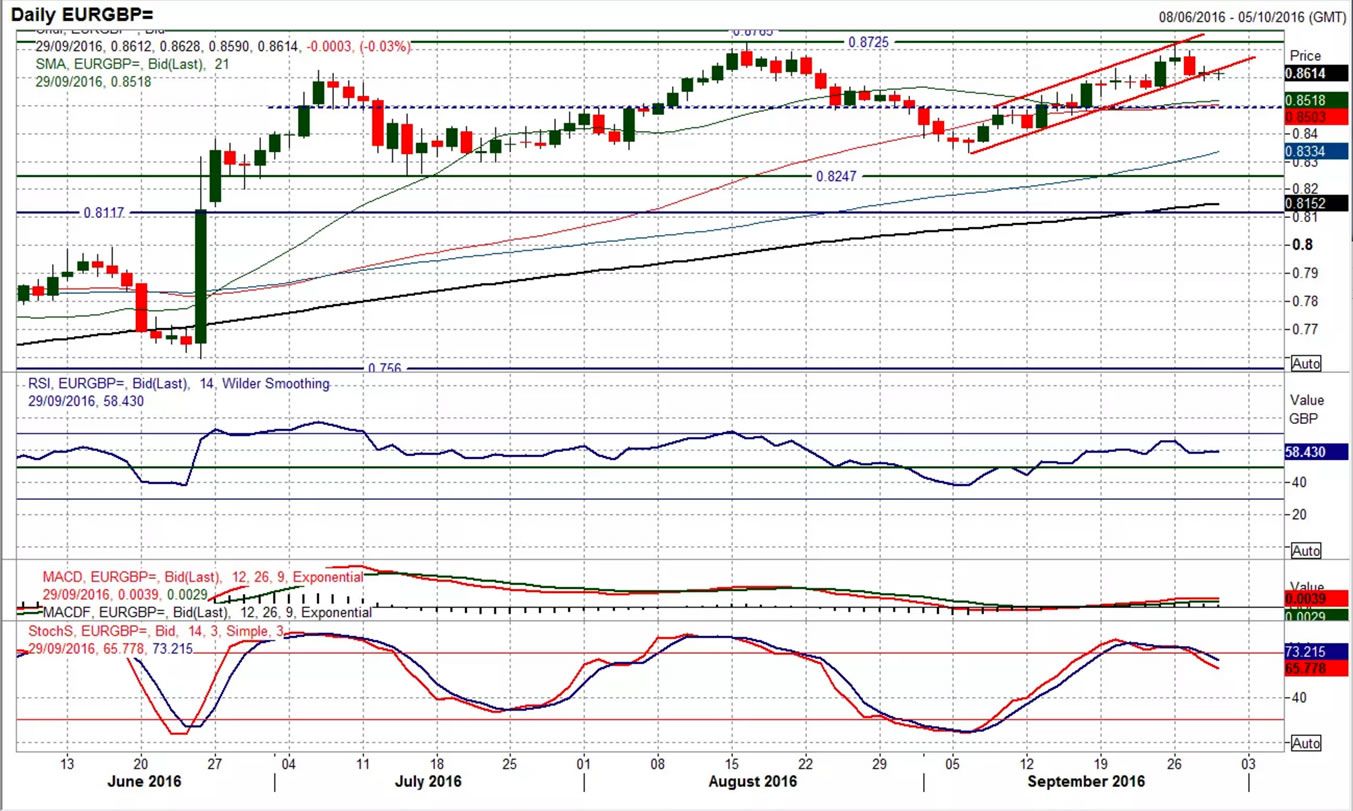 The momentum indicators are also losing impetus in the rally, with the Stochastics crossing lower for a confirmed sell signal argues Perry, just the third such signal in the past three months.
Furthermore, the analyst notes:
"Each of the previous confirmed Stochastics sell signals have called a corrective period for the pair. The RSI has also tailed off and the move higher on the MACD lines has also lost impetus.
"The hourly chart shows that the 144 hour moving average (currently £0.8622) has been supportive throughout the past three weeks but has now been breached and is looking to turn lower. The hourly RSI which had found support throughout the trend higher above 40 is now increasingly correctively configured, as are the MACD lines."
The hourly chart also shows a near term resistance at £0.8640 but the main lower high is at £0.8693 and protects the key resistance around £0.8725.
Hantec sugggest those watching the market look for continued breakdown of the channel which implies growing Sterling strength.
Those who see a contradiction between Hantec and Credit Suisse should be aware that the call by the latter is certainly a longer-term call. Therefore, patience would be required by those looking for the Euro to break higher towards fresh 2016 highs.
GBP/USD Weighing, Target at 1.2271
As mentioned both the EUR/GBP and GBPUSD are valid expressions of expected Pound weakness at Credit Suisse.
With regards to GBP/USD, Hines says the pair is again weighing on the low end of its potential "triangular" range now at 1.2938.
"This is holding for now, but with the medium-term downtrend still in place we look for an eventual break below it and the 1.2866 August low to begin to resolve the range to the downside. This can then aim at our next target at 1.2798/52 – the 78.6% retracement of the 1985/2007 rise. We would look for this area to hold again initially," says Hines.
However should it be removed this would open up further weakness to pattern objectives now at 1.2271 where we would look for a base.
Removal of the latter level would target 1.2000/1855 says the technical analyst.
Resistance moves to 1.3121 then 1.3280. Above 1.3434/46 is needed to resolve the range higher for 1.3482 then 1.3647.
Traders Sentiment Turn Negative on Sterling Once More
The US Commodity Futures Trading Commission's (CFTC) much-watched data on the currency trading community shows speculative investors have added significantly to net short GBP positions (up USD2.3bn in the week).
"Net GBP shorts peaked in August but the jump in positioning suggests a significant deterioration in GBP sentiment over the past week," says Eric Theoret at Scotiabank.
The CFTC produces market reports to provide information to industry participants and the public about the futures and options markets.
The CFTC's latest Commitments of Traders (COT) report covers up to the 27th of September and is regarded as the best available data on market sentiment.