Downside Pressures on Pound Against the Euro Ease as Business Confidence Surveys Show Bounce-Back in Sentiment
Consolidation will remain the central theme driving the GBP to EUR conversion's over coming days with support being provided by a surprisingly upbeat business confidence survey.

The Pound / Euro exchange rate will start the new month having traded in a sideways motion over the final days of July.
A month after the June referendum and the volatility which saw GBP post its largest one day decline has abated.
The GBP/EUR exchange rate has risen from its early July lows at 1.16 but has failed to rise above what now looks to be a key resistance area at 1.20 - clearing this obstacle will be the trigger to a better rate if you are in fact hoping for a stronger Pound.
"The 1.1980 level has been touched but not breached 4 times already this week and a sharp movement through this level will be required to enter a new upper range," says a note from International Foreign Exchange.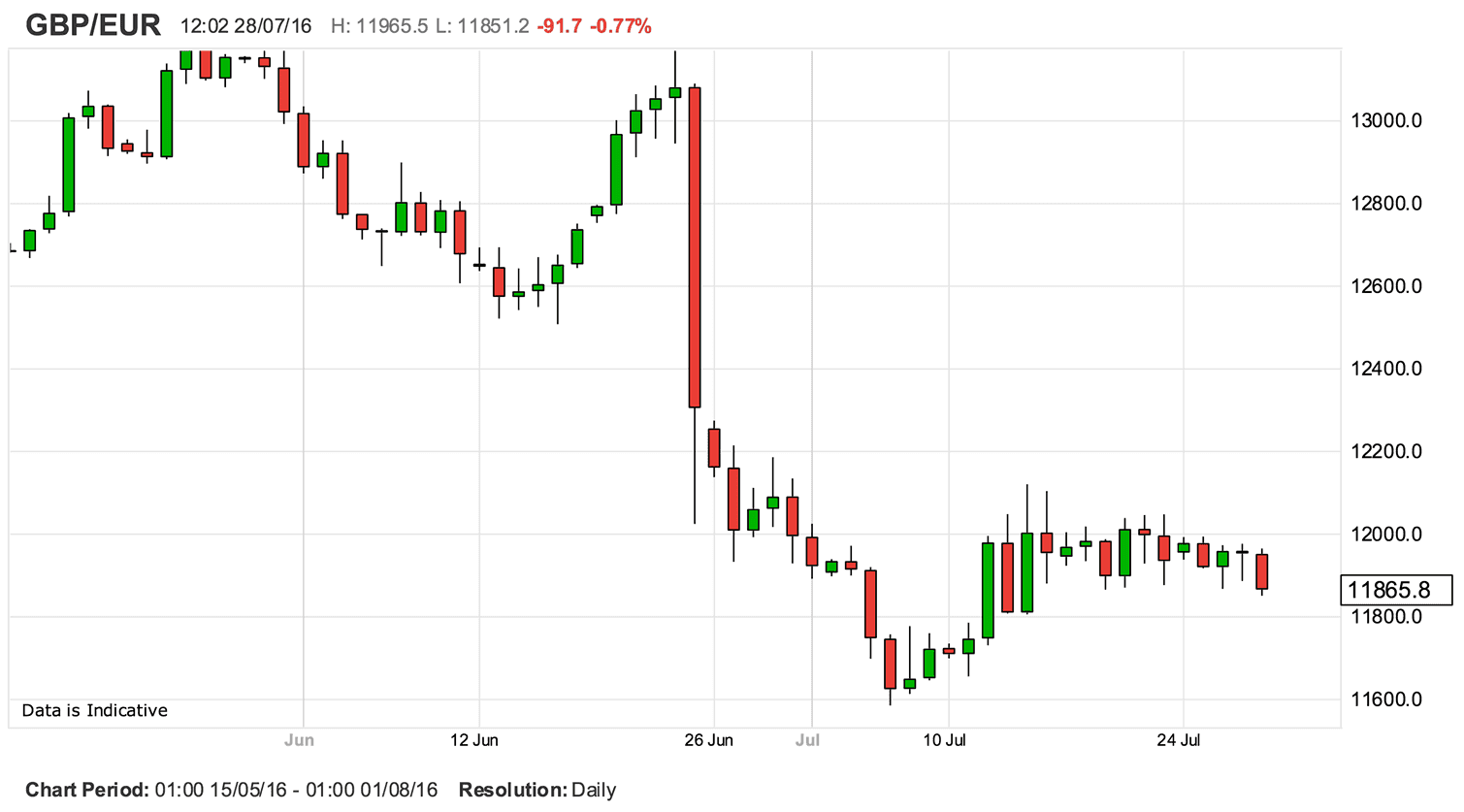 The consolidate tone to the exchange rate pairing, in place since since July 12th, suggests that the region between 1.18 and 1.20 will likely dominate trade ahead of the all-important August 4th Bank of England policy meeting.
Allowing the present period of consolidation is the easing of political uncertainty, which spiked in the aftermath of the Referendum, aided by the appointment of the new Prime Minister Theresa May.
While initial post-referendum data has shown a slow-down, there have been positives to latch onto:
1) Second quarter GDP data was better-than-forecast
2) Nationwide house price data, for July, showed solid growth in house prices
3) GlaxoSmithKline and Rolls-Royce, are two examples of UK-based companies which have released positive updates concerning their future activities in the UK
Nevertheless, we have not seen enough strength to prompt a sustained recovery in the British Pound.
"The outlook for GBP remains uncertain and Sterling will be sensitive to a wider array of variables than it has been in the recent past. Our bias remains for further weakness," says Kamal Sharma, analyst at Bank of America Merrill Lynch Global Research.
Analyst Steven Knight at Blackwell Global says there is plenty of scope for a retracement to the bottom of the range - which he places at 1.1869, "based on an history of reversal from this level over the past few weeks."
His reading of the EUR/GBP charts suggests the Euro will likely continue enjoying strength over coming days with the RSI indicator suggesting the Pound must decline from what were overbought conditions.
Note too that downside in GBP/EUR will likely be protected by the failure of the GBP/USD exchange rate to make a sustained break below 1.30.
A break at 1.30 could certainly spell a move in GBP/EUR below 1.18, allowing targets, such as the 1.12 held by JP Morgan, to be achieved.
We believe the outlook remains pointed to the downside and would suggest that those with impending foreign exchange payments act soon unless they are prepared to wait 12 months.
It is in 12 months time that analysts, such as BMO Capital, are forecasting the GBP to recover back above 1.30 against the EUR.
Latest Pound/Euro Exchange Rates
* Bank rates according to latest IMTI data.
** RationalFX dealing desk quotation.
A Positive Risk: An Autumn Statement Fiscal Bazooka, and Bank of England Blinks
Bank of America's Sharma has warned that GBP is biased to the downside.
However, there risks to this view that could actually see the Pound to Euro exchange rate recover.
Firstly, the Bank of England could defy overwhelmingly one-sided expectations for interest rate cuts and quantitative easing and decide to do less rather than more.
Looking further ahead, the Autumn budget statement could be used by the government to "reset fiscal policy" in the words of the UK Finance Minister.
"A stimulus package could prove supportive for GBP," says Sharma.
Indeed, one analyst who is not expecting a move is Arnaud Masset at Swissquote Research.
In the wake of the Brexit vote, the BoE decided to back away from an immediate response, preferring to wait for the smoke to clear before using its last remaining ammo.
Indeed, the BoE will only be able to cut interest rates a couple of times before reaching negative rates.
"However, we do not believe the BoE will further ease its monetary policy next week as the available data did not suggest a substantial deterioration of the UK economy since the July meeting," says Masset.
Masset notes that inflation data surprised to the upside in June with both the headline and the core measure ticking higher.
GDP figures released yesterday were rather encouraging, showing that the UK economy grew 2.2%y/y in the second quarter, beating estimates of 2.1% and above previous quarter readings of 2.0%.
"The BoE has limited room for manoeuvre before switching to negative interest rates. Therefore, we expect the central bank to leave its benchmark rate unchanged at its next meeting on August 4th, waiting for further information about the implication of Brexit for the UK economy," says Masset.
Lloyds Report Impressive Bounce-Back in Business Confidence
The UK currency found some support at the end of the month from a surprisingly positive report from Lloyds Bank whose Business Confidence barometer shows business confidence has shot higher, reversing the damage done by the post-Brexit vote shock.
Lloyds' second post-EU referendum survey of UK companies, conducted during 18-22 July, shows a rebound in both own business prospects and economic optimism.
This reverses almost the entire knee-jerk dive during the immediate aftermath of the EU vote in their previous survey.
After dropping to 6%, the lowest level for four-and-a-half years, overall confidence (combining own business prospects and economic optimism) increased by 23 points to 29% in July.
It is slightly below levels during the March-May period in the run-up to the EU vote.
The Bank of England Monetary Policy Committee's decision on whether further policy stimulus is required, including a possible lowering of the policy rate, will be announced on 4 August.
This theme will continue to be a primary driver for the British Pound over coming days.
The net balance for companies' own business prospects in the coming year rebounded strongly to 41% in July from 23% in June: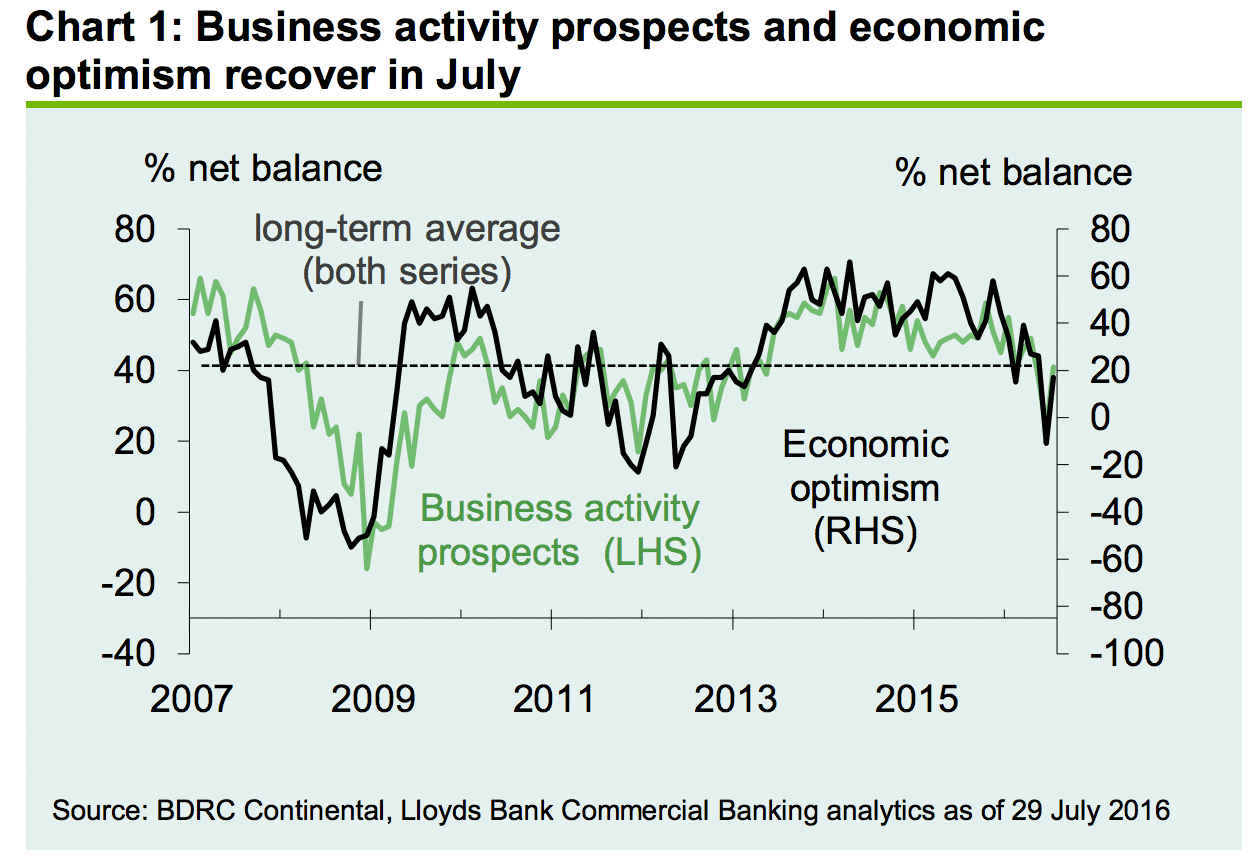 It is even higher than the May reading of 38%.
Much of the recent stabilisation in the British Pound can be attributed to a stabilisation in confidence and financial markets following the initial shock delivered by the referendum result.
If the Bank feels that this shock may be fading, perhaps they might not actually cut rates in August?
Such an outcome would be an allout positive for Sterling which would surely break above 1.20 in decisive fashion.
GfK Confidence Data Provides a Stark Contrast to Lloyds' Business Confidence Data
While Lloyds' measure of business confidence was positive for GBP, the consumer confidence data from GfK was the opposite.
The Overall Index Score has dropped 11 points since June to -12 (this is a further 3 points down since the Brexit Special survey at the start of July).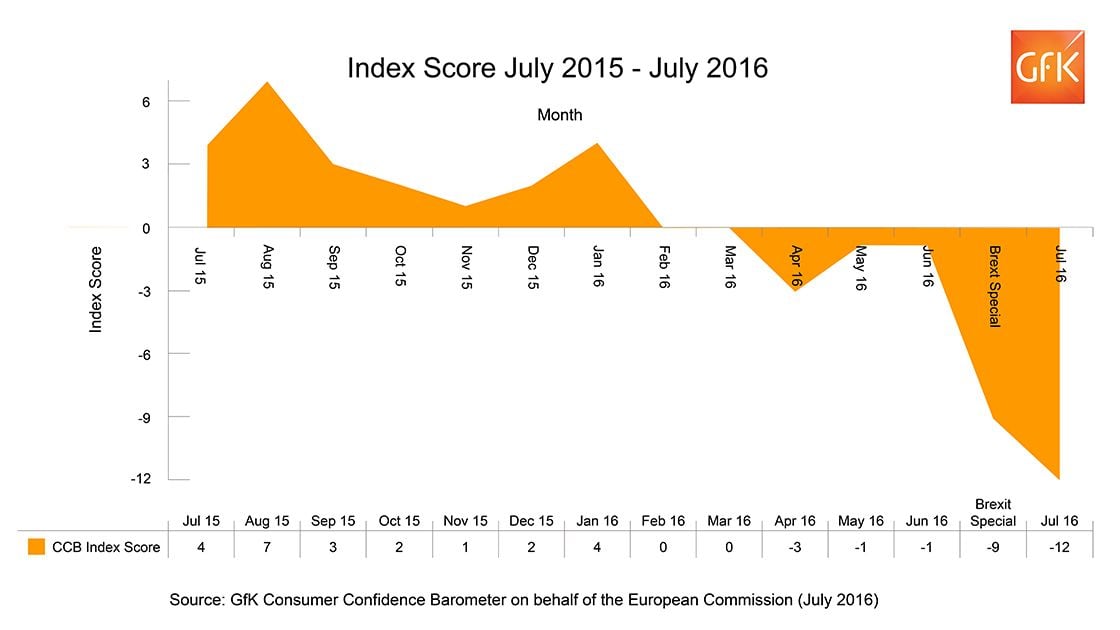 "Consumers in post-Brexit Britain are reporting higher levels of concern this month. We've seen a very significant drop in confidence, as is clear from the fall in each of our key measures, with the biggest decrease occurring in the outlook for the general economic situation in the next 12 months," says Joe Staton, Head of Market Dynamics at GfK.
The rate of decline is slower than reported in the aftermath of the vote to leave the EU, consumers in the UK were also less optimistic about the state of their personal financial situation going forward (-9 points).
On the subject of personal finances, the latest Bank of England lending data shows that lending to individuals shot up to 1.837B in June, more than the 1.4BN forecast by economists.
The Bank's data will likely reflect conditions ahead of the vote, and we would expect the decline in confidence to reflect in lending data going forward.
Euro Boosted by CPI, Growth Figures
The Euro exchange rate complex is meanwhile trading with a positive tone having found a bid on news that annualised inflation data for July read at 0.2%, stronger than the 0.1% forecast by analysts.
This will be welcomed by European Central Bank policy makers who have slashed interest rates and embarked on a money-printing spree to try and get inflation back to 2%.
If inflation is seen rising then currency markets will assume no further major policy measures will come out of the ECB going forward; this will be a positive for the Euro.
Eurozone GDP data meanwhile showed the economy grew 1.6% in the second quarter of 2016, forecasts priced in a rise of 1.5%. Again, this news is pro-EUR in nature.
24 hours previously there was further good news in that German unemployment data for July was better than expected with the number of unemployed falling by 7K.
Market expectations had expected the unemployment rate to fall by a 4K.
The unemployment rate in Europe's largest economy remains at a record-low rate of 6.1%.