Pound Sterling can go Higher Near-Term vs. Euro says Exchange Rate Expert
Image © Lakov Kalinin, Adobe Stock
- GBP/EUR back above 1.14

- Can go higher say technical analysts
- But hains likely to be limited to broader 2018 range
- Japan opens door for U.K. to join TTP trading zone post-Brexit
Pound Sterling hit a fresh multi-week high against the Euro when the exchange rate rose to 1.1449 ensuring the pair's winning streak has seen it rise in 11 of the past 13 trading days: momentum is positive and we are told by a number of technical strategists that further gains are likely in the coming days.
"Irrespective of whether recent Sterling gains here prove part of a broader/ongoing range - as studies indeed suggest is likely the case - further strength is favoured in coming days," says Trevor Charsley, a FX Risk Management specialist with brokerage AFEX in London.
The Pound's rally takes the GBP/EUR exchange rate back into the middle of the range it has traded for much of 2018: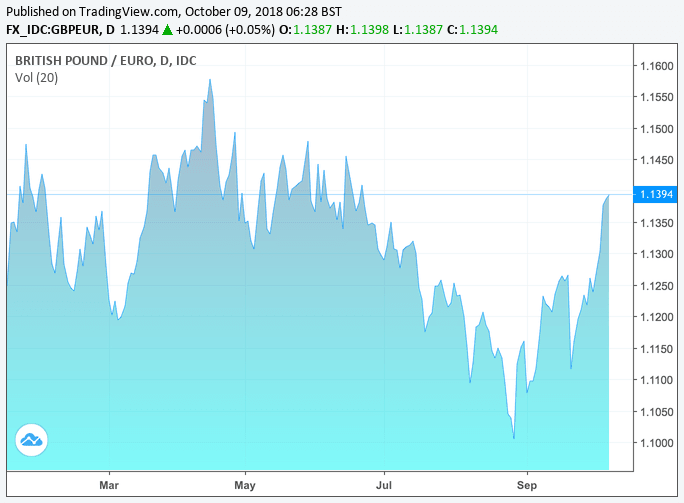 Any break out of the range will require some doing.
And with negotiators entering a crucial 'end game' period in Brexit talks foreign exchange markets could soon see an outcome that will propel the GBP/EUR exchange rate into fresh territory; be it higher or lower.
There are likely to be limits to Sterling's strength from here.
Charsley warns, "an extension above the previous 1.1600 cycle peak remains necessary
to suggest an improvement in underlying GBP fortunes and without any development another sell-off may well be witnessed going forward."
However, the short-term outlook nevertheless bodes well for those wanting a stronger Pound against the Euro as Charsley reckons "by hurdling 1.1300 - now local support - values should be able to re-visit 1.1500 at least with only minor supply visible beforehand."
Robin Wilkin, a foreign exchange strategist with Lloyds Bank, says that because the GBP/EUR exchange rate has broken the 1.1312/1.1325 pivot resistance, the Euro should remain under pressure.
However, scope for much further declines in the Euro and advances by the Pound could be limited adds Wilkin who sees a main area of resistance coming in at 1.1461.
A resistance point is a level in the market that tends to attract sell orders in anticipation of a move stalling; traders therefore use them to enter counter-trend trades while those already in the trade can often exit and book profit.
This can stall the move, but should the price break through resistance there is often 'clear air' until the location of the next cluster of orders.
Our own studies, reported in our week-ahead technical forecast piece, suggests last week's rise was game-changing and it has altered the whole complexion of the charts.
Above: The GBP/EUR exchange rate at weekly intervals.
Our technical analyst Joaquin Monfort argues the move higher now means the pair has confirmed a break back inside its longstanding channel, and that it has clearly breached on a closing basis a thick tier of resistance, including the 50-week MA and the 200-day MA.
"With these tough glass ceilings now broken the way is left open for further gains, and there is little in the way of more resistance until it gets to the top of the channel at around 1.1625," says Monfort, echoing Charsley's focus on the early 1.16s.
Sterling is now well above where it is forecast to end the year by analysts at the world's largest financial institutions; a poll of their forecasts shows consensus expect GBP/EUR to be below current levels by year-end and in six months. For details of these consensus forecasts and where the likes of Goldman Sachs, Citi and HSBC are targeting the exchange rate to go, please download the special report from Horizon Currency Ltd.
Advertisement


Lock in Sterling's current levels ahead of potential declines: Get up to

5% more

foreign exchange

for international payments

by using a specialist provider to get closer to the real market rate and avoid the gaping spreads charged by your bank when providing currency. Learn more here
Japan Hints at Prospect of a TPP-11 Boost for Post-Brexit Britain
Above: Shinzo Abe and Theresa May. Image © Jay Allen, Photo: Crown Copyright
With Sterling being highly reactive to Brexit-related headlines, we can report the main piece of news on our radar today is the news that Japan sees the possibility of the U.K. joining the Trans-Pacific Partnership trading bloc after Brexit.
Japan's Prime Minister Shinzo Abe has said the United Kingdom would be welcomed into the Trans-Pacific Partnership trade deal with "open arms" after it leaves the E.U.
The Comprehensive and Progressive Agreement for Trans-Pacific Partnership (CPTPP), also known as TPP11 or TPP-11, is a trade agreement between 11 countries, including Japan, Canada, Australia and Malaysia. TPP-11 is the reincarnation of TPP which originally included the U.S. but this had to be scrapped after Donald Trump tore up existing bloc trade deals.
While the UK would lose its role as a gateway to Europe after Brexit, it would retain its "global strength", Abe told the Financial Times.
The U.K.'s International Trade Secretary Liam Fox, says Britain would be able to strike trade deals more easily outside the E.U..
"It was a pleasure to meet Prime Minister @AbeShinzo in Tokyo in July. Delighted to see his encouragement for U.K. joining CPTPP," says Fox.
Advertisement


Lock in Sterling's current levels ahead of potential declines: Get up to

5% more

foreign exchange

for international payments

by using a specialist provider to get closer to the real market rate and avoid the gaping spreads charged by your bank when providing currency. Learn more here