Pound Sterling Mixed as Manufacturing and Trade Data Send Conflicting Signals
A mixed bag for the British Pound as the main data event of the week shows a combination of better-than-expected, as-expected and worse-than-expected results:
Manufacturing Production (MoM) (Jun): 0% v -0.2% previously v 0% expected
Industrial Production (MoM) (Jun): 0.5% v -0.1% previously v 0.1% expected
Trade Balance (Jun): -12.72B v -11.31B previously v -11.00B previously
The big one to watch was always going to be the manufacturing data and this came in on-target will be enough to keep the ship steady.
Talking of ships; the UK's exports continue to rise but the country's addiction to foreign-made goods just won't die. The UK is importing at a frantic pace, this despite the decline in value of Sterling.
So, there will be no net benefit to UK economic activity from trade anytime soon.
The good news came on the industrial production front thanks to a rise of 4.1% in mining and quarrying as a result of higher oil and gas production.
The net result for Sterling? As the above appears to offer nothing eye-raising, the currency is largely mixed with some decent gains coming against the Euro which is weaker across the board.
The Pound to Euro rate has risen to 1.1091 off this Euro weakness while the Pound to Dollar rate was interesting in that it spiked to 1.29 on the release of the data to pare back to 1.2970 before going back up to 1.2987.
Manufacturing Production, the Details:
The ONS reports manufacturing monthly growth was flat in June 2017; the largest downward contribution came from transport equipment, which fell by 3.6%, which was partially offset by an increase of 4.0% in other manufacturing and repair.
Furthermore, "the latest figures may have shown negligible growth but UK manufacturing seems to be fairly robust as it takes advantage of increased export demand," says Dennis de Jong, managing director of UFX.com.
"With potentially rocky Brexit negotiations on the way, the sector will be looking to further cement its position as the leading light of the UK economy," adds de Jong.
Looking ahead, Paul Hollingsworth, UK Economist at Capital Economics says surveys suggest that the manufacturing sector should gain some momentum in Q3, while export growth should pick up further:
"As a result, we remain optimistic that growth should hold up fairly well in the second half of the year, rather than slow."
Is the fall in value of Sterling impacting your international payments? Get up to 5% more foreign exchange by using a specialist provider by getting closer to the real market rate and avoid the gaping spreads charged by your bank for international payments. Learn more here.
Industrial Production
The Index of Production (IoP) and Index of Manufacturing (IoM) followed a broadly upward trend following the economic downturn.
The ONS reports growth was more pronounced from the beginning of 2010, as the economy recovered, before a downturn during 2012.
Since then, both production and manufacturing output have risen but remain well below their level reached in the pre-downturn gross domestic product (GDP) peak in Quarter 1 (January to March) 2008, by 7.8% and 4.4% respectively in the 3 months to June 2017.
Trade Data
ONS data suggests UK trade does not appear to be offering any positive uplift to UK economic activity as of yet owing to the dominant position of imports in the trade balance.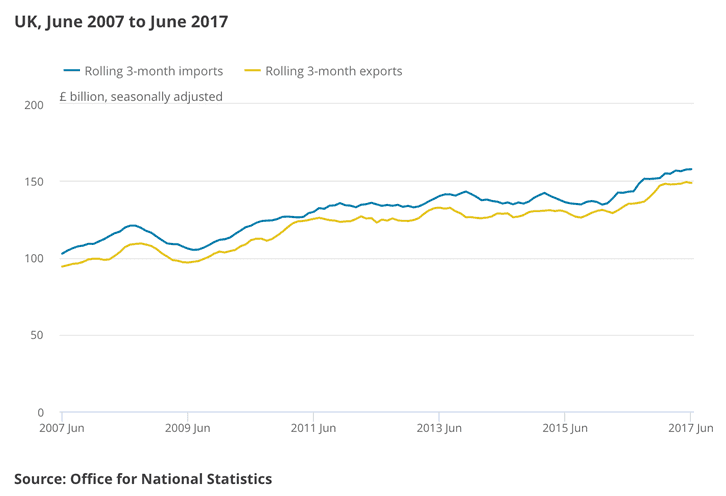 The ONS shows that demand for foreign-made machinery and transport equipment is weighing heavily on the trade balance while the import of fuel is also contributing heavily to the deficit.
The import of food and animals is another reason for the UK's dependence on imports.
"There were some tentatively encouraging signs on the net trade front. Admittedly, the trade in goods and services deficit widened from £2.5bn in May to £4.6bn in June, but we wouldn't pay too much attention to monthly swings here as the balance is very volatile and prone to significant revisions," says Hollingsworth.
Furthermore it is noted the quarterly growth in export volumes (which is what matters for GDP growth) of 1.5% in Q2 was stronger than the 0.4% rise in imports, suggesting that net trade probably made a small positive contribution to GDP growth, after exerting a 0.8 percentage point drag on growth in Q1.
Economist Philip Shaw at Investec in London says he believes that the answer to the UK's trade conundrum lies with economic reform to lift exports and leaning on a weaker exchange rate on its own will not do the job.
Indeed, one only has to look at the export renaissance currently underway in Portugal which has come despite the Euro being substantially overvalued when contrasted to the country's fundamentals.